Art Basel Hong Kong
Stand 1D09 and Encounters E17
Hong Kong Convention and Exhibition Centre, 1 Expo Drive, Wanchai, Hong Kong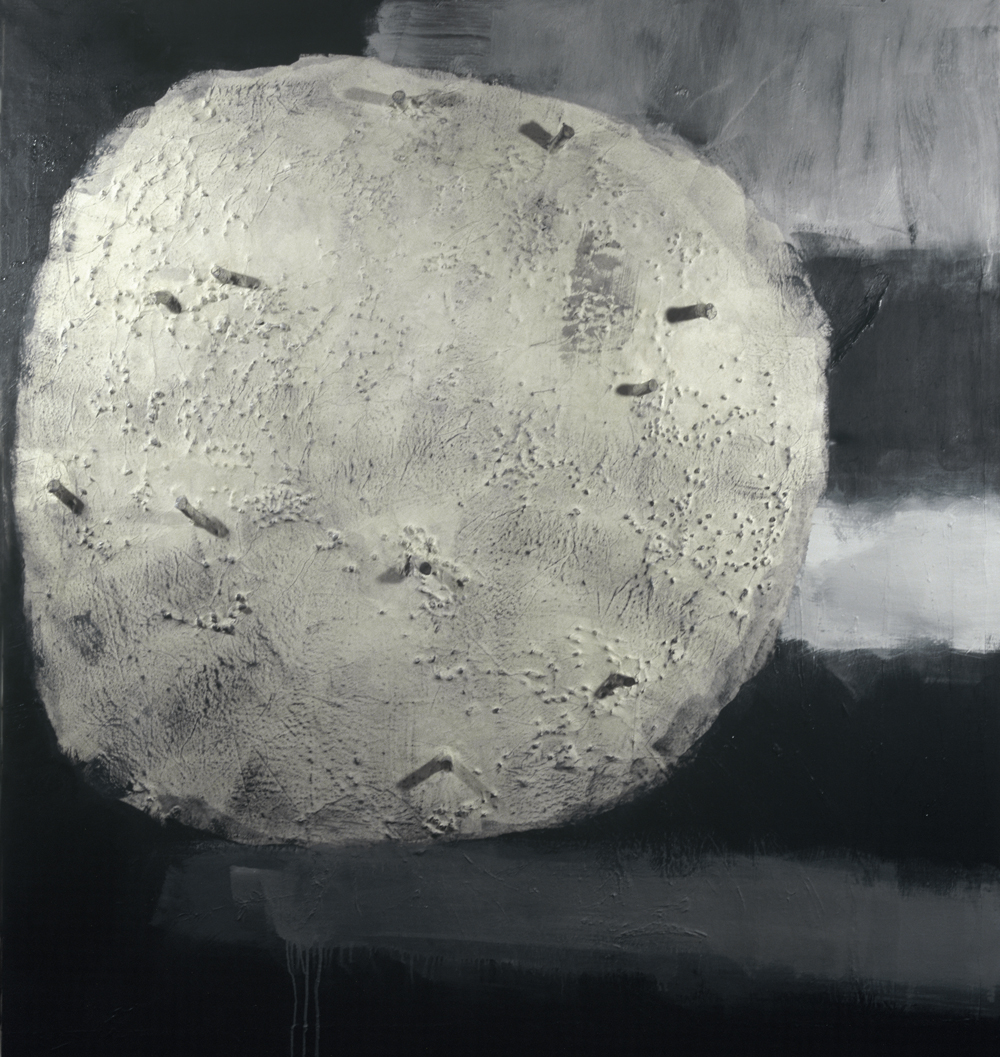 Zhang Jianjun, Noumenon (Existence) Series (1984)
Oil paint, ink, rice paper, pebbles, branches on canvas, 160 x 145 x 5 cm (63 x 57 9/10 in.)
Exhibition Dates
15–18 May, 2014
Private View (by invitation only) and Vernissage: 14 May, 12pm–5pm
_________________________________________________
HONG KONG – Pearl Lam Galleries will present artworks in the Galleries sector, stand 1D09, and Encounters sector, E17.
For the first time, the Galleries will participate in the show's Encounters sector with a 10m wide installation by Hong Kong artist Morgan Wong, who questions Hong Kong's relationship with China's political regime. Remnant of My Volition (Force Majeure), 2014, addresses the state of the 'One Country, Two Systems' policy in Hong Kong, and can be seen as a silent protest against the recent attempt to introduce the controversial 'moral and national education' to Hong Kong's school curriculum, which many see as Mainland interference. It consists of a 10 x 8m wall covered in tens of thousands of 'white flags', which are the remnants of peeled-back sheets of Mainland patriotic red flag stickers. The work also includes cushions embroidered with fifty-year calendars that mark the transition period from 1997 to 2047 from so-called self-rule to Mainland Chinese rule.
Pearl Lam Galleries' stand in the Galleries section will feature a Chinese Abstract exhibition showing works from the 1980s to the present by artists Li Huasheng, Qin Yufen, Qiu Deshu, Su Xiaobai, Juju Sun, Yan Binghui, Zhang Jianjun, Zhu Jinshi and Michael Chow aka Zhou Yinghua ~O-O~, all pioneers in the Chinese abstract movement. A separate room will feature international artist Jenny Holzer.
The stand's curated presentation explores the development of Chinese abstract art over the past 30 years through innovative artists, many of whom led the movement to break free of realist painterly ideas prominent in the 1980s. In contrast to Western abstract expressionists, Chinese abstract artists turn inward, reinventing ancient Chinese philosophy and traditional Chinese art forms, such as calligraphy, ink brush, and landscape painting, for the twenty-first century.
While Western abstraction and minimalism are associated with a pure investigation of the medium itself, these Chinese artists intrinsically link mediums to their cultural identity. Two seemingly simple materials, ink and xuan (rice) paper, are long associated with Chinese culture going back to the invention of written language. There is a meditative quality in the works of Qin Yufen, Yan Binghui, Qiu Deshu, Zhang Jianjun and Li Huasheng, which embrace Taoist principles on the relationship between humanity and nature, and cultivation of the inner self.
In a similar return to materials associated with Chinese culture and ancient craft, Su Xiaobai works with coloured lacquer in a unique way. Having studied and lived in Germany for 20 years before moving back to China, Su's style has evolved with his exposure to China's social realism of the 1980s and Germany's modernism and abstract expressionism. Su's layering technique results in exquisitely rendered shell-like finishes to sensuous, curved profiles and abraded textures in his sculptural abstract paintings.
Like Su Xiaobai, Zhu Jinshi and Qin Yufen moved to Germany in the 1980s. Their works are also influenced by their cross-cultural experiences, as seen in Zhu Jinshi's impastoed oil paintings. Zhu invests Chinese traditions of free brush and ink painting into his works, which have been described as 'dense tapestries of interconnected experiences'. He was very much influenced by ancient Chinese philosophy, such as the grand master of Zen, Huineng, whose Buddhist teachings focused on the wisdom of 'emptiness' as reflected in the Diamond Sutra. Foucault's postmodernist ideas have also informed Zhu's works.
Juju Sun is of a younger generation of Chinese abstract artists. Living between Beijing and New York, she too is inspired by both traditional Chinese culture and modern influences. Sun possesses a strong painterly instinct and a sensibility for colours strengthened by rigorous painting approaches. Her recent works combine the use of mechanical paint rollers and hand-painting.
Other stand highlights include Michael Chow aka Zhou Yinghua ~O-O~'s large-scale mixed media canvases, created using a variety of precious and household materials, and a room devoted to the work of Jenny Holzer, showing benches and LEDs, which present seminal texts from Holzer's oeuvre in the Chinese language for the first time. A highlight of the room is Holzer's first four-sided LED work in Traditional Chinese, Inclined, which was created for her Hong Kong solo show debut at Pearl Lam Galleries in September 2013. These works are highly symbolic and embody the Galleries' mission to stimulate cultural dialogue and exchange.
Pearl Lam Galleries will also showcase a series of new work in a solo exhibition by Su Xiaobai at the Pedder Building, curated by leading British Curator Paul Moorhouse of the National Portrait Gallery, London. The artist will also be presenting his installation Three Hundred Leafs in The Lobby of the Peninsula Hotel Hong Kong, from 13 to 17 May.
About Qin Yufen
Qin Yufen was born in 1954 in Shandong Province. She began to create abstract art in the late 1970s. In the mid-1980s, she moved to Germany where she was influenced by Western painting. Her works from this period used both Western and traditional Chinese ink painting techniques, while still depicting Oriental aesthetics of tranquillity and ethereality embodied by Zen meditation. Qin Yufen has held solo exhibitions in Beijing, Tokyo, and Berlin, among other international cities. She has participated in several group exhibitions including Left Hand, Right Hand: A Sino-German Exhibition of Contemporary Art (2003), Beijing; The Wall: Reshaping Contemporary Chinese Art (2005), New York; The First Today's Documents 2007—Energy: Spirit, Body, Material (2007), Beijing Today Art Museum; and Wu Ming, Form is Formless:  Chinese Contemporary Abstract Art (2011), Contrasts Gallery (now Pearl Lam Fine Art), Shanghai.
About Qiu Deshu
Qiu Deshu (b. 1948, Shanghai) re-immersed himself in ink painting after the Cultural Revolution and co-founded the Grass Painting Society (Cao Cao Hua She), one of China's first post-Mao experimental artist circles. In the early 1980s, Qiu developed his signature style of works called 'fissuring' (lie bian), which literally means tearing and changing in Chinese. It is a pictorial metaphor for the artist's life and artistic career, both of which have experienced dramatic disruptions and setbacks. Qiu applies vivid colours to xuan paper, which he tears up before mounting the fragments to a base layer, often leaving space in between to create a pictorial field with the "cracks" that he feels are symbolic of life's journey. Among other institutions, Qiu's works have been collected by the National Art Museum of China (Beijing), Shanghai Art Museum, Museum of Fine Arts (Boston), and the Asian Art Museum of San Francisco.
About Li Huasheng
Li Huasheng (b. 1944, Yibing) studied in Chengdu under Chen Zizhuang; his early ink works followed in the line of traditional literati painting. In the mid-1980s, the artist's ink paintings were influenced by modern Western painting and he began to pursue a more subjective form of expression. Li's method of creation is comparable to Zen meditation, where the brushstroke is a reflection of the soul. His solo exhibitions include Master Ten Cases in Chinese Contemporary Art (2010) at 800 Art Space in Shanghai, Li Huasheng: New Literati Paintings (2006) at Alisan Fine Arts in Hong Kong, and Li Huasheng: An Individualistic Artist (1998) at Chinese Culture Centre of San Francisco in California. He has also exhibited in museums and galleries in Beijing, Shanghai, Chengdu, Shenzhen, New York, Singapore and Taipei.
About Su Xiaobai
Su Xiaobai (b. 1949, Wuhan) first trained in oil painting in China in the 1980s under the backdrop of social realism and the Cultural Revolution, before studying at the Düsseldorf Art Academy in Germany under the sway of modernism. Through his experiences, including living in Germany for 20 years before returning to China, Su has developed a unique painting style using lacquer and progressive layering. He eliminates recognisable subject matter and imagery in favour of his works' intrinsic nature and the idea of being itself. He recently held a major solo exhibition at the National Taiwan Museum of Fine Arts, and has been collected by organisations such as the Langen Foundation (Neuss), Ostasien Museum (Cologne), the National Art Museum of China (Beijing) and the Hubei Art Museum (Wuhan).
About Juju Sun
Juju Sun (b. 1973, Jiangxi) moved to North America at the age of 15, studying at the Ottawa School of Art and later under Optical Art master Larry Poons at the Art Student's League of New York. Having described herself as innately a gypsy with a constant compulsion and desire to wander and explore, Sun's cross-cultural personal and artistic journey is reflected in her dynamic, robustly coloured abstract oil paintings that exhibit her bold painterliness and love for the medium of paint. In her recent works, Sun experiments with layers of rolled-on patterns juxtaposed with hand-painted layers, deliberately bringing elements of the mass-produced and decorative in contrast with traces of the hand to bring about a new visual balance. She has exhibited widely internationally, including in New York, Taipei, Seoul, Shanghai and Beijing. Her works are in notable collections in China, USA, Italy, and Canada.
About Yan Binghui
Yan Binghui (b. 1956, Tianjin) is representative of the 1980s avant-garde art movement in China, as well as the 1990s 'experimental ink' movement. Trained in brush and ink painting, which he continues to teach at Tianjin Academy, Yan infuses tradition with modern techniques and thoughts. He looks for purity and simplicity in his art; he says that by limiting form, he can better connect with the richness of spirit that occurs with the movement and rhythm of brushstrokes. He has held solo exhibitions at the Tianjin Academy of Fine Arts, as well as participated in important group exhibitions at the National Art Museum of China in Beijing, the Fine Arts Museum in Taipei, Guangdong Museum of Art, and other fine institutions.
About Zhang Jianjun
Zhang Jianjun (b. 1955, Shanghai) lives between Shanghai and New York. His work consists of various mediums, from photography, ink installation, and video performances to painting, embodying a sense of change and process of time. His works are representative of 'Rational Painting', a genre of art that concerns itself with issues of existence, time, and space. He has exhibited in solo shows in New York, Japan, Singapore, and China, including at the Shanghai Art Museum, Guangdong Museum of Art, and the Asian American Art Centre in New York.
About Zhu Jinshi
After completing an artist-in-residency in Germany and teaching in the Architecture Department of the Berlin Technical University, Zhu Jinshi (b. 1954, Beijing) returned to Beijing, where he currently lives and works. He began painting abstract works in the late 1970s, and participated in the Stars group exhibition, the first avant-garde art exhibition after the Cultural Revolution. Zhu has exhibited in numerous solo and group exhibitions including 28 Chinese (2013–14) at The Rubell Family Collection in Miami, Zhu Jinshi: The Reality of Paint (2013) at Pearl Lam Galleries in Hong Kong, Zhu Jinshi (2012) at Blum and Poe in Los Angeles, and Chinese Contemporary Abstract, 1980s until Present: MINDMAP (2012), which was Pearl Lam Galleries' inaugural show in Hong Kong. His upcoming solo exhibition at Pearl Lam Galleries Singapore will be on show 21 May–6 July, 2014.
About Michael Chow, aka Zhou Yinghua ~O-O~
Zhou Yinghua was born in 1939 into a family of theatre in Shanghai, China. His father Zhou Xinfang, the grandmaster of Beijing Opera, is regarded as a national treasure to this day. At the age of 13, he was sent to London, England and became known as Michael Chow. He founded his first restaurant, MR CHOW, in 1968 in Knightsbridge, London. It became an international success spawning locations around the world. Chow thrived at designing, from specialty boutiques for Giorgio Armani, to his own restaurants and his home in Los Angeles, and has continued to be involved in all walks of creativity from architecture, theatre and film. Chow is an appointed member of the Board of Governors for The Broad Museum. He presented his first solo exhibition in 50 years, Recipe For a Painter, at Pearl Lam Galleries in January 2014.
About Jenny Holzer
For over thirty years, Jenny Holzer (b. 1950, Ohio) has presented her astringent ideas, arguments, rapture, and sorrows in public places and international exhibitions, including at the Museum of Modern Art, New York; the Tate Modern, London; the Guggenheim Museums in New York and Bilbao; Fondation Beyeler, Basel; Centre Pompidou, Paris; and the Whitney Museum of American Art. She was the first female artist to represent the United States at the Venice Biennale with a solo exhibition for which she received the Leone d'Oro. She holds honorary degrees from Ohio University, Williams College, the Rhode Island School of Design, The New School, and Smith College. She received the Barnard Medal of Distinction in 2011. Holzer lives and works in New York.
About Morgan Wong
Morgan Wong (b. 1984, Hong Kong) focuses in durational performance and temporality with pieces ranging from performance, video, and installation to works on paper. He studied Creative Media at City University, Hong Kong, and received his MFA from Slade School of Fine Art, University College London. Previous solo shows include Filing Down a Steel Bar Until a Needle Is Made (2013), Tintype Gallery, London, UK; One Hour (2011), 2P Contemporary Art Gallery, Hong Kong; Untitled—Agnosia Series I (2011), Videotage, Hong Kong; A Story of an Eel Chef (2010), Oyoyo Art Center, Sapporo, Japan; and Once You Were Here (2009), Para Site Central, Hong Kong. He has exhibited in group exhibitions at ZKM Media Museum in Karlsruhe, Germany; Tate Modern, London, UK; and the Hong Kong Museum of Art, among other institutions.
About Pearl Lam Galleries
Founded by Pearl Lam, Pearl Lam Galleries is a driving force within Asia's contemporary art scene. With over 20 years of experience exhibiting Asian and Western art and design, it is one of the leading and most established contemporary art galleries to be launched out of China.
Playing a vital role in stimulating international dialogue on Chinese and Asian contemporary art, the Galleries is dedicated to championing artists who re-evaluate and challenge perceptions of cultural practice from the region. The Galleries in Hong Kong, Shanghai and Singapore collaborate with renowned curators, each presenting distinct programming from major solo exhibitions, special projects and installations to conceptually rigorous group shows. Based on the philosophy of Chinese Literati where art forms have no hierarchy, Pearl Lam Galleries is dedicated to breaking down boundaries between different disciplines, with a unique gallery model committed to encouraging cross-cultural exchange.
Contemporary Chinese Abstract art is heavily represented in the Galleries roster. Influential Chinese artists Zhu Jinshi and Su Xiaobai, who synthesise Chinese sensibilities with an international visual language, are presented internationally with work now included in major private and public collections worldwide. The Galleries has also introduced leading international artists such as Jenny Holzer, Jim Lambie and Yinka Shonibare MBE (RA) to markets in the region, providing opportunities for new audiences in Asia to encounter their work. Pearl Lam Galleries encourages international artists to create new work which engages specifically with the region—collaborating to produce thought-provoking and culturally relevant work.
Pearl Lam Design shows works by established and emerging international designers, including Maarten Baas, Mattia Bonetti, André Dubreuil, and Studio Makkink & Bey, in exhibitions and design fairs around the world. They are invited to push the boundaries of traditional Chinese art and craft techniques and create new works that reflect their experiences in China. A fourth gallery and concept store devoted solely to design will open shortly in Shanghai.
________________________________________
Press Enquiries
Megan Leckie / Pearl Lam Galleries
megan@pearllamfineart.com / +8621 6323 1989
Rosanna Cator / Sutton PR Asia
Rosanna@suttonprasia.com / +852 2528 0792