Hong Kong Convention and Exhibition Center
Stand 1D09 (Level 1), 23-26 May 2013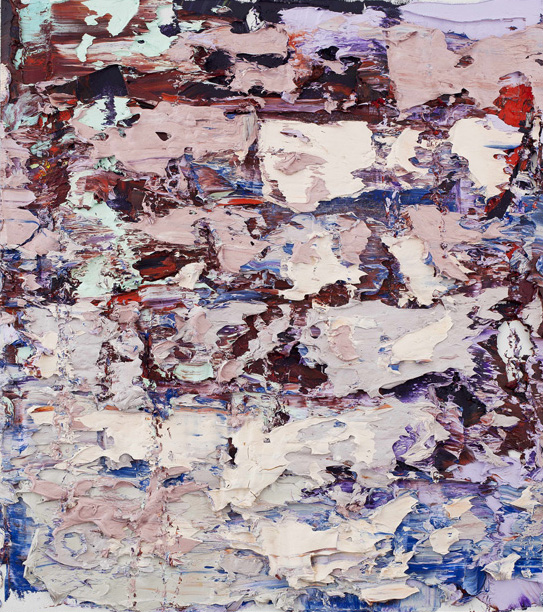 Zhu Jinshi, The Song of Lhasa 2, 2012, Oil on canvas
HONG KONG – Pearl Lam Galleries is delighted to present a group exhibition of international artists in their booth 1D09 at the inaugural Art Basel in Hong Kong. The selection presents major new work by artists including Jenny Holzer (New York), Li Huasheng (Chengdu), Li Xiaojing (Beijing), Jason Martin (London), Su Xiaobai (Shanghai, Dusseldorf), Tsang Kin-Wah (Hong Kong), Entang Wiharso (Yogyakarta), Yinghua (Los Angeles) and Zhu Jinshi (Beijing).
Highlights include a major LED text work from 1985 and a new black granite bench engraved with Chinese characters by Jenny Holzer, and an installation by Tsang Kin-wah created specifically for the fair which will transform the floor of the booth. This piece is accompanied by a sheet of glass leant against the booth wall; the reflection of the text creates the feeling of an amnesiac state and questions the temporal nature of reading an artwork. Entang Wiharso will exhibit a large scale piece that explores the trauma inflected on the human body in relation to multilayered political, ethnic, racial, and religious systems, presented alongside a series of monochromatic field paintings on lacquer by Su Xiaobai.
Entang Wiharso and Zhu Jinshi are hosting their solo exhibition in Pearl Lam Galleries in Shanghai and Hong Kong respectively at the same time.
Press Enquiries
Cher Zhou / Pearl Lam Galleries
cher@pearllamfineart.com / +8621 6323 1989
Erica Siu and Veronica Chu / Sutton PR Asia
erica@suttonprasia.com / veronica@suttonprasia.com , +852 2528 0792
Notes to Editors
Dates:
By invitation only: Wednesday, May 22, 2013:
12.00-17.00     Private View
17.00-21.00     Vernissage
Public Show Dates: Thursday, May 23, to Sunday, May 26, 2013
Thursday        12.00-19.00     General entry
Friday             12.00-19.00     General entry
Saturday        11.00-12.00     VIP entry only
12.00-19.00     General entry
Sunday           11.00-12.00     VIP entry only
12.00-17.00     General entry
About Pearl Lam Galleries
Founded by Pearl Lam, the Galleries' mission is to stimulate cross-cultural dialogue and cultural exchange between East and West by establishing distinct and rigorous programming in each of its gallery spaces in Hong Kong, Shanghai and the forthcoming Singapore gallery.
Pearl Lam Galleries is dedicated to championing Chinese artists who re-evaluate the philosophy and perception of Chinese contemporary art, whilst also committed to presenting major exhibitions by international artists. Jenny Holzer and Yinka Shonibare MBE are among the line-up of artists who will have solo exhibitions at the Galleries in 2013.
Pearl Lam Design shows works by established and emerging international designers including André Dubreuil, Maarten Baas, Mattia Bonetti, and Studio Makkink & Bey. They are invited to push the boundaries of traditional Chinese art and craft techniques and create new works that reflect their experiences in China.
About Jenny Holzer
Jenny Holzer was born in Gallipolis, Ohio, USA in 1950. She lives and works in Hoosick, New York, USA.  She is a Neo-Conceptualist artist, who utilizes the homogeneous rhetoric of modern public information systems in order to address the politics of discourse through the medium of writing. Her solo exhibitions include Jenny Holzer (2004) at Kukje Gallery in Seoul, Jenny Holzer with poetry by Henri Cole (2004) at Galeri Yvon Lambert in Paris, Jenny Holzer (2003) at Mönchehaus Museum in Goslar, Germany, and Jenny Holzer (2001) at Cheim & Read in New York.  She has also widely exhibited in prestigious museums and galleries in New York, Paris, Basel, Miami, Berlin, Oslo, and Rome. Holzer received the Leone d'Oro at the Venice Biennale in 1990 and the Public Art Network Award in 2004.
About Li Huasheng
Li Huasheng was born in Yibing, Sichuan province in 1944. Li studied in Chengdu under Chen Zizhuang and his early ink works followed in the line of traditional literati painting. In the mid-1980s, the artist's ink paintings were influenced by Modern Western painting and he began to pursue a more subjective form of expression. Li's method of creation is comparable to Zen meditation, where the brushstroke is a reflection of the soul. His solo exhibitions include Master Ten Cases in Chinese Contemporary Art (2010) at 800 Art Space in Shanghai, Li Huasheng: New Literati Paintings (2006) at Alisan Fine Arts in Hong Kong and Li Huasheng: An Individualistic Artist (1998) at Chinese Culture Centre of San Francisco in California. He has also exhibited in museums and galleries in Beijing, Shanghai, Chengdu, Shenzhen, New York, Singapore and Taipei.
About Li Xiaojing
Li Xiaojing (b. 1981, Shandong, China) holds a Bachelor's degree in Printmaking and a masters degree in Oil Painting from the Sichuan Academy of Fine Arts, Chongqing. In May 2012, Li participated in the opening group show at Pearl Lam Gallery Hong Kong: Chinese Contemporary Abstract, 1980's Until Present: MINDMAP. Other group shows include +Follow at MOCA Shanghai, China (2011) and Yi Pai – Century Thinking at Today Art Museum, Beijing, China (2009). She has also exhibited in museums and galleries in Chongqing, China and Jakarta, Indonesia. The artist currently lives and works in Beijing.
About Jason Martin
Martin, born in Jersey in the Channel Islands, takes inspiration from both Minimalism and Abstract Expressionism and the Western tradition of gestural painting. His distinct style received early recognition, exhibiting in London, Japan and Germany. In 1997, he was catapulted into the global visual arts scene through his participation in the groundbreaking exhibition Sensation: Young British Artists from the Saatchi Collection. His works have been widely seen in the USA and Europe in the Peggy Guggenheim Collection, Venice, in 2009 and Centro de Arte Contemporáneo de Málaga in 2008. Martin's works are in numerous private and public collections worldwide, such as the Government Art Collection, Great Britain; FNAC, France; the Albright-Knox Art Gallery, Buffalo, NY; the Denver Art Museum; and Hirshhorn Museum, Washington D.C.
About Su Xiaobai
Su Xiaobai was born in Hubei, China in 1949. She studied oil painting at the Central Academy of Fine Arts in Beijing in 1984, receiving a scholarship to study at the Dusseldorf National Art Academy in 1987 and subsequently moving to Germany in 1992 where he has been based ever since. Su's solo exhibitions include Grand Immensity (2013) at National Taiwan Museum of Fine Arts, Su Xiaobai (2011) at Other Gallery in Shanghai, Su Xiaobai Solo Exhibition (2010) at Raketenstation Hombroich in Germany, and The Dynasty of Colours (2009) at Lagen Art Gallery in Germany. He has also exhibited in museums and galleries across Beijing, Shanghai, Taipei, Singapore, Berlin, Düsseldorf and Moscow.
About Tsang Kin-wah
Tsang Kin-Wah was born in Shantou, China in 1976, and now lives and works in Hong Kong. He graduated from the Chinese University of Hong Kong and the Camberwell College of Arts, the London Institute. Tsang's solo exhibitions include MAM Project 015: Tsang Kin-Wah, at Mori Art Museum (2011) and Tsang Kin-Wah, at Yvon Lambert Gallery in Paris (2008) and New York (2007). He has also exhibited widely in group exhibitions such as the Asian Art Biennial Taichung (2011), and Architecture of Fear at Z33 House for Contemporary Art, Hasselt, Belgium (2011). Tsang has also received numerous awards including the Tokyo Type Directors Club Prize 2007, Sovereign Asian Art Prize 2005 and the Prize of Excellence at the Hong Kong Art Biennial 2001.
About Entang Wiharso
Entang Wiharso  (b. 1967) was born in Tegal, Indonesia and studied painting at the Fine Art Department of the Indonesian Institute of Arts in Yogyakarta, Indonesia. The artist received awards for the best painting from Institut Seni Indonesia (ISI) in 1988, 1989 and 1990; The Pratisara Affandi Adi Karya prize in 1994; and the Juror's Award at the Yogyakarta Biennial Exhibition in 1994. Entang Wiharso will be presenting work as part of a collaboration of 5 Indonesian artists at the Indonesian National Pavilion at this year's Venice Biennale, which for the first time will be in the historic Arsenale area.
His work is in public collections around the world including the UCCA, Bejing, China; Carnegie Mellon Institute, USA; Indonesian Art Institute, Yogyakarta; Indonesia University, Jakarta, Indonesia; National Gallery of Victoria, Australia; Rubell Family Collection, USA; and the Singapore Art Museum, Singapore. He lives and works in Rhode Island, USA and Yogyakarta, Indonesia.
About Yinghua
Yinghua, born in Shanghai, China in 1939, is a time traveler. Son of the famed master of Beijing Opera, Zhou Xinfang, Yinghua was born into a family of theater. He studied art and architecture at St Martins School of Art and the Hammersmith School of Art and Building (now the Chelsea School of Art), respectively. Precious metal is juxtaposed with trash in his mixed media pieces and forces the viewer to reassess preconceptions about what is precious and what is thrown away. His exhibitions include One-Man Exhibition (1962), Lincoln Gallery, London; Three-Man Show (1964), ICA Gallery, London. His works are in numerous private collections as well as the Museum of Modern Art, New York (MOMA).
About Zhu Jinshi
Zhu Jinshi was born in Beijing, China in 1954. After completing an artist-in-residency in Germany and teaching in the Architecture Department of the Berlin Technical University, Zhu returned to Beijing, where he currently lives and works. He began painting abstract works in the late 1970s, and participated in the Stars (Xing Xing) group exhibition, the first avant-garde art exhibition after the Cultural Revolution. Zhu has exhibited in numerous solo and group exhibitions including Chinese Contemporary Abstract, 1980s until Present: MINDMAP (2012) at Pearl Lam Galleries, Hong Kong; Power and Jiangshan (2008) at Arario Gallery, Beijing; and On the Road (2002) at Prague City Museum, Czech Republic. Zhu's work is represented in many private and public collections across the globe, including Canada where his rice paper installation The Tao of Xuan Paper (1997) is on permanent display at the Vancouver Art Gallery. In May 2013, to coincide with the first edition of Art Basel in Hong Kong, Zhu will have his first Hong Kong solo show at Pearl Lam Galleries. His work is also currently showing in Alone Together at the prestigious Rubell Family Collection in Miami till August.