2014 ART MO International Art Fair Stand A1
The Venetian Macao Cotai Expo Exhibition Hall B
Estrada da Baía de N. Senhora da Esperança, s/n, Taipa, Macao SAR
VIP Day: 27 November, noon–8pm
Public Days: 28–30 November, noon–8pm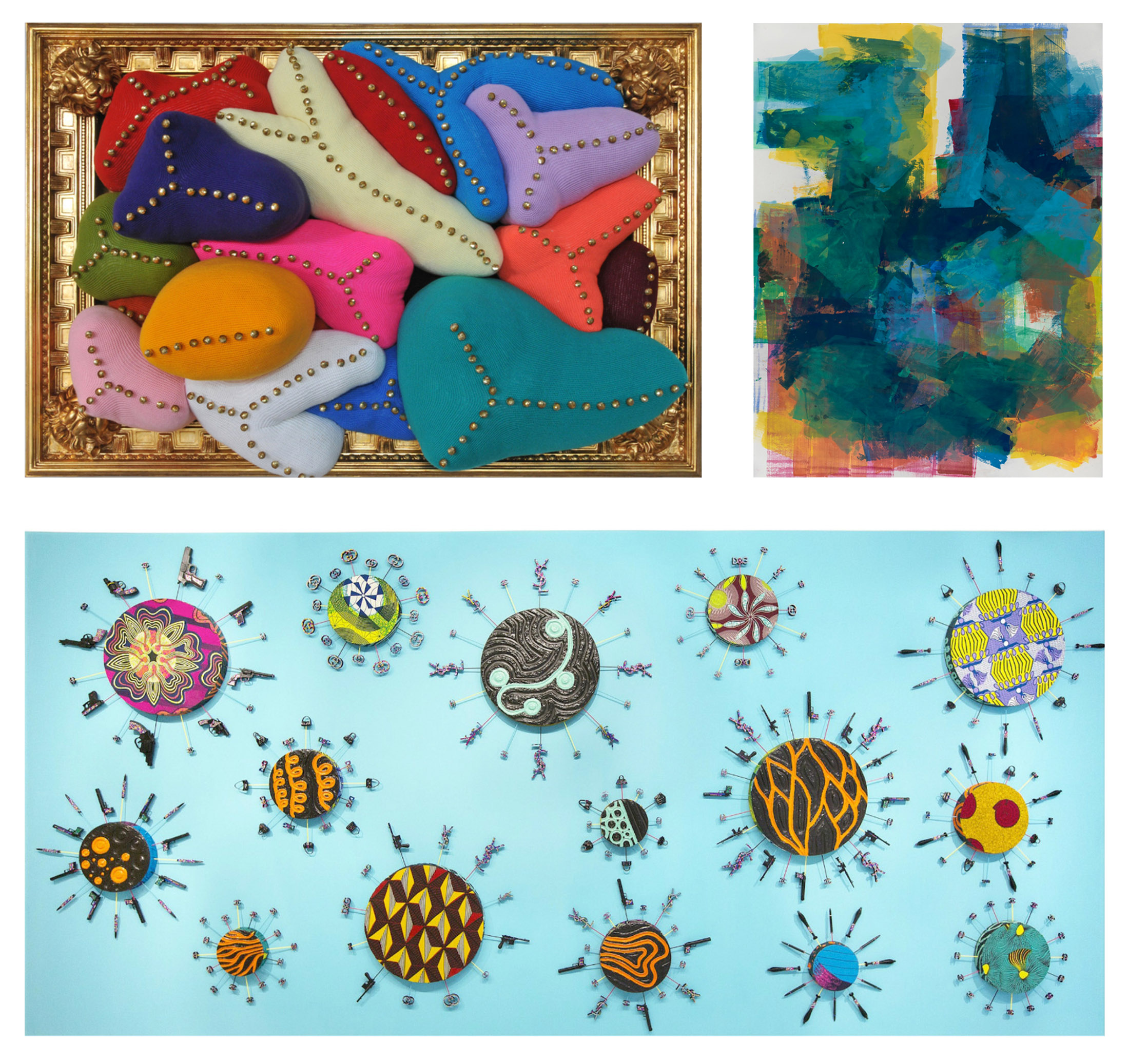 Clockwise from top left:
Joana Vasconcelos b. 1971, Majestic Lion (2014), Handmade woollen crochet, ornaments,
polyester on canvas, stucco, gold leaf, MDF and iron, 149 x 219 x 50 cm (59 x 86 x 20 in.)
Qin Yufen b. 1954, Ge Garden (2014), Colourful ink on Xuan paper, 250 x 200 cm
(98 2/5 x 78 7/10 in.)
Yinka Shonibare MBE (RA) b. 1962, Dreaming Rich Painting (2013), 15 panels, acrylic on
Dutch wax printed cotton textile, toys, steel rods, 220 x 470 cm (86 2/3 x 185 in.)
---
Macao—Pearl Lam Galleries is pleased to announce its first participation in the second edition of ART MO International Art Fair in Macao, presenting artworks in the contemporary section at Stand A1. ART MO is an exciting young art fair with an exhibition focus on emerging contemporary art, rare classic artworks, and lifestyle products with state of the art quality. The event will take place at The Venetian Macao Cotai Expo Exhibition Hall B from 28–30 November, with a VIP day on 27 November.
Artists on show include Chinese artists Qin Yufen, Su Xiaobai, Wang Tiande, and Zhu Jinshi; UK artist Yinka Shonibare MBE (RA) and Portuguese artist Joana Vasconcelos. These artists from a variety of cultural backgrounds will contribute to the Galleries' mission of stimulating cross-cultural dialogue on contemporary art between China, the rest of Asia, and the West.
Many of the participating Chinese artists are known for being pioneers of Chinese abstract art, having led the movement to break free of realist painterly ideals prominent in 1980s China. These artists root their work in Taoist philosophy, which advocates the interconnectedness of humanity and nature, along with the cultivation of the inner self.
Zhu Jinshi uses heavily impastoed oil paint on canvas to create his abstract works, which combine Chinese and Western influences, such as the wisdom of "emptiness" as reflected in the Diamond Sutra, and Michel Foucault's theories of modernity. The Galleries will present his work Brilliant (2013), where the bright and thick layers of paint seem to be dripping off the canvas, creating a strong visual impact.
The Galleries will also present a selection of mystical works that combine sculpture and painting by one of China's most distinctive painters, Su Xiaobai. Su reinvents the traditional Chinese art of lacquer in a contemporary manner that reflects Chinese tradition and questions the very structure and language of paint. Ranging from shell-like finishes to sensuous, curved profiles and abraded textures, the works exist entirely on their own terms, possessing a history, character and independent existence. His works Intactness 11 (2014) and Inheritance-Green (2013) will be exhibited.
Qin Yufen uses vivid colours in her abstract paintings. In the 1980s, Qin moved to Germany where her work was influenced by both Western and traditional Chinese traditions of ink painting, while maintaining Oriental aesthetics of tranquillity and ethereality. The artist will exhibit her ink on Xuan paper work, Ge Garden (2014).
By burning symbols, which resemble Chinese characters, onto rice paper, Wang Tiande's works evoke the essence of traditional Chinese art in a contemporary context. The burn marks are made with an incense stick, creating shapes and spaces, similar to that of landscapes, water and mountains. Wang Tiande's innovative approach does not dispel the significance and influence of tradition in his work; rather, he embraces traditional concepts and methods while injecting a modern perspective that is fresh and distinctly his own. Although a sense of nostalgia exists in his work, Wang continuously strives to break the barriers of traditional ink painting. His works Digital-No.09-NS02 (2008) and Digital-No.08-CR16 (2008) will be exhibited.
Yinka Shonibare MBE (RA)'s Barbie Painting (2013) and Dreaming Rich Painting (2013) continue the artist's exploration of colonialism and post-colonialism, while commenting on modern day relationships with labour, power, and wealth. The work incorporates Shonibare's trademark use of Dutch wax printed cotton textile, as well as figurines of luxury brand logos, guns, and luxury bags. The work was created for Shonibare's 2013 solo exhibition at Pearl Lam Galleries Hong Kong.
Majestic Lion (2014) by Joana Vasconcelos contains elements of painting and sculpture, as decorated coloured crochet forms protrude from a Baroque-inspired frame. The work plays with volume and is imbued with a sense of femininity through the use of materials and curvaceous forms.
About Qin Yufen
Qin Yufen (b. 1954, Shandong Province) began creating abstract works in the late 1970s. She has held solo exhibitions in Beijing, Tokyo, and Berlin, among other international cities. Solo shows include Beautiful Violence (2012) at Pin Gallery in Beijing, Fictive Architecture (2009) at Joy Art Space in Beijing, Beijing 008—Qin Yufen Art Project (2008) at Today Art Museum in Beijing, and Qin Yufen: Live, Hier und Dort (Live, Here and There) (2005) at Kunst Galerie Fürth in Germany. Qin has also participated in several group exhibitions, including The Art of Line: Contemporary Chinese Ink and Brush (2014), Pearl Lam Galleries, Singapore; Wu Ming, Form is Formless: Chinese Contemporary Abstract Art (2011), Contrasts Gallery (now Pearl Lam Galleries), Shanghai; The First Today's Documents 2007, Beijing Today Art Museum; The Wall: Reshaping Contemporary Chinese Art (2005), New York; and Left Hand, Right Hand: A Sino-German Exhibition of Contemporary Art (2003), Beijing.
About Yinka Shonibare MBE (RA)
Yinka Shonibare MBE (RA) was born in London and moved to Lagos, Nigeria at the age of three. He returned to London to study Fine Art first at Byam Shaw College of Art (now Central Saint Martins College of Art and Design), and then at Goldsmiths College, where he received his MFA, graduating as part of the 'Young British Artists' generation. He currently lives and works in the East End of London. Over the past decade, Shonibare has become well known for his exploration of colonialism and post-colonialism within the contemporary context of globalisation. Shonibare's work explores these issues, alongside those of race and class, through the use of a wide range of media. Mixing Western art history and literature, he asks what constitutes our collective contemporary identity today.
Shonibare was a Turner Prize nominee in 2004 and awarded the decoration of Member of the "Most Excellent Order of the British Empire" (MBE). He has added this title to his professional name. He has exhibited at the Venice Biennale and at leading museums around the world.
About Su Xiaobai
Su Xiaobai was born in 1949 in Wuhan, the capital city of Hubei province. In 1965 he joined the School of Art and Crafts in Wuhan, and from 1985 he studied oil painting at the Central Academy of Fine Arts in Beijing. In 1987, he received a scholarship to study at the Kunstakademie in Dusseldorf, where he was exposed to avant-garde Western art. Through his various journeys, Su has developed a language rich in personal experience and abstract symbols. During the 1990s, his work became progressively less figurative and following his return to China in 2003, it has increasingly focused on essential characteristics of colour, shape, and surface.
Recent solo shows include Su Xiaobai (2014) at Almine Rech in Paris and Painting and Being (2014) curated by Paul Moorhouse, curator at the National Portrait Gallery in London, at Pearl Lam Galleries Hong Kong.
About Joana Vasconcelos
Joana Vasconcelos is a Portuguese artist, born in Paris in 1971, who lives and works in Lisbon, Portugal. She achieved major international recognition when her sculpture The Bride, a 5 metre high chandelier comprised of 25,000 tampons, was exhibited at the Venice Biennale in 2005. Since then, her career has gone from strength to strength, including recent solo exhibitions at Château de Versailles in 2012 (where she was the first woman and youngest artist ever to exhibit work), Palácio Nacional da Ajuda, Lisbon, 2013; Trafaria Praia, the Portuguese Pavilion at the 55th Venice Biennale, 2013; and Joana Vasconcelos: Time Machine at Manchester Art Gallery, 2014.
About Wang Tiande
Wang Tiande was born in Shanghai in 1960. The artist aims to re-contextualise tradition within a contemporary framework through ink paintings, digital compositions, and thought-provoking installations. With ink paintings, which largely reference traditional Literati concepts, Wang Tiande captures a new form of expression that reflects today's contemporary culture while incorporating conceptual ideas.
Wang's work has been collected by the British Museum in London, Metropolitan Museum of Art in New York, Boston Museum of Fine Art, Hong Kong Museum of Art, Shanghai Museum of Art, Guangdong Art Museum, Shenzhen Art Museum, and JP Morgan Bank. In 2006, Wang Tiande exhibited in Brush and Ink, which was the first exhibition of contemporary Chinese painters held at the Metropolitan Museum of Art, New York.
About Zhu Jinshi
After completing an artist-in-residency in Germany and teaching in the Architecture Department of the Berlin Technical University, Zhu Jinshi (b. 1954, Beijing) returned to Beijing, where he currently lives and works. He began painting abstract works in the late 1970s, and participated in the Stars group exhibition, the first avant-garde art exhibition after the Cultural Revolution. Zhu has exhibited in numerous solo and group exhibitions, including Zhu Jinshi: Simplicity (2014) at Pearl Lam Gallerie in Singapore, 28 Chinese  (2013–14) at The Rubell Family Collection in Miami,  Zhu Jinshi: The Reality of Paint  (2013) at Pearl Lam Galleries in Hong Kong, Zhu Jinshi (2012) at Blum and Poe in Los Angeles, and Chinese Contemporary Abstract, 1980s until Present: MINDMAP  (2012), which was Pearl Lam Galleries' inaugural show in Hong Kong.
About Pearl Lam Galleries
Founded by Pearl Lam, Pearl Lam Galleries is a driving force within Asia's contemporary art scene. With over 20 years of experience exhibiting Asian and Western art and design, it is one of the leading and most established contemporary art galleries to be launched out of China. Playing a vital role in stimulating international dialogue on Chinese and Asian contemporary art, the Galleries is dedicated to championing artists who re-evaluate and challenge perceptions of cultural practice from the region. The Galleries in Hong Kong, Shanghai and Singapore collaborate with renowned curators, each presenting distinct programming from major solo exhibitions, special projects and installations to conceptually rigorous group shows. Based on the philosophy of Chinese Literati where art forms have no hierarchy, Pearl Lam Galleries is dedicated to breaking down boundaries between different disciplines, with a unique gallery model committed to encouraging cross-cultural exchange.
Contemporary Chinese Abstract art is heavily represented in the Galleries roster. Influential Chinese artists Zhu Jinshi and Su Xiaobai, who synthesise Chinese sensibilities with an international visual language, are presented internationally with work now included in major private and public collections worldwide. The Galleries have also introduced leading international artists such as Jenny Holzer, Jim Lambie and Yinka Shonibare MBE to markets in the region, providing opportunities for new audiences in Asia to encounter their work. Pearl Lam Galleries encourages international artists to create new work, which engages specifically with the region—collaborating to produce thought-provoking and culturally relevant work.
Pearl Lam Design shows works by established and emerging international designers, including Maarten Baas, Mattia Bonetti, André Dubreuil, and Studio Makkink & Bey, in exhibitions and design fairs around the world. They are invited to push the boundaries of traditional Chinese art and craft techniques and create new works that reflect their experiences in China.
---
Press Enquiries
Moxian Sun / Pearl Lam Galleries
moxian@pearllamfineart.com / +8621 6323 1989 or +86 186 2186 3057