ART TAIPEI 2015 Stand A05
Taipei World Trade Center, Exhibition Hall One
No. 5, Hsin-Yi Road, Sec 5, Taipei City 11011, Taiwan
Press Conference: Thursday, 29 October, 2–3pm
VIP Preview: Thursday, 29 October, 2–6pm
Vernissage: Thursday, 29 October, 6:30–9pm
Public Hours: Friday–Sunday, 30 October–1 November, 11am–7pm;
Monday, 2 November, 11am–6pm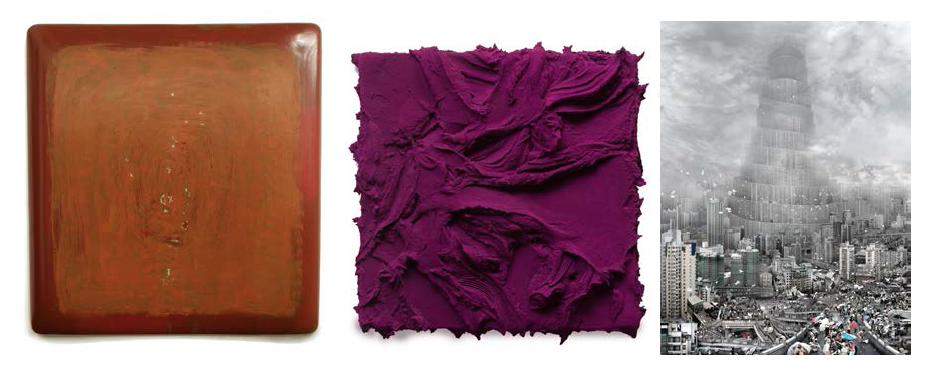 L–R:
Su Xiaobai b. 1949, Kuanhou—Summer, 2012, Oil and lacquer on linen and wood plate, 182 x 172 x 12 cm
Jason Martin b. 1970, Jean Genie, 2013, Mixed media on panel (Alizatin Violet), 68 x 68 cm
Du Zhenjun b. 1961, The Tower of Babel—Wind, 2010, Silver print, 240 x 180 cm
---
Taipei—Pearl Lam Galleries is pleased to announce its participation in Art Taipei 2015, presenting new works by leading artists from China, Australia, the United States, Italy, and the United Kingdom at stand A05. Acting as a bridge between Northeast and Southeast Asia, Art Taipei returns this year for its 22nd edition, making it Asia's longest-standing art fair, showcasing high quality modern and contemporary art.
Highlights at the Galleries' stand will include works by Chinese artists including Du Zhenjun, Qin Yufen, Qiu Deshu, Su Dong Ping, Su Xiaobai, and Zhu Jinshi, as well as work by emerging Hong Kong artist Morgan Wong, shown alongside British artists Jason Martin and Peter Peri, and work by Australian artist Dale Frank. Pearl Lam Galleries will also be bringing works by the pioneering American Abstract Expressionist Robert Motherwell and Italian artist Pino Pinelli, as well as that of British-Nigerian artist Yinka Shonibare MBE (RA). Differences in the artists' practices provides a variety of art on display, while all of the selected artists demonstrate Pearl Lam Galleries' undertaking to provoke a dialogue between Western and Eastern art and their influences on each other.
Art Taipei will be the first time the Galleries will be exhibiting the work of Australian contemporary artist Dale Frank b. 1959. Two of Frank's new paintings will be unveiled, Chinese Landscape 9—Thick Curly Black Hair Pushed Out From His Shirt Collar Like A Well Fluffed Paisley Cravat (2015) and Chinese Landscape 10—His Homeless Breath Was An Impermanent Monument To His Grandeur (2015), showcasing the artist's abstract style and technique that involves pouring paint or paint stripper directly onto canvases or other materials to create a unique swirling effect in his work.
Another stand highlight will be Grey Open (1980) by American artist Robert Motherwell 1915–1991. The appearance of this work coincides with the current exhibition at Pearl Lam Galleries' Hong Kong Pedder Building space marking the centenary of Motherwell's birth. Many of Motherwell's works hint at the artist's long-held fascination with Chinese calligraphy, as well as his lifelong interest in Zen.
Also included will be two works by Pino Pinelli b. 1938, both of which were shown at the artist's first solo exhibition in Asia earlier this month at Pearl Lam Galleries' SOHO space in Hong Kong. Pinelli was heavily influenced by the Zero movement, which began in the 1950s. These works were part of the exhibition that showed works unified by the fundamental colours grey and red.
Zhu Jinshi's oil on canvas work Whose Moonlight 1 (2013) will be another highlight at the Pearl Lam Galleries stand. For a time, the artist only created installation and performance art, but since his return to painting in the 21st century, Zhu has built a body of work in the medium with sensuous, impassioned oil paintings that achieve a weighty, physical quality in their built-up surfaces created with large amounts of viscous paint.
Pearl Lam Galleries will also be exhibiting works by distinctive Chinese artist Su Xiaobai b. 1949. The artist's work includes the use of lacquer, a medium steeped in Chinese history, which are Kuanhou—Summer (2012),and Kuanhou—Dark Green (2013). Su moved to Germany in 1987 to pursue his studies but returned to China in 2003. His work engages with the idea of being itself, rather than an interpretation of another subject.
A final highlight will be Dreaming Rich Painting (2013), a work of 15 separate panels by British-Nigerian artist Yinka Shonibare MBE (RA), b. 1962. The artist's trademark material is the brightly-coloured African batik fabric which he purchases at Brixton market in London, often seen adorning his sculptures. The fabric was inspired by Indonesian design, mass-produced by the Dutch and eventually sold to the colonies in West Africa where it became a new sign of African identity and independence in the 1960s. In this work, the artist has painted on the material with acrylic.
"Pearl Lam Galleries is happy to be returning to Art Taipei once again, for what will be our third consecutive year. Participating in art fairs gives us a larger number of platforms for our ever-growing international roster of artists, and this year, we have so many wonderful works we are excited to introduce to the audience at Art Taipei"
—Pearl Lam
About Pearl Lam Galleries
Founded by Pearl Lam, Pearl Lam Galleries is a driving force within Asia's contemporary art scene. With over 20 years of experience exhibiting Asian and Western art and design, it is one of the leading and most established contemporary art galleries to be launched out of China.
Playing a vital role in stimulating international dialogue on Chinese and Asian contemporary art, the Galleries is dedicated to championing artists who re-evaluate and challenge perceptions of cultural practice from the region. The Galleries in Hong Kong, Shanghai, and Singapore collaborate with renowned curators, each presenting distinct programming from major solo exhibitions, special projects, and installations to conceptually rigorous group shows. Based on the philosophy of Chinese Literati where art forms have no hierarchy, Pearl Lam Galleries is dedicated to breaking down boundaries between different disciplines, with a unique gallery model committed to encouraging cross-cultural exchange.
Contemporary Chinese abstract art is heavily represented in the Galleries roster. Influential Chinese artists Zhu Jinshi and Su Xiaobai, who synthesise Chinese sensibilities with an international visual language, are presented internationally with work now included in major private and public collections worldwide. The Galleries has also introduced leading international artists such as Leonardo Drew, Jenny Holzer, Carlos Rolón/Dzine and Yinka Shonibare MBE (RA) to markets in the region, providing opportunities for new audiences in Asia to encounter their work. Pearl Lam Galleries encourages international artists to create new work which engages specifically with the region-collaborating to produce thought-provoking, culturally relevant work.
---
Press Enquiries
Eleanor Porter / SUTTON / eleanor@suttonpr.com / +852 2528 0792
Angel Luo / SUTTON / angel@suttonpr.com / +852 2528 0792