ART TAIPEI 2014 Stand A08
Taipei World Trade Center (Areas B C D), Exhibition Hall 1
No. 5, Xin-yi Road, Sec. 5, Taipei City, 11011, Taiwan
Vernissage: 30 October, 6:30–9pm
Exhibition Dates: 31 October–3 November, 11am–7pm (11am–5pm on 3 Nov)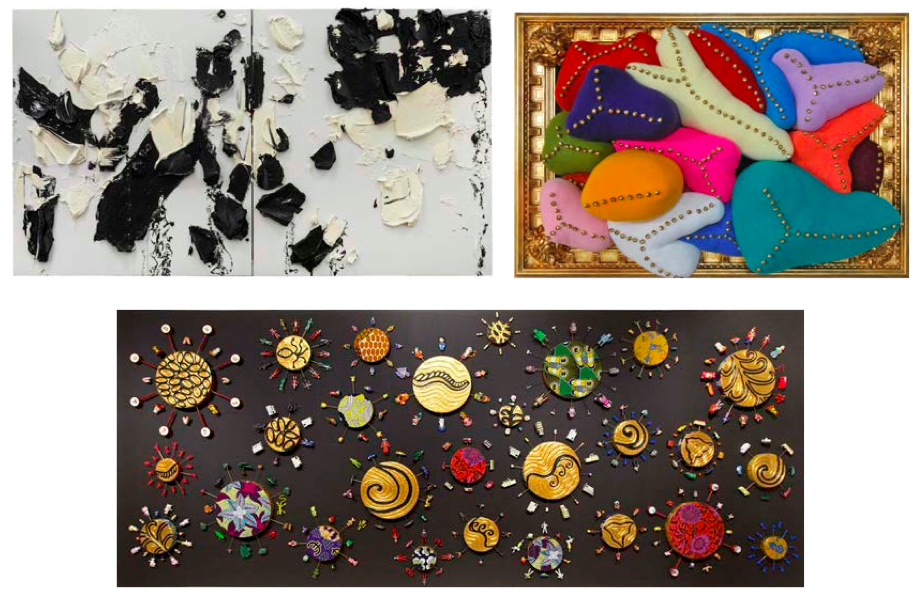 Clockwise from top left:
Zhu Jinshi b. 1954, Brooklyn in Dark (2014), Oil on canvas, 180 x 160 cm x 2 (70 9/10 x 63 in. x 2)
Joana Vasconcelos b. 1971, Majestic Lion (2014), Handmade woollen crochet, ornaments,
polyester on canvas, stucco, gold leaf, MDF and iron, 149 x 219 x 50 cm (59 x 86 x 20 in.)
Yinka Shonibare MBE (RA) b. 1962, Hong Kong Toy Painting (2013), 27 panels, acrylic on
Dutch wax printed cotton textile, toys, steel rods, 250 x 620 x 7 cm (98 2/5 x 244 x 2 1/4 in.)
---
Taipei—Pearl Lam Galleries is pleased to continue its participation in Art Taipei at the fair's twenty-first edition. The event will take place at Taipei World Trade Center Exhibition Hall 1 from 31 October–3 November, with a vernissage on 30 October.
The Galleries will continue its mission of acting as a bridge between the East and West by exhibiting artists from a variety of cultural backgrounds, including those from China, Tibet, the UK, Portugal, Australia, and Iran. The aim is to provide an environment for cross-cultural dialogue and understanding. Artists on show include Chinese artists Lan Zhenghui, Li Huasheng, Qin Yufen, Ren Ri, Wang Huangsheng, and Zhu Jinshi; Iranian artist Golnaz Fathi;
Tibetan artist Gonkar Gyatso; Australian artist Ben Quilty; UK artist Yinka Shonibare MBE (RA); and Portuguese artist Joana Vasconcelos.
Many of the participating Chinese artists are known for being pioneers of Chinese abstract art, having led the movement to break free of realist painterly ideals prominent in 1980s China. These artists root their work in Taoist philosophy, which advocates the interconnectedness of humanity and nature, along with the cultivation of the inner self.
Lan Zhenghui, Li Huasheng, and Wang Huangsheng use ink on xuan (rice) paper, where brushstrokes are a reflection of the soul. Lan Zhenghui b. 1959 is known for his heavy ink-splash style, which are "bursts of emotion on paper". Li Huasheng b. 1944 expresses his thoughts and feelings through the painted line, which he uses to create grid-like structures that he fills with spontaneously formed marks and ciphers. His works have a meditative quality and represent the passing of time through the labour involved in their creation. Wang Huangsheng b. 1956 explores the freedom of movement in his flowing lines, which are both loose and precise in his Moving Visions series. Wang continues his inquiry into humankind's relationship with spirituality, and the romantic and uncontrolled freedom of personal space.
Qin Yufen b. 1954 uses vivid colours in her abstract paintings. In the 1980s, Qin moved to Germany where her work was influenced by both Western and traditional Chinese traditions of ink painting, while maintaining Oriental aesthetics of tranquillity and ethereality.
Zhu Jinshi b. 1954 uses heavily impastoed oil paint on canvas to create his abstract works, which combine Chinese and Western influences, such as the wisdom of "emptiness" as reflected in the Diamond Sutra, and Michel Foucault's theories of modernity.
Up-and-coming artist Ren Ri b. 1984 works with bees to form his sculptural works out of beeswax. The artist believes his sculptures represent the truth of how humans interact with nature, which involves harmony, destruction, molding, and interference, and can result in unpredictable, sometimes volatile, but sometimes wondrous results.
Tibetan artist Gonkar Gyatso b. 1961 will exhibit two mixed media collages, which consist of references to both traditional Tibetan life and global mass-media culture that is constantly reshaping our cultural identity. The Buddha figure in his work is a cultural rather than religious representation of his Tibetan identity, which he manipulates with his own unique visual language of stickers and ephemera, as well as magazine and newspaper clippings.
Iranian artist Golnaz Fathi b. 1972, trained in traditional Persian calligraphy, creates abstract paintings, which she views as visual meditations—not unlike many Chinese abstract artists. Her works are gestural, influenced by abstract expressionism and Middle Eastern modernists from the 50s and 60s, who transformed words into forms.
Ben Quilty b. 1973 will exhibit his large diptychs Oscar Wilde is Buried Here and Lying on Jim Morrison's Grave (both 2014), which were created during his current residency in Paris. Bold images of grotesque characters or unconventional objects challenge perspectives and lure the viewer into the artist's unfathomable world, which is characterised by rich textures and contrasts. His painting style can be recognised from his thick layering and smearing of paint applied with a palette knife.
A pre-occupation with consumerism as a global trait underpins Hong Kong Toy Painting (2013) by Yinka Shonibare MBE (RA) b. 1962, which was created for his exhibition Dreaming Rich at Pearl Lam Galleries, Hong Kong. The visually opulent wall painting consists of 27 round canvases in rich hues of gold, red and brown, which are framed by a multitude of toys like rays in a galaxy of stars. The work continues Shonibare's exploration of colonialism and post-colonialism, while commenting on modern day relationships with labour, power, and wealth.
Majestic Lion (2014) by Joana Vasconcelos b. 1971 contains elements of painting and sculpture, as decorated coloured crochet forms protrude from a Baroque-inspired frame. The work plays with volume and is imbued with a sense of femininity through the use of materials and curvaceous forms.
 About Golnaz Fathi
Golnaz Fathi was born in Tehran, Iran in 1972. Her work is transnational both in conception and execution, as it incorporates her extensive training in traditional Iranian calligraphy, graphic design, painting, and autobiography. Her paintings carry traces of meaning that have no known coded alphabet. The strength of her work stems from the drive to express emotions that cannot be pinned down into words. She has exhibited widely in galleries and museums in South Korea, New York, Geneva, Dubai, London, Tehran, Paris, Chicago, and Padova. Her work is part of the permanent collection of Brighton & Hove Museum, England; Carnegie Mellon University in Doha, Qatar; Islamic Art Museum, Malaysia; Asian Civilisations Museum, Singapore; The British Museum, London; Devi Art Foundation, New Delhi, India; Farjam Collection, Dubai; and The Devi Art Foundation, New Delhi, India. She has also received numerous fellowships and grants, including resident scholarships to study at Fabrica (Treviso, Italy) and Cité Internationale des Arts (Paris, France).
About Gonkar Gyatso
Gonkar Gyatso is a Tibetan born British artist. Born in 1961 in Lhasa, Gonkar moved to London in late 1996 on a scholarship to the Central St. Martin's College of Art and Design, where he attained his MA in Fine Art. Gyatso has a BFA in Chinese Brush Painting from the Chinese Institute of Nationalities, Beijing, and studied Thangka (traditional Tibetan scroll painting) in Dharamsla. His work has been exhibited in galleries and museums around the world, including the Metropolitan Museum of Art (NYC) in 2014, the Boston Museum of Fine Arts (Boston, MA) in 2013, and the Tel Aviv Museum of Art (Israel) in 2010. Gyatso has participated in the 53rd Venice Biennial (Italy) in 2009, the 6th Asia Pacific Triennial in Brisbane (Australia) in 2010, and the 17th Sydney Biennale (Australia) in 2010.
About Lan Zhenghui
Lan Zhenghui (b. 1959) graduated from Sichuan Fine Arts Institute in 1987. He currently lives and works in Beijing and Toronto. Lan's monumental paintings and striking use of ink reflect his constant pursuit of expression and feeling. His works are "bursts of emotion on paper" characterised by an abstract ink-splash style. Lan's brushstrokes are created by systemic body movements, which contribute to the visual and spiritual impact of his works, evoking the swelling of muscle, blood and physical power. Lan has had solo exhibitions at Sanshang Art (Hangzhou), Pearl Lam Galleries (Shanghai), O House Gallery (Jakarta), National Art Museum of China (Beijing), and the Guangdong Museum of Art (Guangzhou). His work has recently been acquired by the Rubell Family Collection (USA).
About Li Huasheng
Li Huasheng was born in Yibing, Sichuan province in 1944. Li studied in Chengdu under Chen Zizhuang and his early ink works followed in the line of traditional literati painting. In the mid-1980s, the artist was influenced by modern Western painting and he began to pursue a more subjective form of expression. Li's method of creation is comparable to Zen meditation, where the brushstroke is a reflection of the soul. His solo exhibitions include Master Ten Cases in Chinese Contemporary Art (2010) at 800 Art Space in Shanghai, Li Huasheng: New Literati Paintings (2006) at Alisan Fine Arts in Hong Kong, and Li Huasheng: An Individualistic Artist (1998) at Chinese Culture Centre of San Francisco in California. He has also exhibited in museums and galleries in Beijing, Shanghai, Chengdu, Shenzhen, New York, Singapore, and Taipei.
About Qin Yufen
Qin Yufen (b. 1954, Shandong Province) began creating abstract works in the late 1970s. She has held solo exhibitions in Beijing, Tokyo, and Berlin, among other international cities. She has participated in several group exhibitions, including Left Hand, Right Hand: A Sino-German Exhibition of Contemporary Art (2003), Beijing; The Wall: Reshaping Contemporary Chinese Art (2005), New York; The First Today's Documents 2007—Energy: Spirit, Body, Material (2007), Beijing Today Art Museum; and Wu Ming, Form is Formless: Chinese Contemporary Abstract Art (2011), Contrasts Gallery (now Pearl Lam Galleries), Shanghai.
 About Ben Quilty
Born in 1973, Quilty grew up in the outer suburbs of northwestern Sydney, Australia, where his youth typified the self-destructive character of Australian masculinity: drugs, alcohol, and recklessness. Ben Quilty's paintings of his Holden Torana produced a sell-out show in 2002 and since then his work has been included in many exhibitions around the world. In 2009 he won the Doug Moran Portrait Prize in 2009 for his painting Jimmy Barnes, and in 2011 he won the Archibald Prize for his portrait of Margaret Olley. He won the inaugural Prudential Eye Awards in Singapore in 2014, which was followed by a solo exhibition at Saatchi Gallery, London.
About Ren Ri
Ren Ri (b. 1984 in Harbin, China) studied Fine Art at Tsinghua University before receiving his Masters at Saint-Petersburg Herzen State University in Russia. He also holds a PhD in Fine Art from Central Academy of Fine Arts, Beijing. Ren Ri's art is easily recognisable because of his use of beeswax. His understanding of bee psychology and nature helps him to create, in collaboration with insects, mesmerising sculptures. Ren Ri's most famous series, Yuansu I, II and III, are all related to his intimate experience with bees as both an artist and a beekeeper. Yuan means element, while su means mold—Yuansu can be translated as 'a comprehension of the gestalt of life'.
About Yinka Shonibare MBE (RA)
Yinka Shonibare MBE (RA) was born in London and moved to Lagos, Nigeria at the age of three. He returned to London to study Fine Art first at Byam Shaw College of Art (now Central Saint Martins College of Art and Design), and then at Goldsmiths College, where he received his MFA, graduating as part of the 'Young British Artists' generation. He currently lives and works in the East End of London. Over the past decade, Shonibare has become well known for his exploration of colonialism and post-colonialism within the contemporary context of globalisation. Shonibare's work explores these issues, alongside those of race and class, through the use of a wide range of media. Mixing Western art history and literature, he asks what constitutes our collective contemporary identity today.
Shonibare was a Turner Prize nominee in 2004 and awarded the decoration of Member of the "Most Excellent Order of the British Empire" (MBE). He has added this title to his professional name. He has exhibited at the Venice Biennale and at leading museums around the world.
About Joana Vasconcelos
Joana Vasconcelos is a Portuguese artist, born in Paris in 1971, who lives and works in Lisbon, Portugal. She achieved major international recognition when her sculpture The Bride, a 5 metre high chandelier comprised of 25,000 tampons, was exhibited at the Venice Biennale in 2005. Since then, her career has gone from strength to strength, including recent solo exhibitions at Château de Versailles in 2012 (where she was the first woman and youngest artist ever to exhibit work), Palácio Nacional da Ajuda, Lisbon, 2013; Trafaria Praia, the Portuguese Pavilion at the 55th Venice Biennale, 2013; and Joana Vasconcelos: Time Machine at Manchester Art Gallery, 2014.
About Wang Huangsheng
As the Director of CAFA Art Museum in Beijing, Wang Huangsheng (b. 1956) has organised a great deal of influential exhibitions both at home and abroad, which has further cultivated his own art consciousness and spirit, moving from traditionalism towards the purity of modernism, and towards the new appeal of contemporary ink. Wang is an artist who pursues the intrinsic stage of Chinese painting, conscientiously building a contemporary visual form; in this is manifested a freedom of artistic substance. He has had solo exhibitions at the National Art Museum of China and the Guangdong Museum of Art.
About Zhu Jinshi
After completing an artist-in-residency in Germany and teaching in the Architecture Department of the Berlin Technical University, Zhu Jinshi (b. 1954, Beijing) returned to Beijing, where he currently lives and works. He began painting abstract works in the late 1970s, and participated in the Stars group exhibition, the first avant-garde art exhibition after the Cultural Revolution. Zhu has exhibited in numerous solo and group exhibitions, including including Zhu Jinshi: Simplicity (2014) at Pearl Lam Galleries Singapore, 28 Chinese  (2013–14) at The Rubell Family Collection in Miami; Zhu Jinshi: The Reality of Paint  (2013) at Pearl Lam Galleries in Hong Kong; Zhu Jinshi (2012) at Blum and Poe in Los Angeles; and Chinese Contemporary Abstract, 1980s until Present: MINDMAP  (2012), which was Pearl Lam Galleries' inaugural show in Hong Kong.
About Pearl Lam Galleries
Founded by Pearl Lam, Pearl Lam Galleries is a driving force within Asia's contemporary art scene. With over 20 years of experience exhibiting Asian and Western art and design, it is one of the leading and most established contemporary art galleries to be launched out of China. Playing a vital role in stimulating international dialogue on Chinese and Asian contemporary art, the Galleries is dedicated to championing artists who re-evaluate and challenge perceptions of cultural practice from the region. The Galleries in Hong Kong, Shanghai and Singapore collaborate with renowned curators, each presenting distinct programming from major solo exhibitions, special projects and installations to conceptually rigorous group shows. Based on the philosophy of Chinese Literati where art forms have no hierarchy, Pearl Lam Galleries is dedicated to breaking down boundaries between different disciplines, with a unique gallery model committed to encouraging cross-cultural exchange.
Contemporary Chinese Abstract art is heavily represented in the Galleries roster. Influential Chinese artists Zhu Jinshi and Su Xiaobai, who synthesise Chinese sensibilities with an international visual language, are presented internationally with work now included in major private and public collections worldwide. The Galleries have also introduced leading international artists such as Jenny Holzer, Jim Lambie and Yinka Shonibare MBE to markets in the region, providing opportunities for new audiences in Asia to encounter their work. Pearl Lam Galleries encourages international artists to create new work, which engages specifically with the region—collaborating to produce thought-provoking and culturally relevant work.
Pearl Lam Design shows works by established and emerging international designers, including Maarten Baas, Mattia Bonetti, André Dubreuil, and Studio Makkink & Bey, in exhibitions and design fairs around the world. They are invited to push the boundaries of traditional Chinese art and craft techniques and create new works that reflect their experiences in China.
---
Press Enquiries
Moxian Sun / Pearl Lam Galleries
moxian@pearllamfineart.com / +8621 6323 1989 or +86 186 2186 3057