ART021
Shanghai Contemporary Art Fair Stand B-12
Shanghai Exhibition Center
No. 1000 Yan'an Middle Road, Shanghai, China
VIP Preview: 19 November, 2–6pm; 20 November, noon–3pm
Vernissage: 20 November, 3–9pm
Fair Dates: 21–22 November, 11am–6pm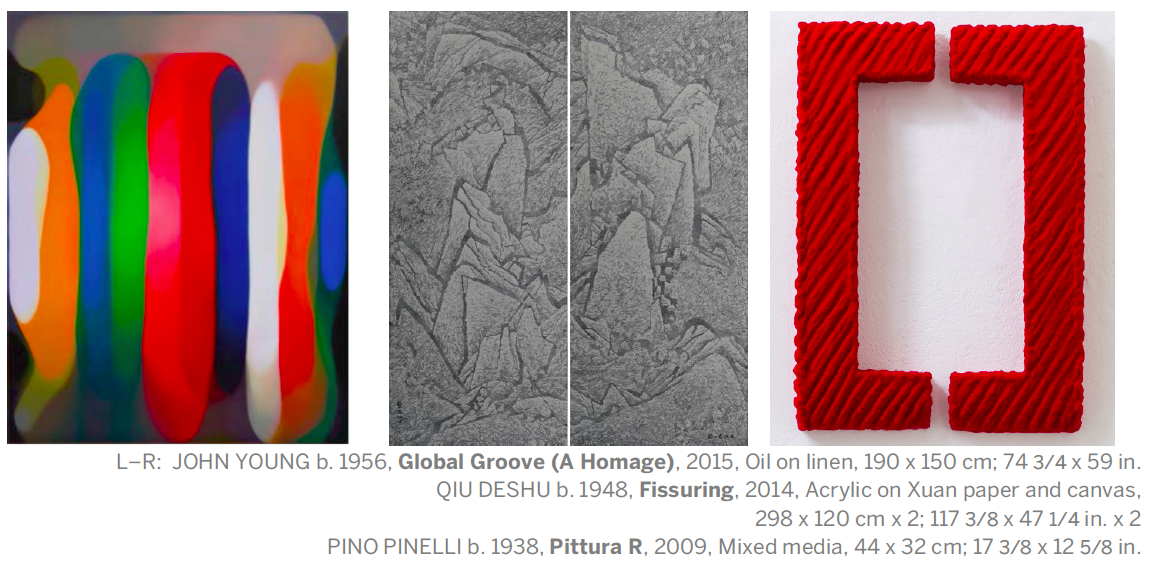 ---
Shanghai—Pearl Lam Galleries is pleased to announce its first participation in the third edition of ART021, presenting artworks in the Main Galleries section at stand B-12. Hosted at the Shanghai Exhibition Center, the fair will run 19–22 November with a forum and online discussion to be held on 17 November. The fair stands out for its roster of top Chinese galleries, as well as prestigious international galleries from cities such as Seoul, New York, Paris, and Tokyo. This edition of the fair will particularly highlight public artworks, new media, and video works.
Pearl Lam Galleries will be showcasing works by 14 contemporary artists from around the world, including Chinese artists Li Tianbing, Qiu Deshu, Su Dong Ping, Su Xiaobai, Zhang Jianjun, and Zhu Jinshi; as well as Australian artists Dale Frank, Ben Quilty, and John Young; UK artists Antony Micallef and Peter Peri; Korean artist Chun Kwang Young; Tibetan artist Gonkar Gyatso; and Italian artist Pino Pinelli. Working in a variety of media, these artists all contribute to Pearl Lam Galleries' aim of stimulating cross-cultural dialogue on contemporary art between China, Asia, and the Western world.
John Young b. 1956 will present one of his latest works, Global Groove (A Homage). This colourful oil on linen painting is very much influenced by Western late Modernism. Young chooses an image to paint from thousands of computer generated images based on his sentiments at the time. The artist applies predetermined Photoshop filters through batch processing to a variety of found images, including landscapes, nudes, and stock photographs, and then he selects what he will paint from the resulting composites.
Qiu Deshu b. 1948, a trained traditional Chinese painter, has developed his own technique that involves painting and collage using Xuan paper to create his signature Fissuring works. Qiu applies colour to xuan paper, which he tears up before mounting the fragments to a base layer, often leaving space in between to create a pictorial field with the "cracks" that he feels are symbolic of life's journey. At the fair, he will exhibit Fissuring (2014), a nearly 3-metre tall diptych.
Pino Pinelli b. 1938 is a leading artist of the Analytical Painting movement. Through research and experimentation, the artist abandoned the canvas and frame to focus on the concept of painting itself, challenging the idea of a painting limited by edges and opening up the perspective of a constantly moving painting inside the phenomenal changing world. In his Pittura R series, the expansion of the painting is more obvious than ever, as is his conceptual development towards total essentialism. Pinelli will exhibit a 2009 mixed media work from this series.
Leading Chinese artist Zhu Jinshi b. 1954 also explores the essentiality of painting and abstraction. At Art021, he will present Four Scholars on New Year's Eve—3, a painting consisting of thick layers of oil on canvas in which materiality and sensibility reach the spectator through his natural "mind images", created through a meditative process. Su Dong Ping b. 1958 also works with thick layers of oil paint in his oil on canvas painting 2015No.14, which is very much influenced by traditional Chinese philosophies and the spontaneous strokes of calligraphy.
Peter Peri b. 1971 explores the possibilities of geometry and bi-dimensionality in his latest work Open Sea. Here he uses the line and the mass as core elements of communication. This spiral-like composition leads the viewer's perception to the infinite, swirling and interacting with it.
Dale Frank b. 1959 will exhibit two 2015 abstract 'landscapes', which can be deciphered as wormholes that lead to another universe with infinite possibilities. Frank pours paint stripper and acid onto Perspex and allows them to pool, converge, and diverge by careful manipulation. The Perspex surface gives his works an iridescent quality, as Frank explores the possibilities of paint and surfaces. The artist's imaginative titles like Chinese Landscape 11—Instead he flew to New York and became a doughnut baker in Connecticut (2015) are starting points to draw viewers into his works.
Strongly influenced by traditional Korean hanji art and driven by his own childhood memories of medicine wrapped in mulberry paper, Chun Kwang Young b. 1944, has developed his own technique working with said paper to create three-dimensional aggregations. He will exhibit Aggregation 14-JA012 (Desire 5) (2014), a colourful artwork that resembles a geode and acts as a collage where tradition and contemporary influences find their place balancing each other out.
Su Xiaobai b. 1949, known for his sculpture-like lacquer paintings that reinvent traditional lacquer techniques for the modern day, will present a pair of oil, lacquer, linen and wood works, Black: Boundless and White: Endless (2015). Su is concerned with form, materiality, and time. His works question the structure and language of painting.
Influenced by both traditional Chinese ink painting and Western abstraction, Zhang Jianjun b.1955 will exhibit two recent paintings from his First Drop of Water series, giving great importance to the essential elements of visual perception.
Gonkar Gyatso b. 1961, a multidisciplinary artist, will show two of his representative Buddha sculptures, which are a commentary on consumerism, as well as 9,784 Prayers, a graphic work inspired by the pilgrimage around a stupa to reach Buddha, the container of everything. Gyatso explores transcendence and superfluousness, as well as tradition and modernity in his works.
Chinese artist Li Tianbing b. 1974 will present four oil paintings from his Monkey series. Li explores isolation and loneliness through the figure of the monkey, addressing the emptiness from an introspective panorama.
Antony Micallef b. 1975 will exhibit Self-Portrait on Grey No. 4 (2015), an oil on French linen painting that reflects the artist's inner journey while exploring the act of mark making, as the artist attacks the canvas with thick layers of paint.
The thick and expressionist paintings of Ben Quilty b. 1973, exemplified by his oil on linen painting Augustin (2015), are a door to his inner world. Here, the artist, one of Australia's most distinctive painters, depicts his friend who he describes as 'a Parisian studio assistant, artist, and rock star', using his trademark energetic, impasto technique.
About Pearl Lam Galleries
Founded by Pearl Lam, Pearl Lam Galleries is a driving force within Asia's contemporary art scene. With over 20 years of experience exhibiting Asian and Western art and design, it is one of the leading and most established contemporary art galleries to be launched out of China. Playing a vital role in stimulating international dialogue on Chinese and Asian contemporary art, the Galleries is dedicated to championing artists who re-evaluate and challenge perceptions of cultural practice from the region. The Galleries in Hong Kong, Shanghai and Singapore collaborate with renowned curators, each presenting distinct programming from major solo exhibitions, special projects and installations to conceptually rigorous group shows. Based on the philosophy of Chinese Literati where art forms have no hierarchy, Pearl Lam Galleries is dedicated to breaking down boundaries between different disciplines, with a unique gallery model committed to encouraging cross-cultural exchange.
Contemporary Chinese Abstract art is heavily represented in the Galleries roster. Influential Chinese artists Zhu Jinshi and Su Xiaobai, who synthesise Chinese sensibilities with an international visual language, are presented internationally with work now included in major private and public collections worldwide. The Galleries has also introduced leading international artists such as Leonardo Drew, Jenny Holzer, Carlos Rolón/Dzine and Yinka Shonibare MBE (RA) to markets in the region, providing opportunities for new audiences in Asia to encounter their work. Pearl Lam Galleries encourages international artists to create new work, which engages specifically with the region—collaborating to produce thoughtprovoking and culturally relevant work.
---
Press Enquiries
Moxian Sun / Pearl Lam Galleries
moxian@pearllamfineart.com / +8621 6323 1989
Yi-An Chen/ Pearl Lam Galleries
yian@pearllamgalleries.com / +86 1381 6019 725