Pearl Lam Galleries participates in Art14 London
Featuring works by Choi Jeong Hwa, Jenny Holzer, Li Huasheng, Li Xiaojing, Yinka Shonibare MBE (RA), Su Xiaobai, Juju Sun, Michael Chow aka Zhou Yinghua ~O-O~, and Zhu Jinshi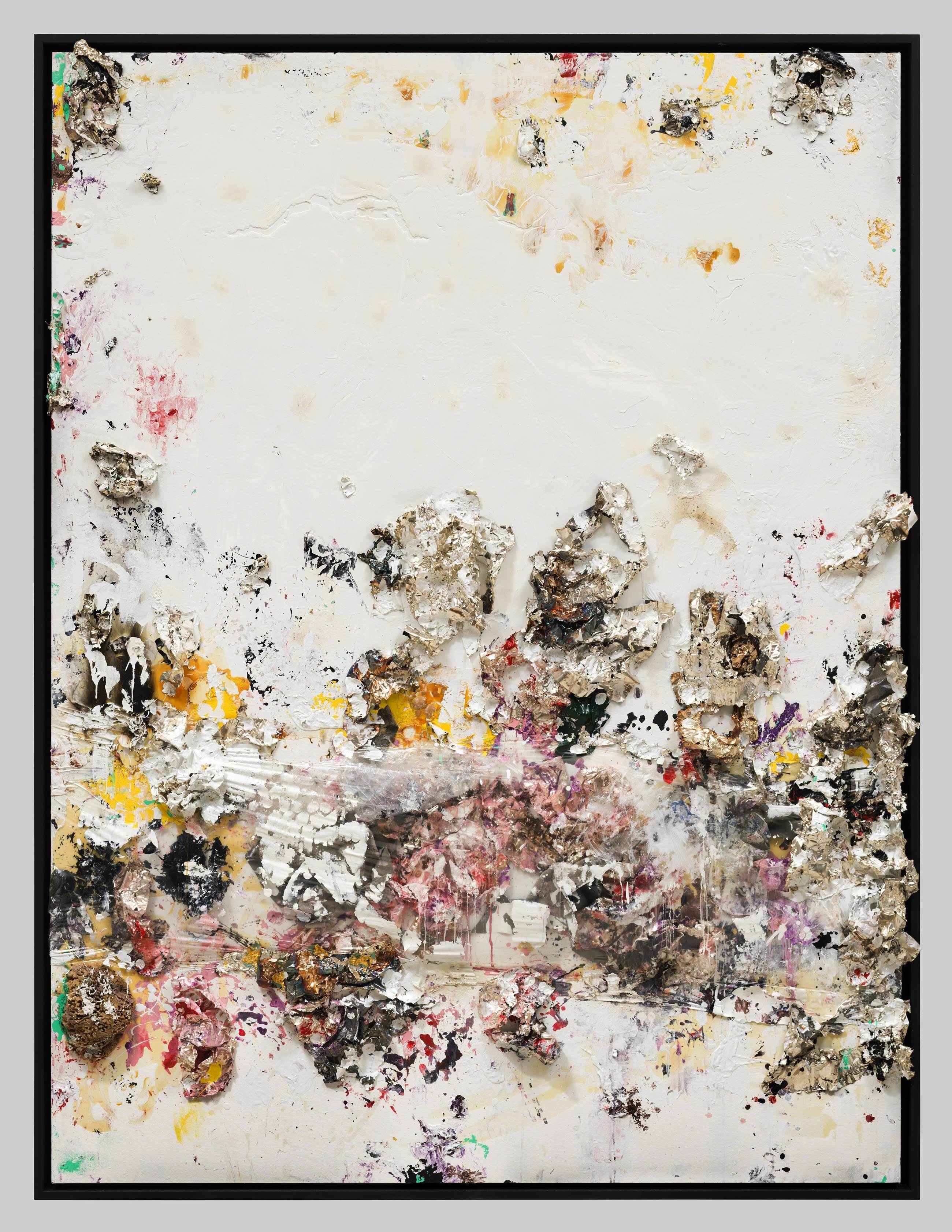 Michael Chow aka Zhou Yinghua ~O-O~, Rose Garden I, 2013, Mixed media: household paint with precious metal & trash, 244 x 183 cm (96 x 72 in.)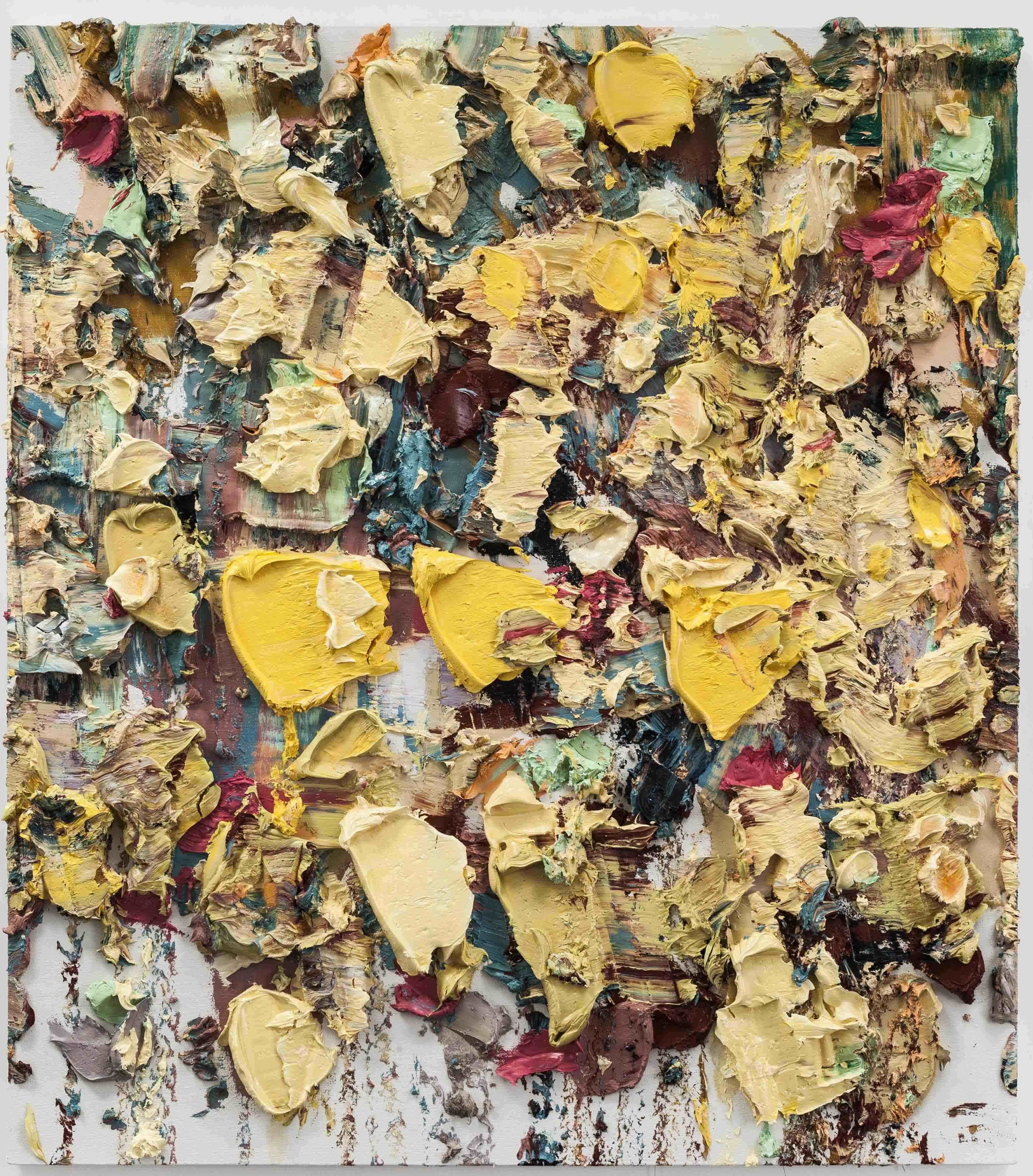 Zhu Jinshi, Yellow Magnolia Spread on the Floor, 2013, Oil on canvas, 180 x 160 cm (70 9/10 x 63 in.)

Jenny Holzer, Pearl's Truisms & Survival, 2013, Horizontal LED sign, 24 x 173 x 6 cm (9 2/3 x 68 1/10 x 2 2/5 in.), Ed. 6/6
Exhibition Dates
Friday, 28 February–Sunday, 2 March 2014 / Stand A2
VIP Preview & Vernissage (by invitation): Thursday, 27 February, 2–9pm
General Hours: Friday, 28 February and Saturday, 1 March, 11–7pm; Sunday, 2 March, 11–5pm
Olympia Grand, Hammersmith Road, Kensington, London W14 8UX
---
Hong Kong—Pearl Lam Galleries is delighted to announce its participation in Art14 London, exhibiting at stand A2 from 28 February to 2 March, 2014.
Returning to London for the second edition of the fair, the Galleries will present a selection of important works by renowned artists Choi Jeong Hwa (Seoul), Jenny Holzer (USA), Li Huasheng (Sichuan), Li Xiaojing (Beijing), Su Xiaobai (Shanghai), Juju Sun (Beijing), Michael Chow aka Zhou Yinghua ~O-O~ (Los Angeles), Zhu Jinshi (Beijing) and Yinka Shoniare MBE (RA) (UK).
Pearl Lam Galleries has championed Chinese contemporary art for over 20 years by presenting emerging and established artists on the international stage. In keeping with this mission, a strong presentation of Asian art will be showcased in London.
Chinese abstract master Zhu Jinshi was an active participant in underground cultural and literary activities, and a member of the groundbreaking 'Stars' (Xingxing) avant-garde artist group alongside Ai Weiwei and Ma Desheng. The artist will return to the fair this year to present a new series of large-scale works heavy with oil paint, which appears to drip and almost hang off the surface of the canvas. After his work was exhibited by Pearl Lam Galleries as the centrepiece of the Art13 London Projects sector last year, Zhu has appeared in major exhibitions worldwide, including the current exhibition at the Rubell Family Collection, 28 Chinese, in Miami.
Further highlights will include three lacquer paintings by prominent Chinese artist Su Xiaobai, whose studies in Germany under Gerhard Richter led to his breaking away from learnt expressive and traditional painting techniques, and his questioning of the very structure and language of painting. 2014 is set to be another important year for the artist with a major book being published this summer and a solo exhibition in Hong Kong this May at Pearl Lam Galleries, curated by renowned British curator Paul Moorhouse.
The stand will also include a vibrant work by emerging artist Juju Sun whose abstract oil paintings are influenced by landscapes and cityscapes, and the relationship between positive and negative space.
Pearl Lam Galleries will also present its first ever collaboration with Korean artist Choi Jeong Hwa—a new site-specific light installation, which consists of found LED lights, plastic bowls and steel. Renowned for his colourful installations using materials often sourced in Korean street markets, Choi has exhibited at the Korean Pavilion at the Venice Biennale, the Hayward Gallery in London, and held solo exhibitions at museums worldwide.
Jenny Holzer's new LED text series created in Chinese will be presented in the UK for the first time after its debut at Pearl Lam Galleries' Hong Kong space in November for Holzer's first solo exhibition in the city, entitled Light Stream. Jenny Holzer is one of the most respected contemporary artists working today, best known for large-scale public projections of text. Influenced by literature, society, and politics, her work explores notions of transparency, sexuality, morality, and power.
The renowned restaurateur behind 'MR CHOW' Chinese restaurants worldwide, Michael Chow aka Zhou Yinghua ~O-O~, will present brand new work. This will mark Chow's first exhibition in London in nearly 50 years where he will present his series of large-scale mixed media canvases, each created using a variety of precious and household materials from paper money, gold leaf, liquefied silver, trash, and egg yolk to rubber gloves. Chow's work is a product of his cross-cultural inheritance and the post-war generation in which he grew up. His work references simultaneously Abstract Expressionism, Colour Field painting and the associated consistency of form, as well as the landscape traditions of Chinese ink and calligraphy. Mr. Chow is currently holding a major solo exhibition, Recipe for a Painter at Pearl Lam Galleries in Hong Kong.
Pearl Lam Galleries will also present two installations by British-Nigerian artist Yinka Shonibare MBE (RA) in association with Stephen Friedman Gallery, London. The installations will be on show at Art14's special project space.
Cannonball Heaven developed out of the research Shonibare undertook while working on his Fourth Plinth commission Nelson's Ship in a Bottle, a 1/30 scale model of HMS Victory, the renowned admiral's flagship at the Battle of Trafalgar. When visiting the ship, the artist became interested in its heavy artillery that contributed to the supremacy of the British fleet— and subsequently made a replica of one of its cannons as the focus of this work. Firing the cannon are two figures wearing ornate uniforms that reflect those of naval officers from the period. As a projection of status, clothing performs a critical role in both establishing and perpetuating social class systems. Within a hierarchical network such as the armed forces, this is even more clearly demarcated visually. Shonibare is fascinated by these kinds of visual signifiers, particularly when they refer to power structures. He upsets the established order by playing with our expectations of them.
The Dreaming Rich Painting (2013) was created for Shonibare's exhibition Dreaming Rich at Pearl Lam Galleries, Hong Kong. The exhibition continued Shonibare's exploration of colonialism and post-colonialism with a series of all-new works commenting on Hong Kong's modern day relationships with labour, power and wealth.
The selection of leading artists from across the world, to be shown by Pearl Lam Galleries, reflects the continued mission of the Galleries to foster cross-cultural dialogue.
"After an incredibly successful fair last year at the launch of Art13 London, I'm delighted to bring a selection of new works by our artists from all over the world to London again. Exhibiting at Art14 extends the reach of Pearl Lam Galleries as we continue to look for new markets for our artists' work and take them to new and broader audiences." —Pearl Lam, Founder of Pearl Lam Galleries
About Choi Jeong Hwa
Choi Jeong Hwa (b. 1961) is both an artist and a designer of buildings, furniture and furnishings. One of the most dynamic and well known of Korean contemporary artists, his work has been presented at numerous biennials including Liverpool (2004), Venice (2005), and Singapore (2006), as well as at Asia House, London (2006) and Wolverhampton (2007). On initial viewing, the strong design elements and colours of Choi Jeong Hwa's works seem like Pop Art. However, Choi Jeong Hwa's works involve finding and exploring the intrinsic value hidden beneath the surface. The surface to the inner dialectic of his visual aesthetics challenges and questions us, the viewers, who have perhaps become too content with other forms of contemporary art.
Choi Jeong Hwa creates art from the most humble of materials, finding inspiration in soda bottles, shopping bags, and colourful plastic dishes from the 99-cent store. Inspired by the harmony and chaos of the urban environment, the artist, architect, and designer undermines the hierarchy of the museum by often installing his pieces on the outside of buildings. He has created a 10-story installation made from 1,000 discarded doors, and decorated Seoul's Olympic Stadium with garlands made from 2 million pieces of trash—transforming the building's surface into a glittering jewel. In other pieces, he explores ideas of artificiality and permanence through the use of plastic food and flowers. He declines to categorise his work, leaving the audience to define his pieces on a personal level. As his motto states: "My art is your heart."
About Jenny Holzer
For more than thirty years, Jenny Holzer has presented her astringent ideas, arguments, and sorrows in public places and international exhibitions, including 7 World Trade Center, the Reichstag, the Venice Biennale, the Guggenheim Museums in New York and Bilbao, and the Whitney Museum of American Art. Her medium, whether formulated as a T-shirt, as a plaque, or as an LED sign, is writing, and the public dimension is integral to the delivery of her work. Starting in the 1970s with the New York City posters, and up to her recent light projections on landscape and architecture, her practice has rivalled ignorance and violence with humour, kindness, and moral courage. Holzer received the Leone d'Oro at the Venice Biennale in 1990 and the Crystal Award from the World Economic Forum in 1996. She holds honorary degrees from Ohio University, Williams College, the Rhode Island School of Design, The New School, and Smith College. She received the Barnard Medal of Distinction in 2011. Holzer lives and works in New York.
About Li Huasheng
Li Huasheng was born in Yibing, Sichuan province in 1944. Li studied in Chengdu under Chen Zizhuang and his early ink works followed in the line of traditional literati painting. In the mid-1980s, the artist's ink paintings were influenced by Modern Western painting and he began to pursue a more subjective form of expression. Li's method of creation is comparable to Zen meditation, where the brushstroke is a reflection of the soul. His solo exhibitions include Master Ten Cases in Chinese Contemporary Art (2010) at 800 Art Space in Shanghai, Li Huasheng: New Literati Paintings (2006) at Alisan Fine Arts in Hong Kong, and Li Huasheng: An Individualistic Artist (1998) at the Chinese Culture Centre of San Francisco in California. He has also exhibited in museums and galleries in Beijing, Shanghai, Chengdu, Shenzhen, New York, Singapore, and Taipei.
About Li Xiaojing
Li Xiaojing (b. 1981, Shandong, China) holds a Bachelor's degree in printmaking and a master's degree in oil painting from the Sichuan Academy of Fine Arts, Chongqing. In May 2012, Li participated in the opening group show at Pearl Lam Galleries Hong Kong, Chinese Contemporary Abstract, 1980's Until Present: MINDMAP. Other group shows include +Follow at MOCA Shanghai, China (2010) and Yi Pai—Century Thinking at Today Art Museum, Beijing, China (2009). She has also exhibited in museums and galleries in Chongqing, China and Jakarta, Indonesia. The artist currently lives and works in Beijing.
About Su Xiaobai
Su Xiaobai was born in Hubei, China in 1949. He studied oil painting at the Central Academy of Fine Arts in Beijing in 1984, receiving a scholarship to study at the Dusseldorf National Art Academy in 1987 and subsequently moving to Germany in 1992. Su's solo exhibitions include Grand Immensity (2013) at the National Taiwan Museum of Fine Arts, Su Xiaobai (2011) at Other Gallery in Shanghai, Su Xiaobai Solo Exhibition (2010) at Raketenstation Hombroich in Germany, and The Dynasty of Colours (2009) at Lagen Art Gallery in Germany. He has also exhibited in museums and galleries across Beijing, Shanghai, Taipei, Singapore, Berlin, Düsseldorf and Moscow.
About Juju Sun
Juju Sun was born in Jiangxi, China in 1973. She studied at the Ottawa School of Art and under Optical Art Master Larry Poons at the Art Student's League of New York and now lives and works in New York and Beijing. Her exhibitions include a solo show at Today Art Museum in Beijing (2012), Juju Sun Recent Paintings at Jawspace Gallery in New York (2011), Not Afraid to be Beautiful: Juju Sun's Recent Paintings at Gallery Gora in Montreal (2010), and Pure Abstraction: Juju Sun at 8th FL Artists Center at 481 Broadway in New York City (2007). Sun has also received numerous awards including World Peace Art Competition at Houston University, Texas (2002), 1st Award at SBAA 45th Annual Members' Competition, New York (2002), Merit Scholarship, Art Students League of New York, New York (2000), Golden Prize from Canada World Artists Association (1998) and Golden Prize by National Art Swan Expo (1995). Her works are also found in collections including the World Art Center (USA), US China Contemporary Art Fund (USA), FDM Gallery (Italy), and E.W.B Holding Group (USA).
About Michael Chow aka Zhou Yinghua ~O-O~
Zhou Yinghua was born in 1939 into a family of theatre in Shanghai, China. His father Zhou Xinfang, the grandmaster of Beijing Opera, is regarded as a national treasure to this day. Yinghua developed a passion for Beijing Opera, particularly the spontaneity and creativity. Yinghua dreamed of being a great artist in the opera. This was not his fate.
At the age of 13, he was sent to London, England. He lost everything familiar—his family, his language, his culture, even his name. Zhou Yinghua was re-branded Michael Chow. Alone and devastated in an alien world, "Michael" struggled to assimilate but found solace in visual arts. Art was a language Michael could grasp with ease and Michael's childhood dream of being an artist shifted from opera to painting. Michael wanted nothing more than to be an artist, however, at that time, being a Chinese artist, he was often met with rejection and exclusion. For over a decade, he scrapped and even starved. While he knew in his soul he had the talent and drive, he came to the conclusion that it was not enough. Michael, sacrificing his art for his survival, decided to take a break, which would become a long radical sabbatical.
He founded his first restaurant, MR CHOW, in 1968 in Knightsbridge, London. It became an international success spawning locations around the world. Michael thrived at designing, from specialty boutiques for Giorgio Armani, to his own restaurants and his home in Los Angeles. Michael has continued to be involved in all walks of creativity from architecture, theatre and film. He is an appointed member of the Board of Governors for The Broad Museum.
About Zhu Jinshi
Zhu Jinshi was born in Beijing, China in 1954. After completing an artist-in-residency in Germany and teaching in the Architecture Department at the Berlin Technical University, Zhu returned to Beijing, where he currently lives and works. He began painting abstract works in the late 1970s, and participated in the Stars (Xing Xing) group show, the first avant-garde art exhibition after the Cultural Revolution. Zhu has exhibited in numerous solo and group exhibitions including Chinese Contemporary Abstract, 1980s until Present: MINDMAP (2012) at Pearl Lam Galleries, Hong Kong; Power and Jiangshan (2008) at Arario Gallery, Beijing; and On the Road  (2002) at Prague City Museum, Czech Republic. Zhu's work is represented in many private and public collections across the globe, including Canada where his rice paper installation The Tao of Xuan Paper (1997) is on permanent display at the Vancouver Art Gallery. His work is currently showing in 28 Chinese at the prestigious Rubell Family Collection in Miami until August. He is represented in many private and public collections worldwide.
About Yinka Shonibare MBE (RA)
Yinka Shonibare MBE (RA) was born in London and moved to Lagos, Nigeria at the age of three. He returned to London to study Fine Art first at Byam Shaw College of Art (now Central Saint Martins College of Art and Design) and then at Goldsmiths College, where he received his MFA, graduating as part of the 'Young British Artists' generation. He currently lives and works in the East End of London. Over the past decade, Shonibare has become well known for his exploration of colonialism and post-colonialism within the contemporary context of globalisation. Shonibare's work explores these issues, alongside those of race and class, through the use of a wide range of media. Mixing Western art history and literature, he asks what constitutes our collective contemporary identity today.
Shonibare was a Turner Prize nominee in 2004 and awarded the decoration of Member of the "Most Excellent Order of the British Empire". He has added this title to his professional name. He has exhibited at the Venice Bienniale and internationally at leading museums worldwide.
About Pearl Lam Galleries
Founded by Pearl Lam, the Galleries' mission is to stimulate cross-cultural dialogue and cultural exchange between the East and West by establishing distinct and rigorous programming in each of its gallery spaces in Hong Kong and Shanghai, as well as the recently opened Singapore gallery at the Gillman Barracks.
Pearl Lam Galleries is dedicated to championing Chinese artists who re-evaluate the philosophy and perception of Asian contemporary art, while also committed to presenting major exhibitions by international artists. Jim Lambie, Yinka Shonibare MBE (RA), Jenny Holzer, and Zhu Jinshi are among the artists who held solo exhibitions at the Galleries in 2013.
Pearl Lam Design shows works by established and emerging international designers including Maarten Baas, Mattia Bonetti, André Dubreuil, and Studio Makkink & Bey. They are invited to push the boundaries of traditional Chinese art and craft techniques and create new works that reflect their experiences in China.
---
Press Enquiries
Megan Leckie / Pearl Lam Galleries
megan@pearllamfineart.com  / +8621 6323 1989
Rosanna Cator, Erica Siu / Sutton PR Asia
rosanna@suttonprasia.com, erica@suttonprasia.com / +852 2528 0792
www.pearllam.com