ART15 LONDON Stand A1
Olympia Grand, Hammersmith Road, Kensington, London W14 8UX
VIP Preview & Vernissage: 20 May, 6–9pm
General Hours: 21 May, 11am–9pm; 22–23 May, 11am–7pm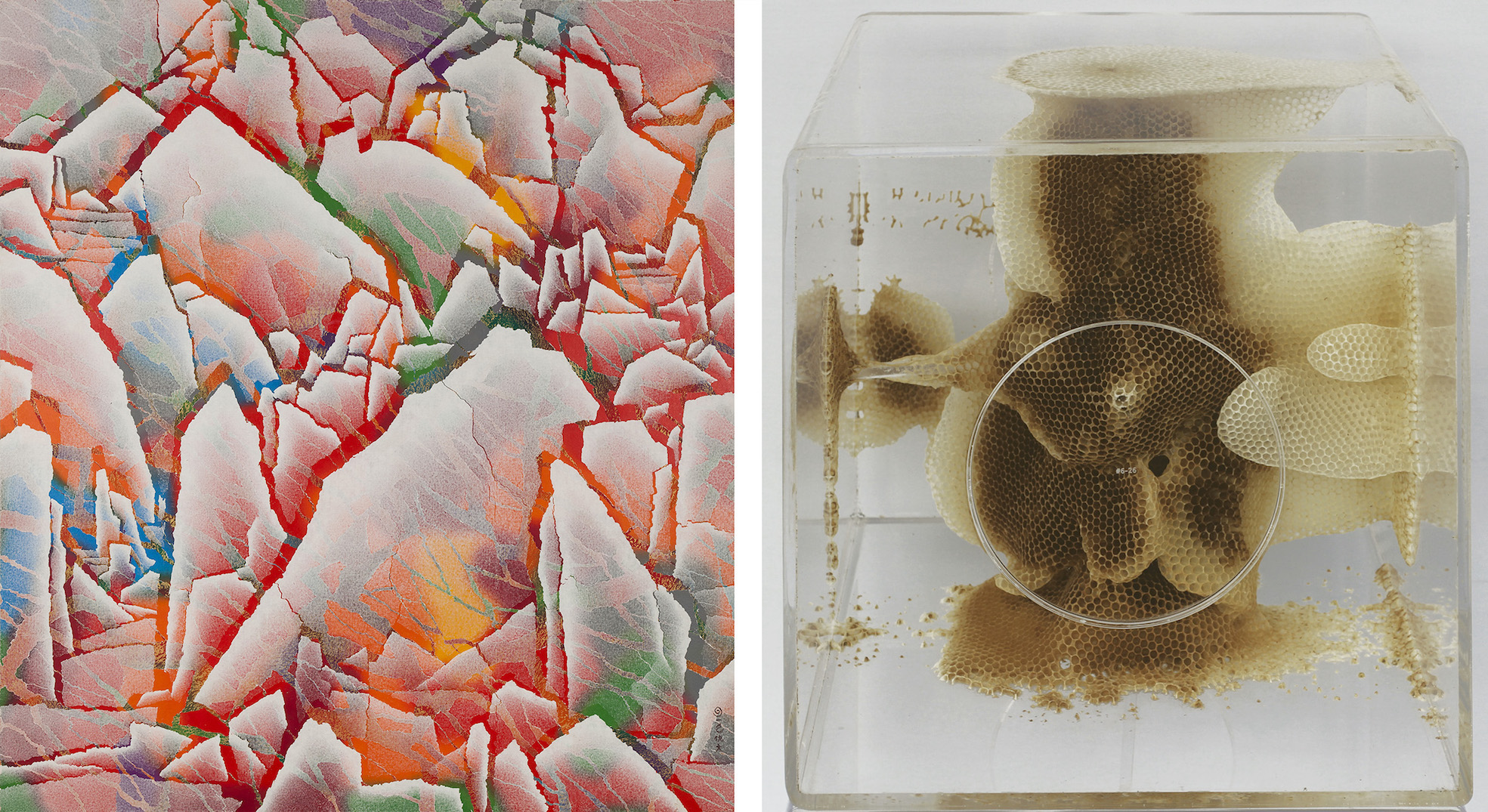 L­–R: Qiu Deshu b. 1948, Fissuring—Landscape, 2011, Acrylic on Xuan paper and canvas, 199 x 180 cm
Ren Ri b. 1984, Yuansu Series II, 2014–15, Acrylic box, natural beeswax, 40 x 40 x 40 cm
---
London—Pearl Lam Galleries is delighted to return to London to participate in Art15, the modern and contemporary art fair's third edition, which will feature 150 galleries from 40+ countries. The Galleries will exhibit at stand A1 from 20–23 May, 2015, where it will continue its mission of fostering cultural exchange between the East and West by presenting a selection of works by Chinese and international artists, including Leonardo Drew, Gonkar Gyatso, Gatot Pujiarto, Qin Yufen, Qiu Deshu, Ben Quilty, Ren Ri, Carlos Rolón /Dzine, Su Dong Ping, Su Xiaobai, and Zhu Jinshi.
Pearl Lam Galleries has been championing Chinese contemporary art for over 20 years by presenting emerging and established artists on the international stage. This year, the Galleries will present Chinese abstract artist Su Dong Ping's thickly impastoed 'action paintings' in London for the first time. Embedded with contradictions and feeling, Su's works share similarities with expressionist traditions, but his working process is very much rooted in traditional Chinese philosophies and calligraphy. The resulting paintings are a captivating balance of chance and personal preference, a relationship that the artist believes must be present in art to actualise freedom and the truth of expression.
Further highlights will include paintings by the Chinese abstract master Zhu Jinshi, an active participant in underground cultural and literary activities, and a member of the groundbreaking 'Stars' (Xingxing) avant-garde artist group. Zhu will present recent large-scale works heavy with oil paint, which appears to drip and almost hang off the surface of the canvas. The Galleries will also present a series of lacquer paintings by prominent Chinese artist Su Xiaobai, whose studies in Germany under Gerhard Richter led to his breaking away from learnt expressive and traditional painting techniques, and his questioning of the very structure and language of painting. Qiu Deshu will present works from his Fissuring series that are the result of two decades of experimentation in the technique and theme. Fissuring art is a way of painting in which structure and integration occur simultaneously by using tearing, rubbing, and carving techniques on Xuan paper, highlighting the nature of the material and examining the relationship between close range tension and deep space.
In March 2015, Pearl Lam Galleries opened a second Hong Kong gallery space dedicated to emerging artists with an inaugural solo exhibition by Beijing-based artist Ren Ri. At Art15, a special section of the stand will be dedicated to presenting a series of the unique beeswax sculptures that define Ren's career as a beekeeper and artist. Ren manipulates the movement of bees and the formation of honeycombs to create metaphysical and hybrid sculptures, which investigate the force of nature and consequences of human intervention.
Pearl Lam Galleries will also exhibit a selection of works by up-and-coming and established international artists. A highlight of the fair will be a major twelve-panel landscape, Rorschach of Fairy Bower Falls, by Australian artist Ben Quilty, who presented his first solo exhibition with Pearl Lam Galleries in Hong Kong in January 2015. Using his characteristic 'Rorschach' painting technique that creates a geometric monoprint of thick oil paint by pressing a painted canvas onto a clean one, Quilty gives physical body to the disturbance and violence embedded in what is one of Australia's most scenic and beautiful spots. The Galleries will also show works by Gonkar Gyatso, Tibet's pre-eminent contemporary artist, whose personal, political and humorous works bridge Eastern and Western culture through reference to traditional Tibetan life and the global mass-media culture that is constantly interacting with, and shaping, our current perspectives of cultural identity.
"Exhibiting at Art15 extends the reach of Pearl Lam Galleries as we continue to look for new markets for our artists' work and take them to new and broader audiences." —Pearl Lam, Founder of Pearl Lam Galleries
About Leonardo Drew
Leonardo Drew was born in Tallahassee, Florida in 1961, and grew up in a public housing project in Bridgeport, Connecticut. He now lives and works in Brooklyn, New York. Although often mistaken for accumulations of found objects, his sculptures are instead made of "brand new stuff"—materials such as wood, rusted iron, cotton, paper, mud—that he intentionally subjects to processes of weathering, burning, oxidisation, and decay.
About Gonkar Gyatso
Gonkar Gyatso is a Tibetan-born British artist. Born in 1961 in Lhasa, Gonkar moved to London in late 1996 on a scholarship to Central Saint Martins, where he attained his MA in Fine Art. Gyatso has a BFA in Chinese Brush Painting from the Chinese Institute of Nationalities, Beijing, and studied Thangka (traditional Tibetan scroll painting) in Dharamsla. Gonkar is the founder of the Sweet Tea House, a London-based contemporary art gallery dedicated to showing Tibetan work, which he ran from 2003–2010.
Gyatso was the recipient of a Leverhelm Fellowship in 2003 and was an artist in residence at Pitt Rivers Museum in Oxford. His work has been exhibited in galleries and museums around the world, including the Metropolitan Museum of Art (NYC), 2014; the Boston Museum of Fine Arts (Boston, MA), 2013; and the Tel Aviv Museum of Art (Israel), 2010. Gyatso has participated in the 53rd Venice Biennial (Italy), 2009; the 6th Asia Pacific Triennial in Brisbane (Australia), 2010; and the 17th Sydney Biennale (Australia), 2010. His work is held internationally in public and private collections, including the Metropolitan Museum of Art (USA), the Museum of Fine Arts Boston (USA), the Newark Museum (USA), the Wereldmuseum Rotterdam (Netherlands), Queensland Art Gallery (Australia), White Rabbit Collection (Australia), the Burger Collection (Switzerland), and Red Gate Gallery (China).
About Gatot Pujiarto
Gatot Pujiarto was born in 1970 in Malang, East Java, Indonesia, where he still lives and works. He graduated from the Department of Fine Art and Design at IKIP Malang in 1995.
Pujiarto's works explore abnormalities, weirdness, and tragedy. Inspired by uncommon events or occurrences in everyday life, including stories he hears from friends, TV shows, and the news, Pujiarto's works amuse and provoke audiences to reinterpret daily stories as a new reality, to enjoy them and feel the emotions caused by them. The visual sensation in his works is combined with unique textures created by pasting, patching, layering, tearing, binding, and by making fabric patterns. Pujiarto has been widely exhibited throughout Indonesia. Recent shows include Shout—Indonesian Contemporary Art (2014), Museo d'Arte Contemporanea Roma (MACRO), Rome, Italy; and Jatim Art Now (2012), National Gallery of Indonesia, Jakarta, Indonesia.
About Qiu Yufen
Qin Yufen was born in 1954 in Shandong Province. She began to create abstract art in the late 1970s. In the mid-1980s, she moved to Germany where she was influenced by Western painting. Her works from this period used both Western and traditional Chinese ink painting techniques, while still depicting Oriental aesthetics of tranquillity and ethereality embodied by Zen meditation.
Qin Yufen has held solo exhibitions in Beijing, Tokyo, and Berlin, among other international cities. She has participated in several group exhibitions, including Left Hand, Right Hand: A Sino-German Exhibition of Contemporary Art (2003), Beijing; The Wall: Reshaping Contemporary Chinese Art (2005), New York; The First Today's Documents 2007—Energy: Spirit, Body, Material (2007), Beijing Today Art Museum; and Wu Ming, Form is Formless: Chinese Contemporary Abstract Art (2011), Contrasts Gallery (now Pearl Lam Fine Art), Shanghai. Qin Yufen artwork is found in numerous public collections internationally, such as Deutsche Bank (Germany), Washington World Bank (USA), Hamburger Bahnhof-Museum für Gegenwart, Germany IFA Art Foundation, and Montblanc Art Collection, Germany.
About Qiu Deshu
Qiu Deshu was born in 1948 in Shanghai. He reimmersed himself in ink painting after the Cultural Revolution and co-founded the Grass Painting Society (Cao Cao Hua She), one of China's first post-Mao experimental artist circles. In the early 1980s, Qiu developed his signature style of works called 'fissuring' (lie bian), which literally means tearing and changing in Chinese. Qiu applies vivid colours to xuan paper, which he tears up before mounting the fragments to a base layer, often leaving space in between to create a pictorial field with the "cracks" that he feels are symbolic of life's journey.
Qiu's works are in the permanent collections of the National Art Museum of China (Beijing), Shanghai Art Museum, Museum of Fine Arts (Boston), and the Asian Art Museum of San Francisco.
About Ben Quilty
Ben Quilty was born in 1973 in Sydney, Australia. In 1994, Quilty completed his Bachelor of Visual Arts, majoring in painting at the Sydney College of the Arts. He later went on to receive a certificate in Aboriginal Culture and History from Monash University in 1996. In 2001, he received a Bachelor of Visual Communication at the University of Western Sydney. Quilty grew up in the outer suburbs of northwestern Sydney, where his youth typified the self-destructive character of Australian masculinity: drugs, alcohol, and recklessness. He was a willing participant in this risk-taking and destructive behaviour, but always questioned it. It was this period of his life that inspired most of his work today. Images such as skulls, snakes and grotesque Siamese-twin compositions have since been seen in his paintings, creating a dark and uncanny genre across the majority of his artworks.
His works are featured in the collections of the Art Gallery of New South Wales, the Art Gallery of South Australia and the Museum of Contemporary Art in Sydney. Quilty was the recipient of the Doug Moran Portrait Prize in 2009. In the same year, Quilty was named runner-up for the Archibald Prize for the same portrait. He then won the Archibald Prize two years later for his portrait of Margaret Olley. In 2014, he received the top award at the inaugural Prudential Eye Awards in Singapore for his painting Smashed Rorschach.
About Ren Ri
Ren Ri (b. 1984, Harbin, China) studied Fine Art at Tsinghua University before receiving his Masters at Saint-Petersburg Herzen State University in Russia. He also holds a PhD in Fine Art from Central Academy of Fine Arts, Beijing. Ren Ri's art is easily recognisable because of a very special medium he uses: beeswax. He first started beekeeping in 2006 and several years later began to create three series of art pieces fully made of beeswax: Yuansu I, II and III. Yuan means element, while su means mould—Yuansu can be translated as 'a comprehension of the gestalt of life'. The artist believes his sculptures represent the truth of how humans interact with nature, which involves harmony, destruction, moulding, and interference, and can result in unpredictable, sometimes volatile, but sometimes wondrous results.
Ren Ri's exhibitions include Art Taipei (2014), Taipei, Taiwan; West Bund Art & Design (2014), Shanghai, China; Fusion Convergence (2014), T Museum, Hangzhou, China; Fame Di Terra (2012), Milan, Italy; 6th Art Laguna Exhibition (2012), Venice, Italy; Carve & New Media (2007), 798 Art District, Beijing, China; and his recent solo exhibition, Yuansu Projects, the inaugural show at Pearl Lam Galleries HK SOHO (2015).
About Carlos Rolón/Dzine
Carlos Rolón/Dzine (b. 1970, Chicago, IL) attended Columbia College Chicago with a concentration in painting and drawing. In the past several years, Rolón has been recognised for his elaborately crafted paintings, ornate sculptures and works that come out of Kustom Kulture. His studio practice investigates pop culture, craft, ritual, beauty, and identity and its relationship to art history, subculture, appropriation and the institution.
Recent solo exhibitions and projects include Mi Casa (2015), Pearl Lam Galleries, Singapore; Now and Then (2015), Rockford Art Museum, USA; Encounters (invitational sector) at Art Basel Hong Kong 2015; Tunnel Vision (2014), space k, Gwangju, Korea; Dzine: Born Carlos Rolón, 1970 (2014), Paul Kasmin Gallery and Salon 94, New York; and Victory (2013), The Dallas Contemporary, USA. Rolón's work has also been exhibited in group shows at The Museum of Contemporary Art, Chicago; Marta Herford Museum, Herford, Germany; Museum Het Domein, Sittard, The Netherlands; Museum of Contemporary Art, San Diego; Museo del Barrio, New York; and Centro Atlantico de Arte Moderno (CAAM), Canary Islands.
Rolón  is a recipient of the Joan Mitchell Foundation award for Painting and Sculpture. His collections include Bass Museum of Art, Miami; Brooklyn Museum, New York; City of Chicago Public Art Collection; Museo del Barrio, New York; Museo de Arte de Puerto Rico, San Juan, Puerto Rico; Museum Het Domein, Sittard, the Netherlands; Museum of Contemporary Art, San Diego; Nerman Museum of Contemporary Art, Kansas City; and Pinchuk Art Centre, Kiev, Ukraine, among others.
About Su Dong Ping
Su Dong Ping was born in 1958 in Shenyang, Liaoning province, where he is currently based. He taught painting and art history for over 20 years after graduating from the department of oil painting at Lu Xun Academy of Fine Arts in 1983, where he first revolted against traditional art education models. Su Dong Ping's artistic language is based on the principles of calligraphy, first introduced to him by his calligrapher father. He employs the measure and spirituality of calligraphy, which emphasises a state of casual fortuity and instantaneity, in his abstract paintings. Su Dong Ping layers thick paint day after day onto his chosen canvas, impregnating it with strong emotional and visual tension while infusing it with his life experience, which reflects his sentiments at that very moment. The insight is beyond the relativity of time, between instantaneity and eternalness, and beyond spatial relativity. His works are cathartic, having escaped from the constraints of time and space, and enter into a state of purity.
Su Dong Ping recently held his solo exhibitions Landscapes of the Heart (2015) at Pearl Lam Galleries Shanghai, and Instant Measure: Paintings by Su Dong Ping (2013) at the Inside-Out Art Museum in Beijing.
About Su Xiaobai
Su Xiaobai was born in 1949 in Wuhan, the capital city of Hubei province. In 1965, he joined the School of Art and Crafts in Wuhan, and from 1985 he studied oil painting at the Central Academy of Fine Arts in Beijing. Throughout that time his work inclined towards social realism. After receiving an Arts and Culture scholarship in 1987, he attended the Kunstakademie in Düsseldorf. First-hand experience of avant-garde Western art radically affected his outlook. While in Beijing, Su studied the techniques of traditional painting and accumulated his abilities in expressive techniques. In Germany, he strived to break away from the skills he mastered in Beijing, and developed a visual language rich in personal experience, life observation, and abstract symbols. During the 1990s his work became progressively less figurative, and following his return to China in 2003 it has increasingly focused on essential characteristics of colour, shape, and surface. Su unrestrainedly experimented with oil, lacquer, linen, wood, etc, as a substitute for oil on canvas, where lacquer and linen are in a purely structural and balanced composition. These elements alone underpin the creation of paintings whose self-contained presence is both affective and mysterious.
Su's solo exhibitions include Su Xiaobai (2014) at Almine Rech, Paris; Painting and Being (2014) curated by Paul Moorhouse, curator at the National Portrait Gallery in London, at Pearl Lam Galleries Hong Kong; Grand Immensity (2013) at National Taiwan Museum of Fine Arts; Su Xiaobai (2011) at Other Gallery, Shanghai; Su Xiaobai Solo Exhibition (2010) at Raketenstation Hombroich, Germany; and The Dynasty of Colours (2009) at Lagen Art Gallery, Germany. He has also exhibited in museums and galleries across Beijing, Shanghai, Taipei, Singapore, Berlin, Düsseldorf, and Moscow.
About Zhu Jinshi
After completing an artist-in-residency in Germany and teaching in the Architecture Department at Berlin Technical University, Zhu Jinshi (b. 1954, Beijing) returned to Beijing, where he currently lives and works. He began painting abstract works in the late 1970s, and participated in the Stars group exhibition, the first avant-garde art exhibition after the Cultural Revolution. Zhu Jinshi first encountered the work of Joseph Beuys, Carl Andre and Arte Povera amongst others in Germany; conceptual and performance work seemed much more central there than did abstract painting. For a short time he stopped painting and began to make installations and performances. Yet what he was doing was using contemporary Western art languages to find the contemporary possibilities in the cultural resources and materials of China. Since his return to painting in the 21st century, Zhu has built a prolific body of work in the medium with sensuous, impassioned oil paintings that achieve a weighty, physical quality in their built-up surfaces, inseparable from their significance as expressive statement.
Zhu has exhibited in numerous solo and group exhibitions, including Zhu Jinshi: Boat, organised by Pearl Lam Galleries and Hongkong Land at Exchange Square; Zhu Jinshi: Simplicity (2014) at Pearl Lam Galleries Singapore; 28 Chinese  (2013–14) at The Rubell Family Collection, Miami; Zhu Jinshi: The Reality of Paint  (2013) at Pearl Lam Galleries Hong Kong; Zhu Jinshi (2012) at Blum and Poe, Los Angeles; and Chinese Contemporary Abstract, 1980s until Present: MINDMAP  (2012), which was Pearl Lam Galleries' inaugural show in Hong Kong. Selected public collections include Asian Art Museum of San Francisco, Brooklyn Museum, Busan Museum of Art, Minsheng Museum, Guangdong Museum of Art, Vancouver Art Gallery, and the White Rabbit Collection in Australia.
About Pearl Lam Galleries
Founded by Pearl Lam, Pearl Lam Galleries is a driving force within Asia's contemporary art scene. With over 20 years of experience exhibiting Asian and Western art and design, it is one of the leading and most established contemporary art galleries to be launched out of China. Playing a vital role in stimulating international dialogue on Chinese and Asian contemporary art, the Galleries is dedicated to championing artists who re-evaluate and challenge perceptions of cultural practice from the region. The Galleries in Hong Kong, Shanghai and Singapore collaborate with renowned curators, each presenting distinct programming from major solo exhibitions, special projects and installations to conceptually rigorous group shows. Based on the philosophy of Chinese Literati where art forms have no hierarchy, Pearl Lam Galleries is dedicated to breaking down boundaries between different disciplines, with a unique gallery model committed to encouraging cross-cultural exchange.
Contemporary Chinese Abstract art is heavily represented in the Galleries roster. Influential Chinese artists Zhu Jinshi and Su Xiaobai, who synthesise Chinese sensibilities with an international visual language, are presented internationally with work now included in major private and public collections worldwide. The Galleries have also introduced leading international artists such as Jenny Holzer, Jim Lambie and Yinka Shonibare MBE to markets in the region, providing opportunities for new audiences in Asia to encounter their work. Pearl Lam Galleries encourages international artists to create new work, which engages specifically with the region—collaborating to produce thought-provoking and culturally relevant work.
---
Press Enquiries
Rosanna Cator / Sutton PR Asia
rosanna@suttonprasia.com / +852 2528 0792