Stand F10
Vernissage: 4 September, 4–8pm
Fair Dates: 5–6 September, noon–8pm
Haliç Congress Centre, Istanbul, Turky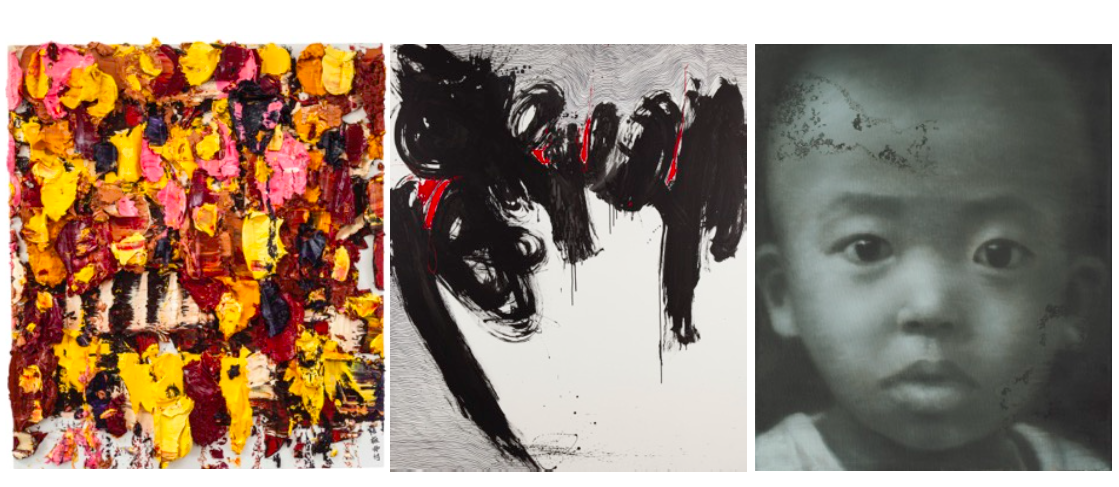 Left: Zhu Jinshi b.1954 Master of the Washboard, 2013 Oil on canvas 160 x 140 cm.
Middle: Golnaz Fathi b.1972 Untitled, 2012 Acrylic on canvas 170 x 142 cm.
Right: Li Tianbing b.1974 Petit #1, 2013  Oil on canvas  55 x 46 cm. Courtesy of the artist; photo credit: Stephen White
Istanbul—Pearl Lam Galleries is pleased to announce its second participation in the third edition of ArtInternational at Haliç Congress Centre in Istanbul.
The Galleries continues its mission of acting as a bridge between the East and West by exhibiting leading contemporary artists from a variety of cultural backgrounds. The fair will be a showcase for 17 artists aiming to provide an environment for cross-cultural dialogue and understanding. The Galleries will exhibit works by Chinese artists Du Zhenjun, Li Tianbing, Pan Jian, Qin Yufen, Qiu Deshu, Su Dong Ping, Su Xiaobai, and Zhu Jinshi, as well as works by Kwang Young Chun (Korea), Golnaz Fathi (Iran), Adetomiwa A. Gbadebo (Nigeria), Jason Martin (UK), Gatot Pujiarto (Indonesia), Ben Quilty (Australia), Carlos Rolón/Dzine (USA), Mehmet Ali Uysal (Turkey), and Morgan Wong (Hong Kong).
Stand highlights include works by Iranian artist Golnaz Fathi, who bases her work on fundamental Persian calligraphic practices and techniques, but uses modern media, and often bold colour, to explore more abstract forms. Fathi's works can be read as visual meditation or a form of prayer, which are open for interpretation.
Chinese artist Li Tianbing, who is currently based in Los Angeles, will present oil paintings from his Children series in which he explores themes of loneliness, social propaganda, and nostalgia for the old city before rapid modernisation and urbanisation. Due to China's one-child policy, Li grew up as an only child in Guilin. He populates his paintings with imagined brothers and playmates as a cathartic tool in coping with his loneliness, which was the result of an authoritative dictate. Li uses a photographic style to reflect society back at itself. The artist recently opened his first Singapore solo exhibition this past spring to critical acclaim.
Other highlights include works by leading gallery artists Su Xiaobai and Zhu Jinshi, who both exhibited at ArtInternational 2014. Both Chinese artists have spent a number of years living and working in Germany, resulting in works influenced by both the East and West. Zhu, who credits the Diamond Sutra and Foucault as sources of inspiration, creates vibrant impastoed oil paintings that represent inner spirituality. Su devised a new way of working with Chinese lacquer to create sculptural paintings that are both rooted in Modernism and Chinese tradition.
About Kwang Young Chun
Seoul-based artist Kwang Young Chun (b. 1944) received his BFA from Hong-Ik University in Korea, and MFA from the Philadelphia College of Art, USA. Known for his sculptural aggregations—both freestanding pieces and wall-hung low reliefs—Chun assembles his forms from a myriad of small shapes wrapped in mulberry paper. Employing a traditional Korean technique, Chun's use of mulberry paper is inspired by childhood nostalgia; the paper-covered shapes are reminiscent of the clustered bundles of herbal medicines that hung in his family's pharmacy. With a trompe l'oeil quality, Chun's sculptures create the illusion of depth and coalescence and, ultimately, represent the harmony and conflict in the unity of many. Chun is currently exhibiting at the Venice Biennale group show Frontiers Reimagined at the Palazzo Grimini Art Museum.
About Du Zhenjun
Du Zhenjun was born in 1961 in Shanghai, China, where he graduated from the Institute of Art and Design, and the School of Fine Arts of the University of Shanghai. He earned a Masters in Digital Space at the Regional School of Fine Arts in Rennes, France. His interactive new media installations and digitally manipulated photographs have made him one of China's most recognised digital artists, winning awards in the global art arena. He broke new ground with his 2003 Paris exhibition Too Heavy for Human Beings, the first solo exhibition in French digital art history. Recent solo exhibitions include Babel World (2015), Pearl Lam Galleries, Shanghai, China;  Babel Empire (2014), Château de Chambord, Château de Lunéville, France; and Babel-world/Du Zhenjun (2013), ZKM | Center for Art and Media, Karlsruhe, Germany.
About Golnaz Fathi
Golnaz Fathi was born in Tehran, Iran in 1972. She received a BA in graphic design from Azad Art University, Tehran. Her work is transnational both in conception and execution, as it incorporates her extensive training in traditional Iranian calligraphy, graphic design, painting, and autobiography. Her paintings carry traces of meaning that have no known coded alphabet. Collections include the Brighton & Hove Museum, England; Islamic Art Museum, Malaysia; Asian Civilisations Museum, Singapore; The British Museum, London; Devi Art Foundation, New Delhi, India; and the Farjam Collection, Dubai.
About Adetomiwa A. Gbadebo
Born Prince Adetomiwa A. Gbadebo in Abeokuta, Nigeria, Gbadebo uses his Yoruba heritage and experiences to create his pieces, which are based on emotions and the journey that life stitches. As multiple beginning ideas develop in his conscious and unconscious mind, they tend to evolve into much more with the guidance of his Yoruba ancestors, Orishas, and philosophies. He wants humanity to truly see what they are choosing not to, to question all conscious solutions while selflessly aiming for positive progression for those alike and different.
About Li Tianbing
Li Tianbing was born in 1974 in the southern province of Guilin, China. He moved to Paris at the age of 22 to study at the École Nationale des Beaux Arts, where surrounded by a wealth of visual, cultural, and historical resources, he quickly developed his own visual language with which to express his cultural origins. Recent solo shows include at Stephen Friedman Gallery, London, 2012; A Game as a Pretense of Being, curated by Demetrio Paparoni at Hong Kong Arts Centre, Hong Kong; Childhood Fantasy, Contrasts Gallery (now Pearl Lam Galleries), Shanghai, 2010; L&M Arts Gallery, New York; and others.
About Jason Martin
Jason Martin (b. 1970, Jersey in the Channel Islands) takes inspiration from both Minimalism and Abstract Expressionism and the Western tradition of gestural painting. His paintings have sculptural elements with oil or acrylic gel layered across aluminium, stainless steel, or Plexiglas surfaces. In 1997, Martin was catapulted into the global visual arts scene through his participation in the  ground-breaking exhibition Sensation: Young British Artists from the Saatchi Collection. He received his BA (Hons) from Goldsmiths, London in 1993. Collections include the  Government Art Collection, Great Britain; Museum of Contemporary Art, Salzburg, Austria; FNAC, France; the Albright-Knox Art Gallery, Buffalo, NY; the Denver Art Museum; and Hirshhorn Museum, Washington, D.C.
About Pan Jian
Pan Jian (b. 1975, Shandong Province) received his BA from the Oil Painting Department at Xi'an Academy of Fine Arts in 2001. He currently lives and works in Beijing and Xi'an. Having grown up amongst natural landscapes before moving to the bustling metropolis of Beijing, Pan has a different perspective on urbanisation and psychological detachment. With "defamiliarised images," Pan creates a sensational, poetic world on canvas with his uninhabited deep forests painted with loose brushstrokes. He explores themes relating to anxiety, depression, and sadness, which, to him, is the way to true beauty. Solo exhibitions include Shadow of Light (2015) at 10 Chancery Lane Gallery, Hong Kong; and Strange Image—Pan Jian (2010) at Today Art Museum, Beijing, China.
About Gatot Pujiarto
Gatot Pujiarto was born in 1970 in Malang, East Java, Indonesia. He graduated from the Department of Fine Art and Design at IKIP Malang in 1995. He lives and works in Malang. Pujiarto's works explore abnormalities, weirdness, and tragedy. Inspired by uncommon events or occurrences in everyday life, including stories he hears from friends, TV shows, and the news, Pujiarto's works amuse and provoke audiences to reinterpret daily stories as a new reality, to enjoy it and feel emotions caused by it. The visual sensation in his works is combined with unique textures created by pasting, patching, layering, tearing, binding, and making patterns. He has exhibited throughout Indonesia and in Malaysia, Russia, Hong Kong, and Korea.
About Qin Yufen
Qin Yufen was born in 1954 in Qingdao, Shandong Province. She began to create abstract art in the late 1970s. In the mid-1980s, she moved to Germany where she was influenced by Western painting. Her works from this period used both Western and traditional Chinese ink painting techniques, while still depicting Oriental aesthetics of tranquility and the reality embodied by Zen meditation. Qin has  had  solo  exhibitions  in  Beijing, Tokyo, and Berlin, among other international cities.  Recent group shows include Perfection by Chance—A Yi Pai Series Exhibition (2015), Pearl Lam Galleries, Hong Kong; Art Space Germany (2014), Goethe-Institut China, CAFAM, Beijing, China; and The Art of Line (2014), Pearl Lam Galleries, Singapore.
About Qiu Deshu
Qiu Deshu was born in 1948 in Shanghai. He re-immersed himself in ink painting after the Cultural Revolution and co-founded the Grass Painting Society (Cao Cao Hua She), one of China's first post-Mao experimental artist circles. In the early 1980s, Qiu developed his signature style of works called 'fissuring' (lie bian), which literally means tearing and changing in Chinese. Qiu applies vivid colours to xuan paper, which he tears up before mounting the fragments to a base layer, often leaving space in between to create a pictorial field with the "cracks" that he feels are symbolic of life's journey. Qiu's works are in the permanent collections of the National Art Museum of China (Beijing), Shanghai Art Museum, Museum of Fine Arts (Boston), and the Asian Art Museum of San Francisco.
About Ben Quilty
Quilty (b. 1973) grew up in the outer suburbs of northwestern Sydney, Australia, where his youth typified the self-destructive character of Australian masculinity: drugs, alcohol, and recklessness. His paintings of his Holden Torana produced a sell-out show in 2002 and since then his work has been included in many exhibitions around the world. In 2009, Quilty won the Doug Moran Portrait Prize in 2009 for his painting Jimmy Barnes, and in 2011 he won the Archibald Prize for his portrait of Margaret Olley. In 2014, he won the inaugural Prudential Eye Awards in Singapore, which was followed by a solo exhibition at Saatchi Gallery, London.
About Carlos Rolón/Dzine
Carlos Rolón/Dzine (b. 1970, Chicago, IL) attended Columbia College Chicago with a concentration in painting and  drawing. In the past several years, Rolón  has  been recognised for  his elaborately crafted paintings, ornate sculptures and works that come out of Kustom Kulture. His studio practice investigates pop culture, craft, ritual, beauty, and identity and its relationship to art history, subculture, appropriation and  the institution. The artist has had solo exhibitions at The Dallas Contemporary; Bass Museum of Art, Miami; Baltic Centre for Contemporary Art, Gateshead, UK; and Museo de Arte de Puerto Rico. In 2007 Rolón represented Ukraine in the 52nd Venice Biennale.
About Su Dong Ping
Su Dong Ping, who was born in 1958 in Shenyang, Liaoning province, began abstract painting as a revolt against the traditional education model after teaching painting and art history for over 20 years at Luxun Academy of Fine Arts. His artistic language is based on the principles of calligraphy. Su Dong Ping layers his works with thick paint day after day. His works are cathartic, having escaped from the constraint of time and space to enter into a state of purity. Su Dong Ping's recent major solo exhibitions include Landscapes of the Heart—The Abstract Art of Su Dong Ping (2015) at Pearl Lam Galleries in Shanghai, and Instant Measure: Paintings by Su Dong Ping (2014) at the Inside-Out Art Museum in Beijing.
About Su Xiaobai
Su Xiaobai was born in 1949 in Hubei, China. In 1965 he joined the School of Art and Crafts in Wuhan, and from 1985 he studied oil painting at the Central Academy of Fine Arts in Beijing. In 1987, he received a scholarship to study at the Kunstakademie in Dusseldorf, where he was exposed to avant-garde Western art. Through his various journeys, Su has developed a language rich in personal experience and abstract symbols. During the 1990s, his work became progressively less figurative and following his return to China in 2003, it has increasingly focused on essential characteristics of colour, shape, and surface. Recent solo shows include Su Xiaobai at Almine Rech in Paris and Painting and Being curated by Paul Moorhouse, curator at the National Portrait Gallery in London, at Pearl Lam Galleries in HK.
About Mehmet Ali Uysal
Mehmet Ali Uysal was born in 1976 in Mersin, Turkey. He studied architecture and received his PhD from the Faculty of Fine Arts at Hacettepe University in 2009 before completing an MFA in sculpture in 2005 at the same institution. Currently, he lives and works in Ankara. Uysal's art questions the subjectivity of art, museology, and the art market. Maintaining a minimalistic aesthetic, he conceptually examines spatial experience and will often transform an entire gallery space into a piece of art with his sculptural installations, objects, photos, and videos. Recent solo exhibitions include Block (2015), Pi Artworks, London, UK; The Past (2014), Pearl Lam Galleries, Shanghai, China; and Pinch Me Awake (2013), Stiftungstarke, Berlin.
About Morgan Wong
Morgan Wong (b. 1984, Hong Kong) focuses in durational performance and temporality with pieces ranging from performance, video, and installation to works on paper. He studied Creative Media at City University, Hong Kong, and received his MFA from Slade School of Fine Art, University College London. Solo shows and projects include Untitled—Expressway (2015), Rolls-Royce Motor Car Showroom, Hong Kong; Filing Down a Steel Bar Until a Needle Is Made (2013), Tintype Gallery, London, UK; and One Hour (2011), 2P Contemporary Art Gallery, Hong Kong. He has exhibited in group exhibitions at ZKM Media Museum in Karlsruhe, Germany; Tate Modern, London, UK; and the Hong Kong Museum of Art, among other institutions.
About Zhu Jinshi
After completing an artist-in-residency in Germany and teaching in the Architecture Department of the Berlin Technical University, Zhu Jinshi (b. 1954, Beijing) returned to Beijing, where he currently lives and works. He began painting abstract works in the late 1970s, and participated in the Stars group exhibition, the first avant-garde art exhibition after the Cultural Revolution. Zhu has exhibited in numerous solo and group exhibitions, including 28 Chinese  (2013–14) at The Rubell Family Collection in Miami; Zhu Jinshi: The Reality of Paint  (2013) at Pearl Lam Galleries in Hong Kong; Zhu Jinshi (2012) at Blum and Poe in Los Angeles; and Chinese Contemporary Abstract, 1980s until Present: MINDMAP  (2012), which was Pearl Lam Galleries' inaugural show in Hong Kong.
About Pearl Lam Galleries
Founded by Pearl Lam, Pearl Lam Galleries is a driving force within Asia's contemporary art scene. With over 20 years of experience exhibiting Asian and Western art and design, it is one of the leading and most established contemporary art galleries to be launched out of China. Playing a vital role in stimulating international dialogue on Chinese and Asian contemporary art, the Galleries is dedicated to championing artists who re-evaluate and challenge perceptions of cultural practice from the region. The Galleries in Hong Kong, Shanghai and Singapore collaborate with renowned curators, each presenting distinct programming from major solo exhibitions, special projects and installations to conceptually rigorous group shows. Based on the philosophy of Chinese Literati where art forms have no hierarchy, Pearl Lam Galleries is dedicated to breaking down boundaries between different disciplines, with a unique gallery model committed to encouraging cross-cultural exchange.
Contemporary Chinese Abstract art is heavily represented in the Galleries roster. Influential Chinese artists Zhu Jinshi and Su Xiaobai, who synthesise Chinese sensibilities with an international visual language, are presented internationally with work now included in major private and public collections worldwide. The Galleries have also introduced leading international artists such as Jenny Holzer, Jim Lambie and Yinka Shonibare MBE to markets in the region, providing opportunities for new audiences in Asia to encounter their work. Pearl Lam Galleries encourages international artists to create new work, which engages specifically with the region—collaborating to produce thought-provoking and culturally relevant work.
Pearl Lam Design shows works by established and emerging international designers, including Maarten Baas, Mattia Bonetti, André Dubreuil, and Studio Makkink & Bey, in exhibitions and design fairs around the world. They are invited to push the boundaries of traditional Chinese art and craft techniques and create new works that reflect their experiences in China.