Stand C06
VVIP Preview: 27 August, 3–6pm
Vernissage: 27 August, 7–10pm
Fair Dates: 28–30 August, 10am–10pm
Grand Ballroom, The Ritz-Carlton Jakarta Pacific Place
Sudirman Central Business District (SCBD), Jalan Jenderal Sudirman No. 52- 53
Jakarta Selatan, DKI Jakarta 12190, Indonesia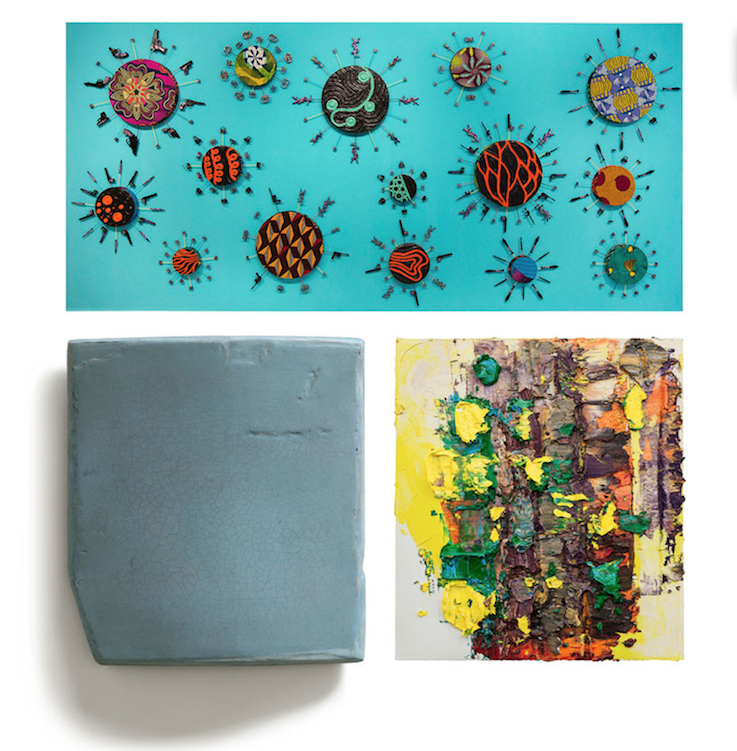 Top: Yinka Shonibare MBE (RA) b. 1962, Dreaming Rich Painting, 2013, 15 panels, acrylic on Dutch wax printed cotton textile, toys adorned with coloured diamantes and steel rods, 220 x 470 cm
Bottom (L–R): Su Xiaobai b. 1959, Big Tile Kiln 5, 2014, Oil, lacquer, linen, and wood, 77 x 70 x 9 cm
Zhu Jinshi b. 1954, Whose Moonlight 1, 2013, Oil on canvas, 180 x 160 cm
Jakarta—Pearl Lam Galleries is pleased to announce its participation in the 2015 edition of Bazaar Art Jakarta, presenting artworks at stand C06. As the largest art fair in Indonesia, Bazaar Art Jakarta has attracted top galleries from around the world in its previous six editions. The fair returns with its anticipated sixth edition to the Grand Ballroom on Level 4 of The Ritz Carlton Jakarta Pacific Place in Jakarta, with the fair open to the public from 28–30 August 2015.
Pearl Lam Galleries' stand will feature works by leading contemporary artists from across the globe, including Chinese artists: Li Tianbing, Qiu Deshu, Ren Ri, Su Dong Ping, Su Xiaobai, Juju Sun, and Zhu Jinshi; as well as British artists Antony Micallef and Yinka Shonibare MBE (RA), Australian artist Ben Quilty, Chicago-born Carlos Rolón/Dzine, and Indonesian artist Gatot Pujiarto.
Although these artists work with a variety of mediums and subject matters, they all contribute to the Galleries' mission of stimulating cross-cultural dialogue on contemporary art between China, the rest of Asia, and the West. Each is engaged with their cultural background and issues relating to identity, be they societal, cultural, or national.
Influential Chinese artist Zhu Jinshi, whose works synthesise Chinese sensibilities with an international visual language, is a highlight at the Pearl Lam Galleries stand with two oil on canvas works, Bold and Decisive Painting (2013) and Whose Moonlight 1 (2013). Using traditional Chinese aesthetics, Zhu's canvases incorporate a series of 'mind images' that emphasise the harmony between mankind and the natural world. Each image is mapped with thick, layered oil paint to create a highly textured surface that represents inner spirituality, the experience of migration and the perception of world phenomena
The Galleries will also present a selection of mystical works that combine sculpture and painting by one of China's most distinctive painters, Su Xiaobai. Ranging from shell-like finishes to sensuous, curved profiles and abraded textures, they exist entirely on their own terms, exuding their own history, character, and independent presence.
At the Galleries' stand is also a painting by Ben Quilty featuring his unique technique inspired by the inkblot tests created by the 19th century psychologist and pioneer of mental health research, Hermann Rorschach. Quilty creates a geometric monoprint of thick oil paint by pressing a painted canvas onto a clean one.
Also on view will be a vibrantly hued work by Chinese artist Qiu Deshu that features his signature method of "fissuring" and radically resituates the use of colour and the traditional material Xuan paper within the framework of Chinese painting.
Chicago-based artist Carlos Rolón, aka Dzine, will present works made of pearlised automotive paint, metal and quartz crystals on aluminium panels which are characteristically hybrid and are playfully situated between the worlds of conspicuous consumption and urban artefacts.
Indonesian artist Gatot Pujiarto follows up his successful showing in the group show Embodied at Pearl Lam Galleries Hong Kong in 2014 at the stand this year with Playboy (Lelanange Jagad) (2009), a textile work about love and courtship.
Beijing-based artist Ren Ri will demonstrate his beekeeping finesse with Yuansu Series II (2013–14), sculptures made naturally out of beeswax. By periodically manipulating the position of the container, Ren Ri controls the formation of the honeycomb sculptures.
Juju Sun's paint-rolled canvases will also be exhibited at the fair. The drips of paint in No. 1310 (2014) allude to the weave of a cloth and resonates with the rough grid of colours that populate the surface. Sun demonstrates strong mastery of colour with her multi-layered and vibrantly coloured canvas that contains the vertigo of speed, depth of field, and contemporary flatness.
Engaging with the struggle between the calligraphic and the rule-following methods of painting, well-known Chinese artist Su Dong Ping will present 2014No.10 (2014), which investigates this theme. Thick layers of paint accumulated over an extended period of time make up the tactile surface of the painting.
Continuing his exploration of colonialism and post-colonialism, Yinka Shonibare MBE (RA) offers a social commentary on our contemporary fascination with material goods and luxury commodities with Dreaming Rich Painting (2013). Toys adorned with coloured diamantes and steel rods are affixed upon a sky blue surface, mapping the fractured social identity that we possess. First shown in response to the Hong Kong condition, this work is discomfortingly applicable to many other ex-colonies like Indonesia and Singapore.
In describing the paintings from his Children series, Li Tianbing has often discussed the act of populating his paintings with his imagined brothers and playmates as a cathartic tool. Mining and reconstructing from memory, Li draws on a precious few existing black and white photographs of himself at ages three, four and five as the basis for depictions of himself and his imagined playmates. Self-Portrait with Red Umbrella (2013) works through the problems of loneliness in a crowd of many, the feeling of absence, and loss of someone that never existed.
British artist Antony Micallef will be represented by Self-Portrait on Pink #2 (2015), an oil on French linen work that expresses his trademark style. Thick unmixed paint marble on the gradated pink surface, displaying his youthful energy and clearly working as an expression of self. This work serves as a representation both of his artistic practice and his persona as his art bleeds into his life and becomes a form of self-characterisation that is passionate and full of finesse.
About Li Tianbing
Born in 1974, in the southern province of Guilin, China, Li Tianbing moved to Paris at the age of 22 to study at the Ecole des Beaux-Arts. Surrounded by such diversity, Li quickly developed a distinctive visual language that draws on both traditional Chinese techniques and contemporary Western references.
Being an only child in China was a condition shared by many children of his generation, and one the artist has described as a deeply lonely experience with profound psychological effects. This compelling biography informs Li 's poetic childhood portraits featuring imagined brothers and playmates. On a personal level, the paintings offer an intimate portrait of a fantasised childhood, where fiction and fantasy seamlessly merge. On a far wider reaching scale, the work articulates the shared loss of a generation who grew up under an authoritative dictate. Li's compositions interweave the dualities present in China today: East and West, communism and capitalism, ancient culture and modern consumerism.
Li has held solo exhibitions at: Stephen Friedman Gallery, London; L&M Arts Gallery, New York; Galerie Albert Benamou, Paris; Galerie Loft, Beitou; Kashya Hildebrand Gallery, Zurich; Galerie Deborah Zafman, Paris. He has also exhibited internationally in group exhibitions at notable institutions, including Today Art Museum, Beijing; Museum of Contemporary Art, Shanghai; National Museum of Fine Arts, Beijing, China; Instituto Valenciano de Arte Moderno, Spain and Hong Kong Arts Center, Hong Kong. The artist currently lives and works in Los Angeles, USA.
About Antony Micallef
Antony Micallef is widely recognised as one of the finest painters in contemporary art. He was born in Swindon, England in 1975, and graduated with a BA in Fine Art from the University of Plymouth. The artist was notably taught by the austere landscape painter John Virtue, whose influence can be seen in Micallef's early monochrome works; however, in contrast to Virtue, Micallef has often passionately embraced colour.
Micallef's ambitious and opulent paintings examine society's complex relationship with consumerism and indulgence. He derives his visual language from different fields: old masters, graffiti, fashion magazines, corporate iconography, and Japanese cartoons. The artist describes his work as "like watching a Disney movie which slowly turns into violent pornography […] The trouble with pop imagery is that it doesn't really go deeper than the surface, you have to drag it down and challenge it to make it interesting".
Major solo exhibitions include Self (2015), Lazarides Rathbone, London, UK; Impure Idols (2007), Lazarides pop-up, Hollywood, CA, USA; and at the National Academy of Fine Arts, Sofia, Bulgaria (2005). Micallef's major group exhibitions include Nowa Sztuka (2013),
With ink paintings that largely reference traditional Literati concepts, Wang Tiande captures a new form of expression that reflects today's contemporary culture while incorporating conceptual ideas, recreating ink brush painting for the twenty-first century. Wang's innovative approach does not dispel the significance and influence of tradition in his work; rather, he embraces traditional concepts and methods while injecting a modern perspective that is fresh and distinctly his own.
National Museum Warsaw, Poland; Artwars (2013), Saatchi Gallery, London, UK; AKA Peace (2012), curated by Jake Chapman at The Institute of Contemporary Arts, London; GSK Contemporary (2008), the Royal Academy of Arts, London, UK; and Mystery Portrait Exhibition (2006), National Portrait Gallery, London, UK.
About Gatot Pujiarto
Gatot Pujiarto was born in 1970 in Malang, East Java, Indonesia, where he still lives and works. He graduated from the Department of Fine Art and Design at IKIP Malang in 1995.
Pujiarto's works explore abnormalities, weirdness, and tragedy. Inspired by uncommon events or occurrences in everyday life, including stories he hears from friends, TV shows, and the news, Pujiarto's works amuse and provoke audiences to reinterpret daily stories as a new reality, to enjoy them and feel the emotions caused by them. The visual sensation in his works is combined with unique textures created by pasting, patching, layering, tearing, binding, and by making fabric patterns. Pujiarto has been widely exhibited throughout Indonesia. Recent shows include Shout—Indonesian Contemporary Art(2014), Museo d'Arte Contemporanea Roma (MACRO), Rome, Italy; andJatim Art Now(2012), National Gallery of Indonesia, Jakarta, Indonesia.
About Qiu Deshu
Qiu Deshu was born in 1948 in Shanghai. He reimmersed himself in ink painting after the Cultural Revolution and co-founded the Grass Painting Society (Cao Cao Hua She), one of China's first post-Mao experimental artist circles. In the early 1980s, Qiu developed his signature style of works called 'fissuring' (lie bian), which literally means tearing and changing in Chinese. Qiu applies vivid colours to xuan paper, which he tears up before mounting the fragments to a base layer, often leaving space in between to create a pictorial field with the "cracks" that he feels are symbolic of life's journey.
Qiu's works are in the permanent collections of the National Art Museum of China (Beijing), Shanghai Art Museum, Museum of Fine Arts (Boston), and the Asian Art Museum of San Francisco.
About Ben Quilty
Ben Quilty was born in 1973 in Sydney, Australia. In 1994, Quilty completed his Bachelor of Visual Arts, majoring in painting at the Sydney College of the Arts. He later went on to receive a certificate in Aboriginal Culture and History from Monash University in 1996. In 2001, he received a Bachelor of Visual Communication at the University of Western Sydney. Quilty grew up in the outer suburbs of northwestern Sydney, where his youth typified the self-destructive character of Australian masculinity: drugs, alcohol, and recklessness. He was a willing participant in this risk-taking and destructive behaviour, but always questioned it. It was this period of his life that inspired most of his work today. Images such as skulls, snakes and grotesque Siamese-twin compositions have since been seen in his paintings, creating a dark and uncanny genre across the majority of his artworks.
His works are featured in the collections of the Art Gallery of New South Wales, the Art Gallery of South Australia and the Museum of Contemporary Art in Sydney. Quilty was the recipient of the Doug Moran Portrait Prize in 2009. In the same year, Quilty was named runner-up for the Archibald Prize for the same portrait. He then won the Archibald Prize two years later for his portrait of Margaret Olley. In 2014, he received the top award at the inaugural Prudential Eye Awards in Singapore for his painting Smashed Rorschach.
About Ren Ri
Ren Ri (b. 1984, Harbin, China) studied Fine Art at Tsinghua University before receiving his Masters at Saint-Petersburg Herzen State University in Russia. He also holds a PhD in Fine Art from Central Academy of Fine Arts, Beijing. Ren Ri's art is easily recognisable because of a very special medium he uses: beeswax. He first started beekeeping in 2006 and several years later began to create three series of art pieces fully made of beeswax: Yuansu I, II and III. Yuan means element, while su means mould—Yuansu can be translated as 'a comprehension of the gestalt of life'. The artist believes his sculptures represent the truth of how humans
interact with nature, which involves harmony, destruction, moulding, and interference, and can result in unpredictable, sometimes volatile, but sometimes wondrous results.
Ren Ri's exhibitions include Art Taipei (2014), Taipei, Taiwan; West Bund Art & Design (2014), Shanghai, China; Fusion Convergence (2014), T Museum, Hangzhou, China; Fame Di Terra (2012), Milan, Italy; 6th Art Laguna Exhibition (2012), Venice, Italy; Carve & New Media (2007), 798 Art District, Beijing, China; and his recent solo exhibition, Yuansu Projects, the inaugural show at Pearl Lam Galleries HK SOHO (2015).
About Carlos Rolón/Dzine
Carlos Rolón/Dzine(b. 1970, Chicago, IL) attended Columbia College Chicago with a concentration in painting and drawing. In the past several years, Rolón has been recognised for his elaborately crafted paintings, ornate sculptures and works that come out of Kustom Kulture. His studio practice investigates pop culture, craft, ritual, beauty, and identity and its relationship to art history, subculture, appropriation and the institution.
Recent solo exhibitions and projects include Mi Casa (2015), Pearl Lam Galleries, Singapore; Now and Then (2015), Rockford Art Museum, USA; Encounters (invitational sector) at Art Basel Hong Kong 2015; Tunnel Vision (2014), space k, Gwangju, Korea; Dzine: Born Carlos Rolón, 1970 (2014), Paul Kasmin Gallery and Salon 94, New York; and Victory (2013), The Dallas Contemporary, USA. Rolón's work has also been exhibited in group shows at The Museum of Contemporary Art, Chicago; Marta Herford Museum, Herford, Germany;Museum Het Domein, Sittard, The Netherlands; Museum of Contemporary Art, San Diego; Museo del Barrio, New York; and Centro Atlantico de Arte Moderno (CAAM), Canary Islands.
Rolón is a recipient of the Joan Mitchell Foundation award for Painting and Sculpture. His collections include Bass Museum of Art, Miami; Brooklyn Museum, New York; City of Chicago Public Art Collection; Museo del Barrio, New York; Museo de Arte de Puerto Rico, San Juan, Puerto Rico; Museum Het Domein, Sittard, the Netherlands; Museum of Contemporary Art, San Diego; Nerman Museum of Contemporary Art, Kansas City; and Pinchuk Art Centre, Kiev, Ukraine, among others.
About Yinka Shonibare MBE (RA)
Yinka Shonibare MBE (RA) was born in London and moved to Lagos, Nigeria at age three. He returned to London to study Fine Art first at Byam Shaw College of Art (now Central Saint Martins Collegeof Art and Design), and then at Goldsmiths College, where he received his MFA, graduating as part of the 'Young British Artists' generation. He currently lives and works in the East End of London. Over the past decade, Shonibare has become well known for his exploration of colonialism and post-colonialism within the contemporary context of globalisation. Shonibare's work explores these issues, alongside those of race and class, through the use of a wide range of media. Mixing Western art history and literature, he asks what constitutes our collective contemporary identity today.
Shonibare was a Turner Prize nominee in 2004 and awarded the decoration of Member of the "Most Excellent Order of the British Empire" (MBE). He has added this title to his professional name. He has exhibited at the Venice Biennale and at leading museums around the world. Selected public collections include Arts Council Collection, London; Museum of Modern Art, New York; National Gallery of Modern Art in Rome, Italy; National Museum of African Art, Smithsonian Institute, Washington, DC; Tate Collection, London, UK; and Victoria and Albert Museum, London, UK.
About Su Dong Ping
Su Dong Ping was born in 1958 in Shenyang, Liaoning province, where he is currently based. He taught painting and art history for over 20 years after graduating from the department of oil painting at Lu Xun Academy of Fine Arts in 1983, where he first revolted against traditional art education models. Su Dong Ping's artistic language is based on the principles of calligraphy, first introduced to him by his calligrapher father. He employs the measure and spirituality of calligraphy, which emphasises a state of casual fortuity and instantaneity, in his abstract paintings. Su Dong Ping layers thick paint day after day onto his chosen canvas, impregnating it with strong emotional and visual tension while infusing it with his life experience, which
reflects his sentiments at that very moment. The insight is beyond the relativity of time, between instantaneity and eternalness, and beyond spatial relativity. His works are cathartic, having escaped from the constraints of time and space, and enter into a state of purity.
Su Dong Ping recently held his solo exhibitions Landscapes of the Heart (2015) at Pearl Lam Galleries Shanghai, and Instant Measure: Paintings by Su Dong Ping (2013) at the Inside-Out Art Museum in Beijing.
About Su Xiaobai
Su Xiaobai was born in 1949 in Wuhan, the capital city of Hubei province. In 1965, he joined the School of Art and Crafts in Wuhan, and from 1985 he studied oil painting at the Central Academy of Fine Arts in Beijing. Throughout that time his work inclined towards social realism. After receiving an Arts and Culture scholarship in 1987, he attended the Kunstakademie in Düsseldorf. First-hand experience of avant-garde Western art radically affected his outlook. While in Beijing, Su studied the techniques of traditional painting and accumulated his abilities in expressive techniques. In Germany, he strived to break away from the skills he mastered in Beijing, and developed a visual language rich in personal experience, life observation, and abstract symbols. During the 1990s his work became progressively less figurative, and following his return to China in 2003 it has increasingly focused on essential characteristics of colour, shape, and surface. Su unrestrainedly experimented with oil, lacquer, linen, wood, etc, as a substitute for oil on canvas, where lacquer and linen are in a purely structural and balanced composition. These elements alone underpin the creation of paintings whose self-contained presence is both affective and mysterious.
Su's solo exhibitions include Su Xiaobai (2014) at Almine Rech, Paris; Painting and Being (2014) curated by Paul Moorhouse, curator at the National Portrait Gallery in London, at Pearl Lam Galleries Hong Kong; Grand Immensity (2013) at National Taiwan Museum of Fine Arts; Su Xiaobai (2011) at Other Gallery, Shanghai; Su Xiaobai Solo Exhibition (2010) at Raketenstation Hombroich, Germany; and The Dynasty of Colours (2009) at Lagen Art Gallery, Germany. He has also exhibited in museums and galleries across Beijing, Shanghai, Taipei, Singapore, Berlin, Düsseldorf, and Moscow.
About Juju Sun
Juju Sun (b. 1973, Jiangxi) moved to North America at age 15, studying at the Ottawa School of Art and later under Optical Art master Larry Poons at the Art Student's League of New York. Having described herself as innately a gypsy with a constant compulsion and desire to wander and explore, Sun's cross-cultural personal and artistic journey is reflected in her dynamic, robustly coloured abstract oil paintings that exhibit her bold painterliness and love for the medium of paint. In her recent works, Sun experiments with layers of rolled-on patterns juxtaposed with hand-painted layers, deliberately bringing elements of the mass-produced and decorative in contrast with traces of the hand to bring about a new visual balance. She has exhibited widely internationally, including in New York, Taipei, Seoul, Shanghai and Beijing. Her works are in notable collections in China, USA, Italy, and Canada.
About Wang Tiande
Wang Tiande was born in Shanghai in 1960. The artist aims to re-contextualise tradition within a contemporary framework through ink paintings, digital compositions, and thought-provoking installations. With ink paintings, which largely reference traditional Literati concepts, Wang Tiande captures a new form of expression that reflects today's contemporary culture while incorporating conceptual ideas. He recreates ink brush painting for the twenty-first century. By burning symbols, which resemble Chinese characters, onto rice paper, his works evoke the essence of traditional Chinese art in a modern context. The burn marks are made with an incense stick, creating shapes and spaces, similar to that of landscapes, water and mountains.
Wang Tiande's innovative approach does not dispel the significance and influence of tradition in his work; rather, he embraces traditional concepts and methods while injecting a modern perspective that is fresh and distinctly his own.
Wang's work has been collected by the British Museum in London, Metropolitan Museum of Art in New York, Boston Museum of Fine Art, Hong Kong Museum of Art, Shanghai Museum of Art, Guangdong Art Museum, Shenzhen Art Museum, and JP Morgan Bank. In 2006, Wang Tiande exhibited in Brush and Ink, which was the first exhibition of contemporary Chinese painters held at the Metropolitan Museum of Art, New York.
About Zhu Jinshi
After completing an artist-in-residency in Germany and teaching in the Architecture Department at Berlin Technical University, Zhu Jinshi (b. 1954, Beijing) returned to Beijing, where he currently lives and works. He began painting abstract works in the late 1970s, and participated in the Stars group exhibition, the first avant-garde art exhibition after the Cultural Revolution. Zhu first encountered the work of Joseph Beuys, Carl Andre and Arte Povera amongst others in Germany; conceptual and performance work seemed much more central there than did abstract painting. For a short time he stopped painting and began to make installations and performances; yet, he was using contemporary Western art languages to find contemporary possibilities in the cultural resources and materials of China. Since his return to painting in the 21st century, Zhu has built a prolific body of work in the medium with sensuous, impassioned oil paintings that achieve a weighty, physical quality in their built-up surfaces, inseparable from their significance as expressive statement.
Zhu has exhibited in numerous solo and group exhibitions, including Zhu Jinshi: Boat, organised by Pearl Lam Galleries and Hongkong Land at Exchange Square; Zhu Jinshi: Simplicity (2014) at Pearl Lam Galleries Singapore; 28 Chinese (2013–14) at The Rubell Family Collection, Miami; Zhu Jinshi: The Reality of Paint (2013) at Pearl Lam Galleries Hong Kong;Zhu Jinshi (2012) at Blum and Poe, Los Angeles; andChinese Contemporary Abstract, 1980s until Present: MINDMAP (2012), which was Pearl Lam Galleries' inaugural show in Hong Kong. Selected public collections include Asian Art Museum of San Francisco, Brooklyn Museum, Busan Museum of Art, Minsheng Museum, Guangdong Museum of Art, Vancouver Art Gallery, and the White Rabbit Collection in Australia.
About Pearl Lam Galleries
Founded by Pearl Lam, Pearl Lam Galleries is a driving force within Asia's contemporary art scene. With over 20 years of experience exhibiting Asian and Western art and design, it is one of the leading and most established contemporary art galleries to be launched out of China. Playing a vital role in stimulating international dialogue on Chinese and Asian contemporary art, the Galleries is dedicated to championing artists who re-evaluate and challenge perceptions of cultural practice from the region. The Galleries in Hong Kong, Shanghai and Singapore collaborate with renowned curators, each presenting distinct programming from major solo exhibitions, special projects and installations to conceptually rigorous group shows. Based on the philosophy of Chinese Literati where art forms have no hierarchy, Pearl Lam Galleries is dedicated to breaking down boundaries between different disciplines, with a unique gallery model committed to encouraging cross-cultural exchange.
Contemporary Chinese Abstract art is heavily represented in the Galleries roster. Influential Chinese artists Zhu Jinshi and Su Xiaobai, who synthesise Chinese sensibilities with an international visual language, are presented internationally with work now included in major private and public collections worldwide. The Galleries have also introduced leading international artists such as Jenny Holzer, Jim Lambie and Yinka Shonibare MBE to markets in the region, providing opportunities for new audiences in Asia to encounter their work. Pearl Lam Galleries encourages international artists to create new work, which engages specifically with the region—collaborating to produce thought-provoking and culturally relevant work.