Jul 5, 2017 | by Elliat Albrecht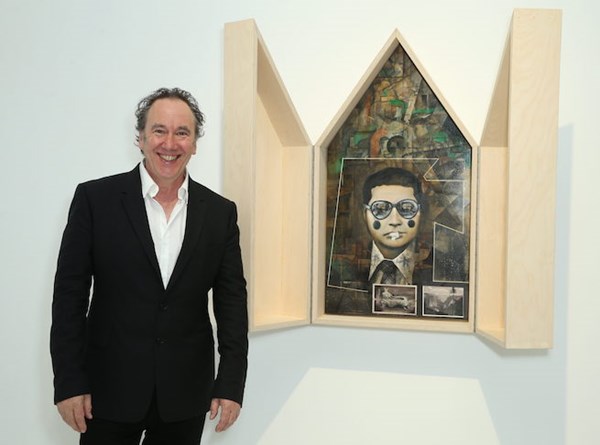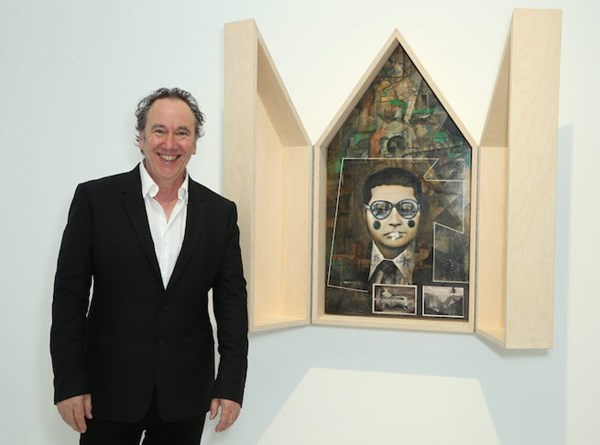 A former Liverpool rock musician with notable 1980s hits to his name, British artist Ged Quinn (b. 1963, UK) now comes off as an avid reader. Among the literary references in his current exhibition of paintings—Rose, Cherry, Iron Rust, Flamingoat Pearl Lam Gallery in Hong Kong (26 May–8 July 2017)—are magical realism, German art historian and cultural theorist Aby Warburg's Mnemosyne Atlas project (1924-9), the correspondences of Martin Heidegger and the abstracted poetic strategies of Ezra Pound. That is to say nothing of the plentiful quotations of Jean-Luc Godard's films and use of montage. Quinn's painting practice is defined by such citations of philosophy, literature, pop culture and cinema—all assembled on landscapes borrowed from history paintings by Baroque and Romantic masters such as Claude Lorrain and Nicolas Poussin. Discordant images make unexpected appearances in his scenes with Surrealist undertones, the apparent randomness of their combinations disrupting any linear narrative. Quinn intends the viewer's own memories and experiences to create intertextual readings of his paintings, bringing into question the power of iconography and metanarrative in images.
Quinn studied at Ruskin School of Art and also St Anne's College, Oxford; Slade School of Fine Art, London; Kunstakademie Düsseldorf and Rijksakademie van beeldende kunsten, Amsterdam. In 2003, he was the second artist chosen for the Tate St Ives Artists' Residency. Rose, Cherry, Iron Rust, Flamingo is Quinn's first solo exhibition in Asia. The title was inspired by the 'ideogrammic method' championed by Ezra Pound—a poetry technique that uses concrete images to illustrate abstract concepts. Ocula spoke with Quinn in Hong Kong on the occasion of the exhibition.