Aldo Cristofaro
(B. 1970)
Aldo Cristofaro
(B. 1970)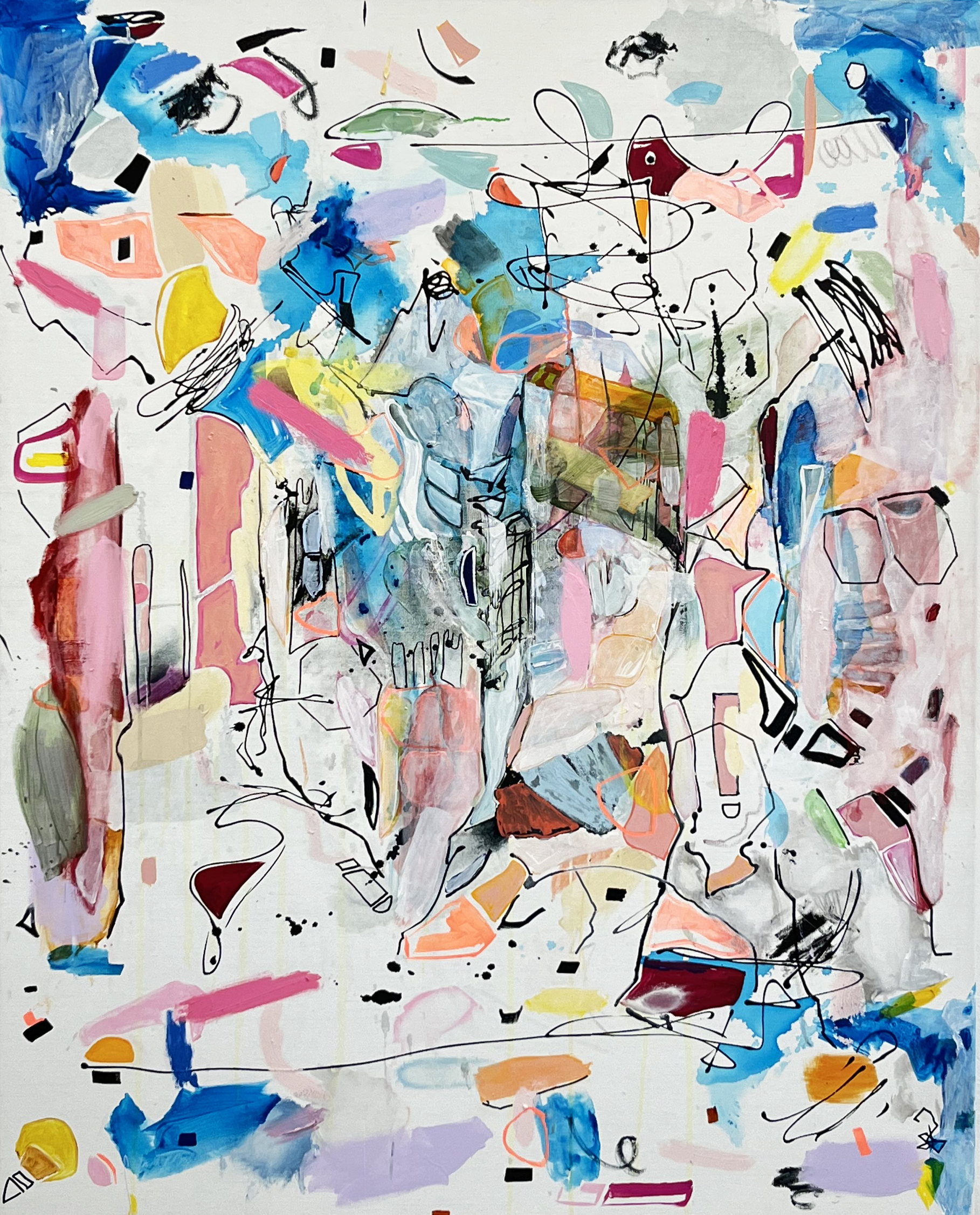 Biography
Arts from the Universität der Künste Berlin. He was notably taught by several teachers such as Rebecca Horn, Günther Förg, Sean Scully, and Nikolaus Lang.
Cristofaro tends to create abstract, graphic patterns overlapping with grid structures and colour fields, broken apart by figurative elements and the structural division in the foreground and background. In 2009 and 2010, he depicted a number of landscapes displaying an alteration of abstract and figurative shapes. His personal and typical language reveals a combination of rectangular fields and outlined shapes.
The artist's painting shows a compact agglomeration of all elements featuring a playful combination of vertical, horizontal, and oblong brushstrokes. Another ironic variation is that his abstract and more figurative works are united by his very own grammar, depicting his inner image-inventions. His grammar may be compared to the notation in musical compositions. He has ambitious desires to train his vision still more intensively. Therefore, on his numerous travels, he collects combinations of colours in order to mix them later on the canvas—"like a DJ," he has explained. Just like how an architect comes up with his best inventions when he has to adjust to the circumstances, Cristofaro manages to take painting to a new apotheosis. With his technique, the artist accomplishes the extraordinary: entangled shapes interlock to form a transfixed dynamism that starts to move within the spectator's vision until it seems to explode or implode. The graphic outlines start a vivid dance that presents a playful combination of colours and silhouettes that encircle the colour white.
Cristofaro's works have been widely exhibited locally and internationally. Notable solo shows include Tramp and His Magic Monkey (2015), Joerg Heitsch Gallery, Munich, Germany; Das Bier Die Ballnacht Und Der Morgen Danach (2013), Ricarda Fox Galerie, Mülheim an der Ruhr, Germany; Collateral (2012), Arch402 Gallery, London, UK; Space Hunter (2011), Joerg Heitsch Gallery, Munich, Germany; Zirkus Royale (2010), Arch402 Gallery, London, UK; and Titellos (2009), Bernhard Knaus Gallery, Frankfurt, Germany.
Major group exhibitions include 25 Years (2019), Ricarda Fox Gallery, Mülheim, Germany; BAU_ARBEITEN II (2016), Berlin, Germany; BAU_ARBEITEN (2014), Berlin, Germany; Ohne Titel (2014), Naimah Schütter Gallery, Berlin, Germany; Drive the Change (2014), 100plus, Zurich, Switzerland; 20 Years (2013), Galerie Ricarda Fox, Zurich, Switzerland; Hinterland (2012), Arch402 Gallery, London, UK; Parcours 11 (2011), White Square Gallery, Berlin, Germany; Shadows of the Bright (2011), Berlin Art Projects, Berlin, Germany; Preview (2008), Jarmuscheck + Partner, Berlin, Germany; and Private View, (2008), Annette von Spesshardt, Zurich, Switzerland.