15 September–10 November, 2013
The Living Road
Golnaz Fathi Solo Exhibition
Shanghai
Overview
SHANGHAI-Pearl Lam Galleries Shanghai will present the first solo exhibition of Golnaz Fathi in China, illustrating the growing interest worldwide in Iranian art, initiated by major exhibitions at the Barbican Gallery, UK; The Metropolitan Museum of Art, New York; LACMA, Los Angeles; and the forthcoming exhibition 'Iran Modern' at Asia Society in New York. Fathi is an influential member of a thriving new generation of multi-disciplinary artists born in Tehran since the 1970s. Entitled The Living Road, and opening to the public on 15 September 2013, the exhibition features 21 new works in a variety of media including pen on canvas, acrylic on canvas and LED light works, alongside two historic acrylic on canvas works which have been exhibited at Art Forum in Wiesbaden, Germany in 2011 and Tehran's pavilion at the Shanghai Biennale in 2012 respectively.
Golnaz Fathi's work draws on the discipline of Persian calligraphy reinterpreted through an abstract gestural style. Her work is also inspired by Abstract Expressionism and the work of Middle Eastern Modernists from the 50s and 60s who employed the written word as a pictorial element. Fathi's work has been collected extensively by major public and private collections including the British Museum, London; the Devi Art Foundation, New Delhi, India; The Farjam Collection, Dubai; and Asian Civilisations Museum, Singapore.
The Living Road features a series of pen on canvas works inspired by the technique of Shiah Mashgh, which translates literally as 'black practice', the calligrapher's warm-up exercise whereby letters are repeated over and over again until the paper is entirely covered in black ink. Golnaz Fathi sees this process as the most artistic part of traditional calligraphy. She says: "My artistic aim has been to transform calligraphy from words into forms. I treat the letters as a form—I make them float or dance on my canvas. Like a journey of sorts, I take the words up and down, moving to different places that end nowhere. The origin comes from my meditations; perhaps sometimes it ends in stillness, a stillness that talks. They can be read as a visual meditation or a form of prayer. Being restricted by so many rules in traditional calligraphy made me break all the rules and treat the letters just the way I want to. This inspiration comes from my own culture. I am proud of my country's very rich cultural heritage which in turn has greatly inspired me." Amongst the other media represented in the exhibition, the light boxes particularly highlight the unique forms in Fathi's work as the glow of the letters and lines emerge from the bold black boxes.
Selected works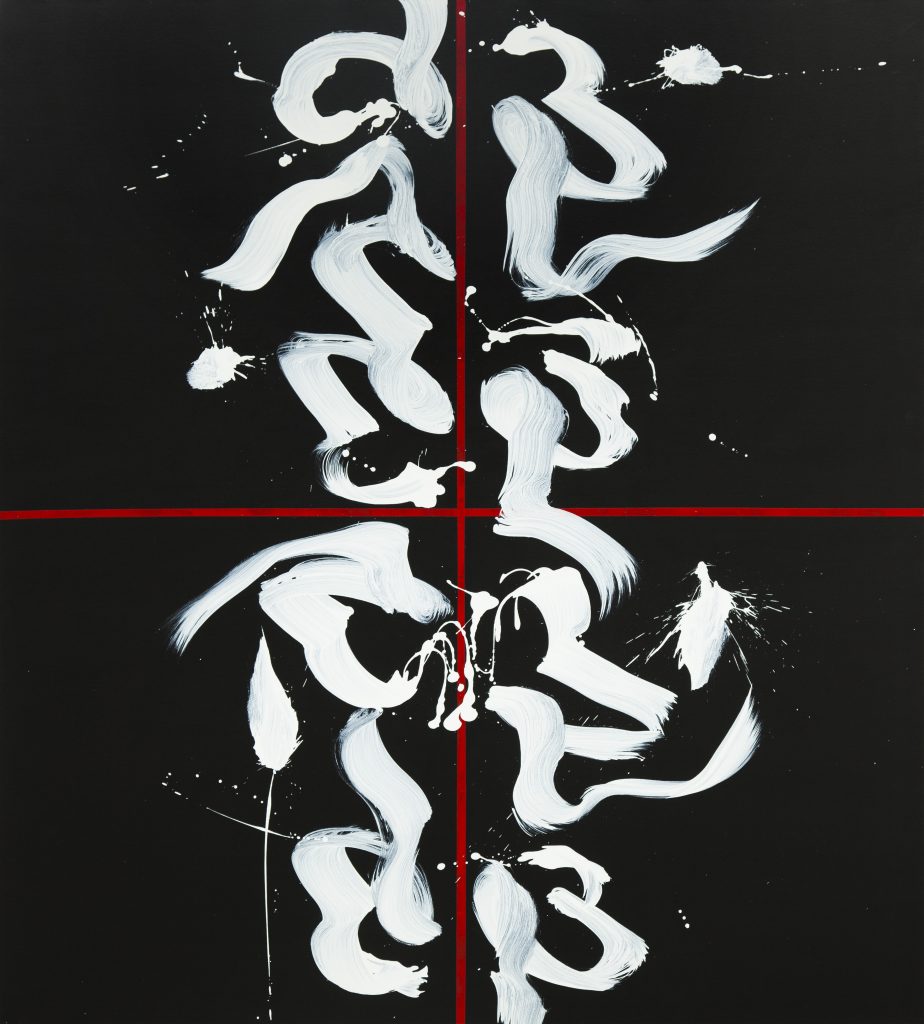 Acrylic on canvas,
144 x 470 cm; 56 2/3 x 185 in.
News & Press
Fall Winter 2013-14 Art Bahrain, Golnaz Fathi, the Living Road, 02 fall winter2013-14...
Iranian artist Golnaz Fathi discusses the speaking stillness of her work. Trained as a traditional calligrapher in Iran,...