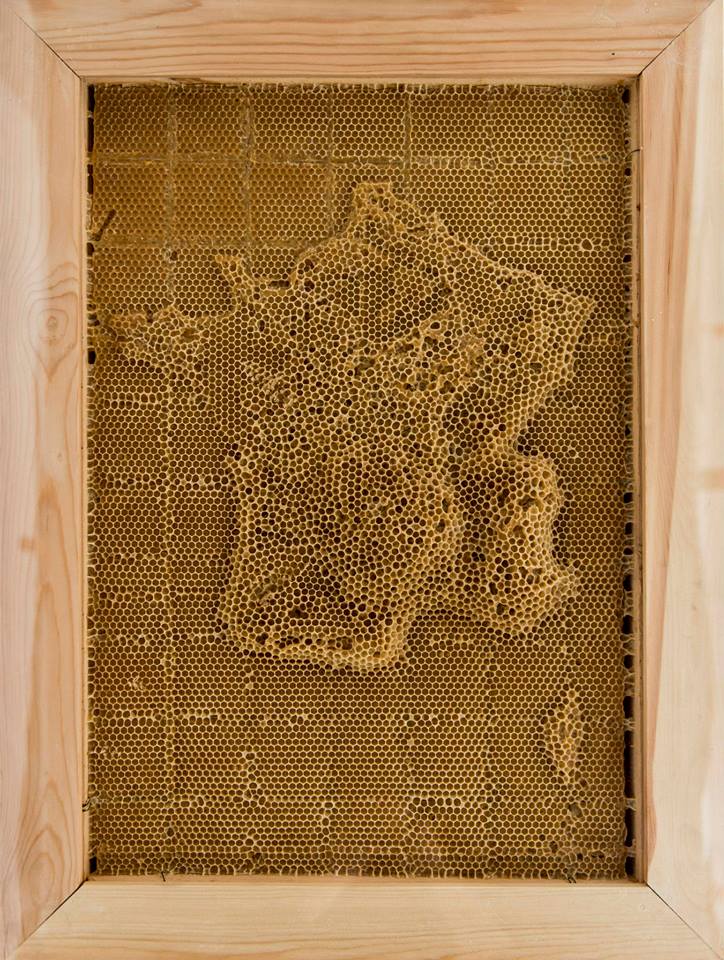 Biography
Ren Ri (b. 1984, Harbin, China) studied Fine Art at Tsinghua University before receiving his master's degree at Saint-Petersburg Herzen State University in Russia. He earned his PhD in Fine Art from Central Academy of Fine Arts in Beijing. Currently, he is pursuing a master's degree in science and continuing his research at the MIT Media Lab in Cambridge, USA.
Ren Ri is an interdisciplinary research-based artist. His focuses include biology, science, mechanics, engineering, and art. He has cooperated with insects such as bees for more than a decade. He studies the self-organizing structure of eusocial insects, exploring the relationships between human beings, bees, and nature, and constructing a co-interface language through a brand-new artistic form. Ren's art is easily recognizable because of a very special medium he uses: beeswax. Even though it is considered to be quite an unusual and difficult material to work with, his understanding of bee psychology and nature helps him to create, in collaboration with insects, mesmerizing sculptures. His work embodies how humans interact with nature, which involves harmony, destruction, remolding, and intervention. The interactions can produce unpredictable results, which can sometimes be volatile or wondrous.
The artist's most famous series, Yuansu I, II, and III, are all related to his intimate experience with bees as both an artist and a beekeeper. He started beekeeping in 2006 and several years after felt knowledgeable enough to create three series of art pieces fully made of beeswax. Yuan means element, while su means mold—Yuansu can be translated as "a comprehension of the gestalt of life". The artist believes his sculptures represent the truth of how humans interact with nature, which involves harmony, destruction, molding, and interference. All this can produce unpredictable, occasionally volatile, but sometimes wondrous results. His first series, Yuansu I: Geometric Series (2008), incorporates a number of beeswax maps. In Yuansu II, he creates a series of stunning geometrical sculptures made using bee psychology. The queen is put in the middle of the box, while the other bees build around her. Every seven days, a reference to the seven days of creation, Ren randomly changes the position of the box by rolling a dice to create the shape of the sculpture. As for Yuansu III, it is a performance that shows the relationship between humans and bees. Ren presents himself as a surface, pushing bees onto his face and experiencing a great number of stings.
In 2015, Ren Ri was the first Asian artist since 1975 to be awarded the Goslarer Kaiserring Stipendium (Germany), which recognizes promising young artists. Ren's work has been exhibited in important international shows in several countries, including Accidents [Part I] (2020), Pearl Lam Galleries, Hong Kong, China; New Work Part II: Material (2018), The Cob Gallery, London, UK; Materialized Condition (2017), Pearl Lam Galleries, Singapore; Design Behind Design (2016), La Triennale di Milano, Milan, Italy; Ren Ri: Goslarer Kaiserring—Stipendium 2015 (Kaisserling Award for Young Artists 2015), Mönchehaus Museum Goslar, Germany; Ren Ri: Yuansu Projects (2015), inaugural exhibition at Pearl Lam Galleries Hong Kong SOHO; Fusion Convergence (2014), T Museum, Hangzhou, China; Fame di Terra (2012), Milan, Italy; 6th Art Laguna Exhibition (2012), Venice, Italy; and Carve & New Media (2007), 798 Art District, Beijing, China.