25 February–8 June, 2020
Accidents [Part II]
Featuring works by Leonardo Drew, Antony Micallef, Dale Frank
Hong Kong H Queen's
Overview
Pearl Lam Galleries is delighted to present Accidents [Part 2], the second of a two-part group exhibition at the H Queen's gallery, featuring artwork by three artists: Leonardo Drew (b. 1961),  Antony Micallef (b. 1975), Dale Frank (b. 1959).
Accidents  examines the margins of meaning or 意 and investigates the potentials that lie beyond the original intention of the artist. The making of art often relies on the creator to remain faithful to a predetermined production process in the hope that it would result in something meaningful in the end. This exhibition deviates from such a set narrative and focuses on bringing out the subconscious and imaginary aspects of art. It questions to what extent is the artist conscious of his original intention. Can an art object be the inevitable outcome of a series of uncontrollable and unforeseen accidents that not only exist in their own right, but also gaze back at the author, asking him/her squarely how the piece is made in the first place? Such a relational reading downplays the importance of authorship and shifts focus towards the viewers and their active participation, giving art its meaning.
In this exhibition, three artists from different generations and cultural backgrounds experiment with different materials and mediums to reveal the relational aspects of art. Accidents celebrates the autonomous and alchemic qualities of artistic practice; a series of accidents turns into an alternative reality not bound by any specific cultural or political circumstances. Using nature as a reference, these artists incorporate natural phenomena into their practices and surrender control to a far greater force. They translate what is inherently idealistic into something artificial by situating viewers in an ambiguous space. Preoccupied with the unpredictable properties of different materials, they are all interested in the possibilities of automatism, working laboriously with non-figurative means of expression to reflect on what is left by our conspicuous daily consumption. In short, their common ulterior motive is to convey higher spiritual ideals (意境) through their art to deepen our metaphysical understanding with society at large.
Selected works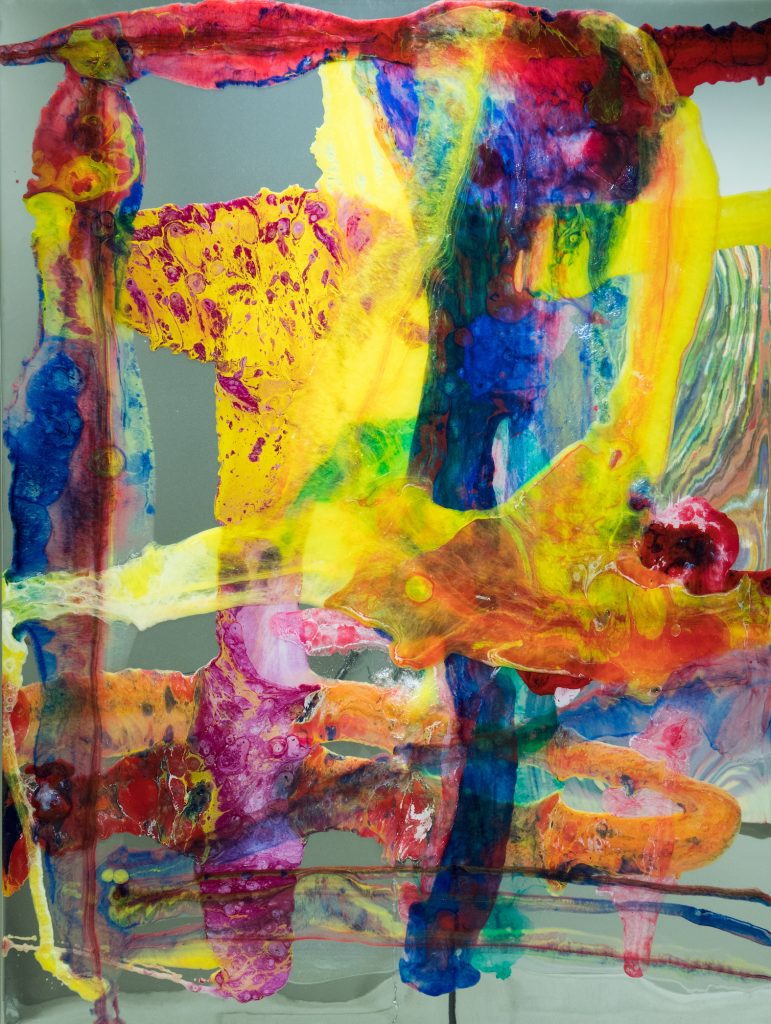 Dale Frank
Her suggestive breath was camouflage, 2016
Colour resin in liquid glass on Perspex
160 x 120 cm x 6 cm; 63 x 47 1/4 x 2 3/8 in.