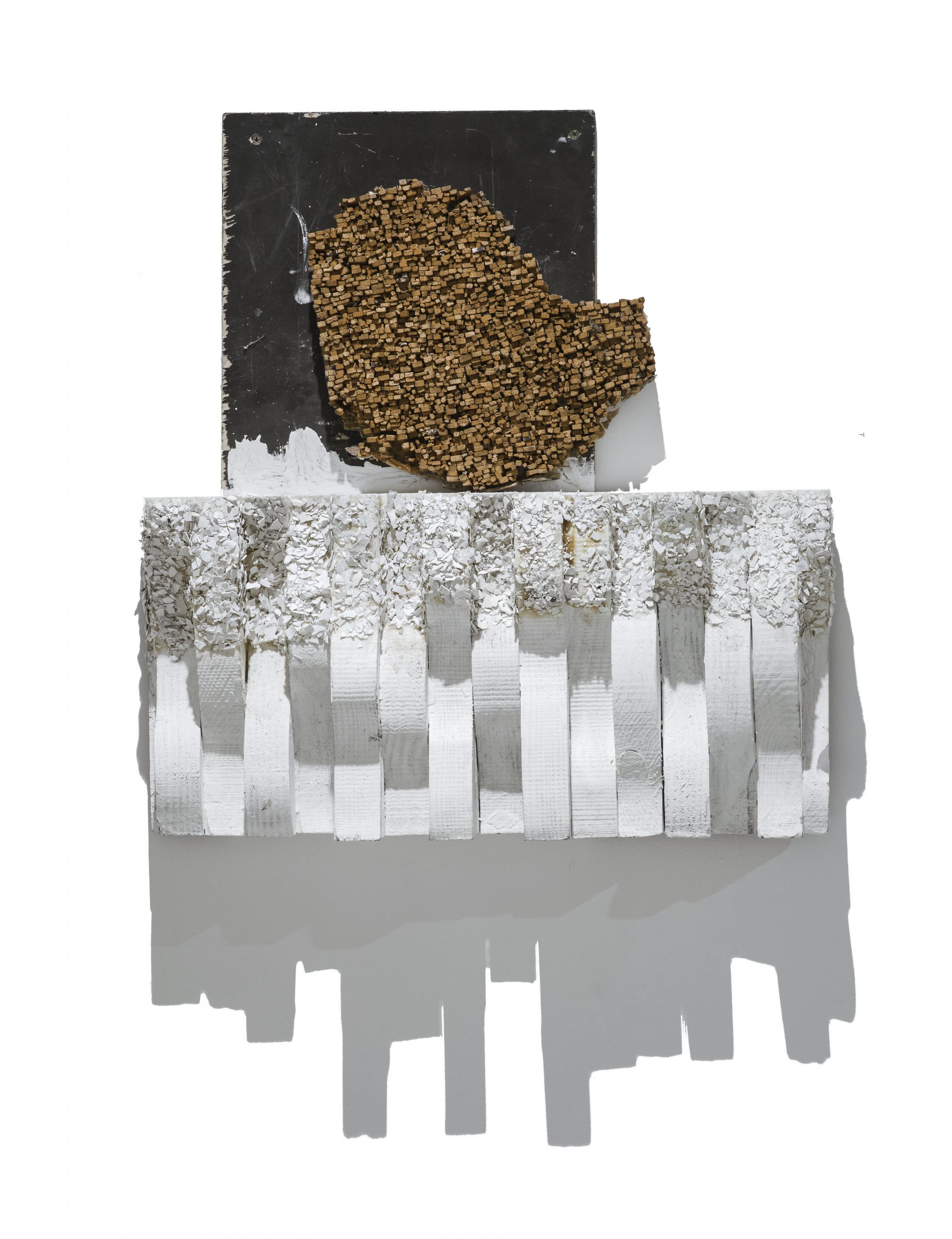 Biography
Leonardo Drew was born in 1961 in Tallahassee, Florida and grew up in a public housing project in Bridgeport, Connecticut. He seemed bound to work as a professional artist from a young age. Drew's works were exhibited publicly for the first time when he was only thirteen years old, and by fifteen he was being courted by both DC and Marvel Comics to work as an illustrator. However, Drew would apply his talents to a very different artistic path. He became inspired by abstract works, especially those of Jackson Pollock, and began to experiment for himself. He went on to attend the Parsons School of Design in New York and then earned a BFA from Cooper Union in 1985.
Drew's works are always sculptural, although he tends to avoid making freestanding pieces. Instead, he will often mount objects onto panels or directly to the wall, which can be seen as a nod to his beginnings as a painter and draftsman. The materials he chooses are of particular importance. They often reflect memories of his days in the projects, sociopolitical issues related to his African-American ethnicity, or themes of death, darkness, and decay. His seminal work Number 8 features rope, animal hide, raccoon skull, and even a dead bird that all hang together, all painted black, creating a deep, dark, and brooding sculptural take on Pollock's all-over drip painting. Although he sometimes uses found objects in his works, such as tree roots, Drew usually creates each piece with his own hands. For example, he will chemically induce rust on new pieces of metal in his studio.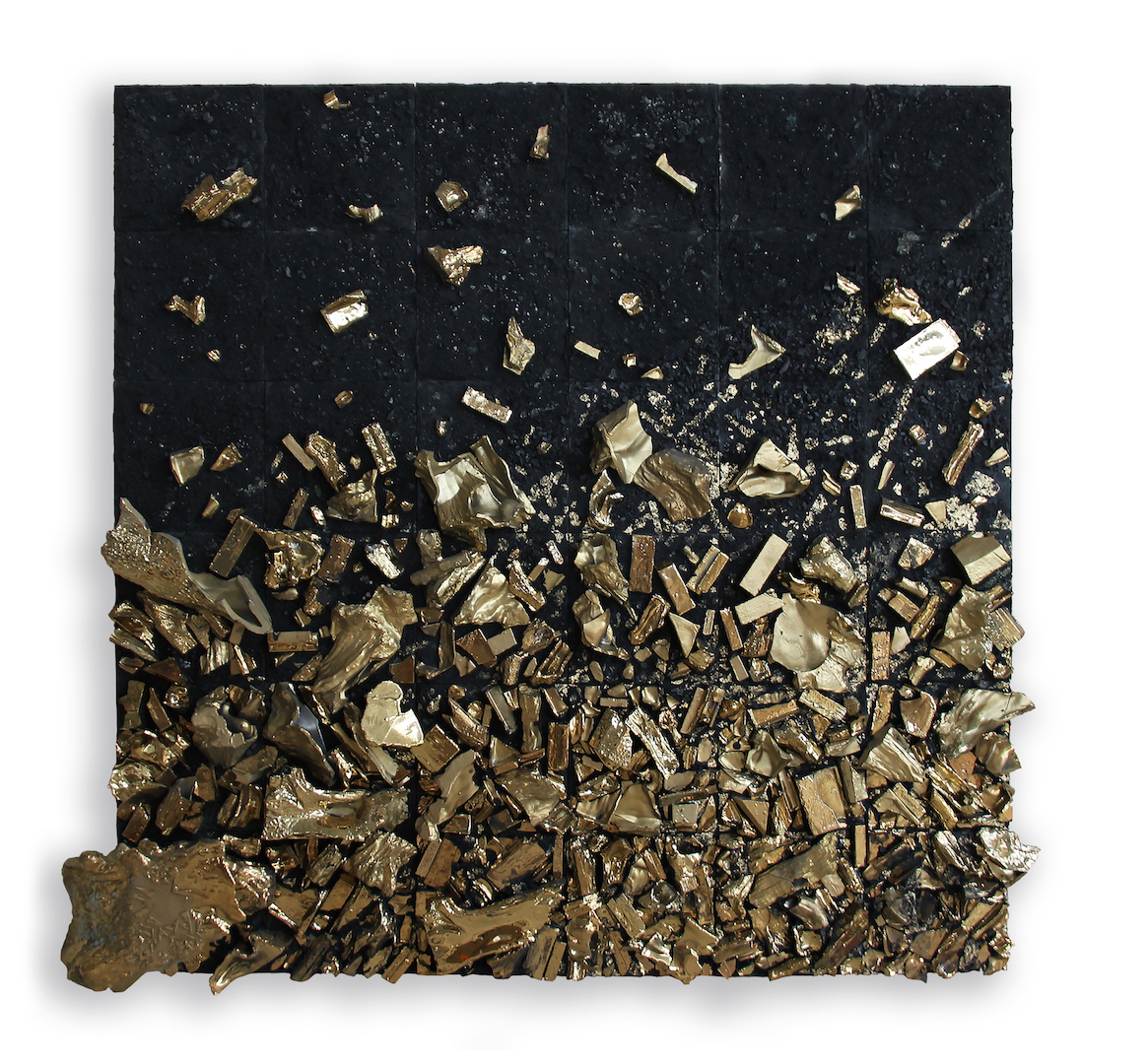 Leonardo Drew's work has been exhibited across the USA and internationally. More recently, he has held solo exhibitions at Yorkshire Sculpture Park, West Bretton, UK (2023); Amon Carter Museum of American Art, Fort Worth, USA (2023); de Young Museum, San Francisco, USA (2017); and Pearl Lam Galleries, Hong Kong, China (2019 and 2015). Other solo exhibitions include Existed: Leonardo Drew, Blaffer Gallery, Art Museum of the University of Houston, Houston, USA (2009); Palazzo Delle Papesse, Centro Arte Contemporanea, Siena, Italy (2006); Hirshhorn Museum and Sculpture Garden, Smithsonian Institution, Washington, D.C., USA (2000); and The Bronx Museum of the Arts, Bronx, NY, USA (2000).
Major group exhibitions include What's Going On, Rubell Museum, Washington, D.C., USA (2022); Materials and Objects, Louise Nevelson and Leonardo Drew, Tate Modern, London, UK (2020); NEW at NOMA: Recent Acquisitions in Modern and Contemporary Art, New Orleans Museum of Art, New Orleans, USA (2017); Material World, Denver Art Museum, Denver, CO, USA (2013); Museum of Art and Design, New York, USA (2012); From Then to Now: Masterworks of Contemporary African American Art, Museum of Contemporary Art Cleveland, OH, USA (2010); and Lost and Found: Selections from the MCA Collection, Museum of Contemporary Art (MCA), Chicago, USA (2010).
Leonardo Drew's works have also been collected by public and private collections, such as the Metropolitan Museum of Art, New York, USA; the Museum of Contemporary Art, Los Angeles, USA; the Tate, London, UK, and the Solomon R. Guggenheim Museum, New York, USA.