16 May–20 July, 2012
Chinese Contemporary Abstract, 1980s Until Present: MINDMAP
Featuring works by Yan Binghui, Li Huasheng, Zhang Jianjun, Zhu Jinshi, Su Xiaobai, Li Xiaojing and Qiu Zhenzhong
Hong Kong
Overview
Pearl Lam Galleries, Asia's most dynamic art gallery dedicated to Chinese and international contemporary art and design, announced today the inaugural exhibition for the opening of its major new space in Hong Kong, Chinese Contemporary Abstract, 1980s Until Present: MINDMAP, opening to the public on Wednesday, 16 May, 2012.
For the first time, Pearl Lam Galleries will reveal the rich diversity of abstract art in China since Mao's death. This show and what it suggests will add a new dimension to the way in which Chinese art is viewed and open up another dimension in the study of recent Chinese art history. It is a brave and exciting exhibition mixing contemporary art and art from China's recent past.
The exhibition is a revelation with its exposure that the few Chinese artists already known to the West do not exhaust what counts as 'Chinese contemporary art'. It is particularly timely given the recent rise of global interest in abstraction and new market interest in Chinese abstract artists. Gallery artist Zhu Jinshi, featured in this exhibition, will have a solo show at leading US gallery Blum and Poe in June.
Presenting seven leading Chinese abstract artists of different generations, the exhibition, curated by Professor Gao Minglu, takes a fresh look at Chinese contemporary abstract painting over the last 30 years. Gao Minglu is a distinguished scholar of Chinese contemporary art and, notably, the curator of China/Avant-Garde, National Art Museum of China, Beijing (1989), the first contemporary Chinese art exhibition to be mounted in China. He brought the first landmark exhibition of Chinese contemporary art to the US with Inside Out: New Chinese Art, which was first shown at the Asia Society Galleries and MoMA PS1 in New York (1999).
Gao Minglu said: "Contrary to perception that it was solely inspired by the Western tradition, 'Yi Pai' (Chinese abstraction) is an aesthetic expression heavily rooted in Chinese heritage and Eastern philosophy: Taoism, Confucianism, Literati and ink brush painting. The title MINDMAP refers to the unique qualities of 'Yi Pai': an internal landscape where three elements, the 'Li' (principal), 'Shi' (concept and knowledge) and 'Xing' (likeness), merge together. Mindmap is the visual form that immediately conveys imagination, intuition, and technique to the viewer in a single moment, which is evident of an artwork's development over time and serves as a reflection of the artist and his daily life."
Selected works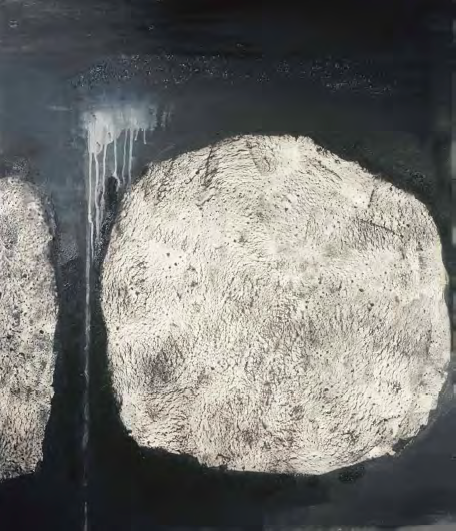 Oil paint, Chinese ink, Xuan paper, sand on canvas
120 x 100 cm; 47 1/4 x 39 3/8 in.