17 November, 2023 – 20 January, 2024
Mr Doodle in Space: Pedder Building
601-605, Pedder Building, 12 Pedder Street, Central
Hong Kong
Overview
Hong Kong—Pearl Lam Galleries is delighted to announce the highly anticipated solo exhibition Mr Doodle in Space, featuring the exceptional talents of British artist Mr Doodle. This extraordinary exhibition at the Hong Kong gallery invites art enthusiasts of all generations to embark on a captivating journey alongside Mr & Mrs Doodle as they traverse the vast reaches of space.
Mr Doodle poses a question to viewers, "Will Mr & Mrs Doodle make it back to DoodleLand before Mas—aka Mr Doodle's evil twin, Dr Scribble—completes his mission? First, they'll have to travel through several different wonderful worlds, along with their faithful companion Doodle Dog! And what about Baby Doodle, where and when will he appear?!" Prepare to be transported to a marvelous celestial domain where boundless imagination takes flight.
Born with an innate passion for doodling, Mr Doodle, also known as Sam Cox, has captivated viewers worldwide with his unique artistic vision. His prodigious talent, often labeled as 'Obsessive Compulsive Doodling', has propelled him to fill sketchbooks and adorn walls, floors, and furniture with his intricate doodles, transforming his surroundings and leaving an indelible mark on the world.
After falling in love in the exhibition Mr Doodle in Love, Mr & Mrs Doodle are living happily in their Doodle House with their pet dog Doodle Dog, whilst gradually taking over planet Earth with doodles. That is, until they hear a mysterious sound from outside… It's Mr Doodle's evil twin Dr Scribble, and he's flying into a vortex which he has built with his scribbling machines that appear to be a gateway to another galaxy­—the 'Paper Galaxy', home to none other than the famous DoodleLand, Mr Doodle's home world. It seems Dr Scribble's plan is to destroy Mr Doodle's 'Doodle Virus' at the source and rid the universe of doodles once and for all.
Upon realising this, Mr & Mrs Doodle rebuild the spaceship that Mr Doodle once fell to Earth in when he first arrived to doodle the world. The spaceship takes them on a grand adventure through different realms of space, including 'Alien Worlds' and, eventually, the 'Paper Galaxy'. Finally, they triumphantly arrive in DoodleLand.
In an epic showdown, Mr & Mrs Doodle face off against Dr Scribble, emerging victorious and restoring peace to DoodleLand once more. The exhibition captures the essence of this remarkable tale, showcasing the artistic prowess of Mr Doodle whilst unleashing an explosion of joy and boundless imagination. Audiences will be treated to a vibrant collection of Mr Doodle's newly released series that brings the narrative to life.
Founder Pearl Lam states, "We are thrilled to present Mr Doodle's first solo exhibition in the Hong Kong gallery. His captivating and whimsical creations will transport viewers into a world of imagination and wonder, demonstrating the transformative power of art. This milestone exhibition solidifies our commitment to promoting innovative artistic expressions and establishing our gallery as one of the premier destinations for contemporary art in Hong Kong."
---
Check out the series of events of Mr Doodle in Space exhibition!
Live Doodling Performance at K11 MUSEA
Event date: 17 November 2023, 5-6pm
Part 2 of Mr Doodle in Space exhibition is now presented on 6/F, K11 Art & Cultural Centre, K11 MUSEA.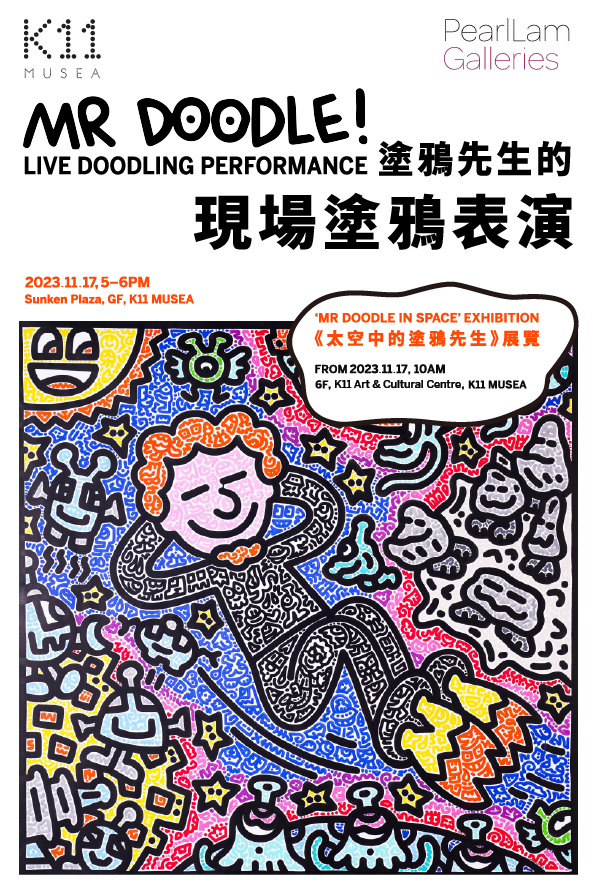 –
Live Artwork Creation at MTR Hong Kong Station
Event date: 19 November 2023, 4-6pm
The creation of the live performance is exhibited at MTR Hong Kong Station from 19 November – 3 December, 2023.